Decade in Review: 30 of the most significant moments in the last 10 years of Indiana men's basketball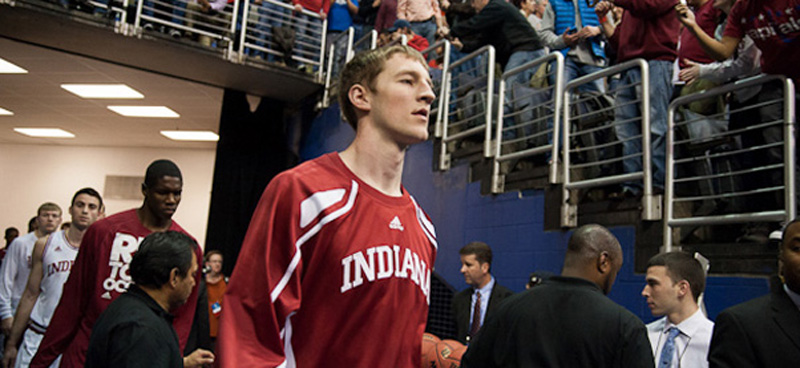 The past 10 years of Indiana men's basketball have been among the most eventful in program history.
A coaching change came along with two outright Big Ten titles, and trips to the NCAA tournament always stopped in the Sweet Sixteen or sooner, even when Hoosier teams seemed destined for greater things.
With all that in mind, here is a listing of 30 of the most memorable moments, both good and bad, from the past 10 years in Indiana men's hoops.
Note: These moments, compiled by Inside The Hall reporters Cameron Drummond and Dylan Wallace, are presented in chronological order – starting in 2010 and going through 2019.
Nov. 11, 2010 – Cody Zeller commits to Indiana
EVENT – Five-star power forward Cody Zeller decided to stay in state for his college choice. The class of 2011 prospect committed to Indiana just before winter 2010 came, selecting the Hoosiers over in-state rival Butler and national power North Carolina.
SIGNIFICANCE – Zeller's legacy in Indiana men's basketball lore extends beyond the new team locker room area which now bears his name (and that of teammate Victor Oladipo). Zeller put together All-American seasons in Bloomington, parlaying his scoring and rebounding success on Indiana teams, in particular the 2012-13 squad, into being the fourth overall pick in the 2013 NBA Draft.
Feb. 2, 2011 – Tom Pritchard dunks vs. Minnesota
EVENT – During a 2011 home win over No. 18 Minnesota, junior forward Tom Pritchard soared through the lane, and in one clean motion brought the house down inside Assembly Hall. Pritchard's dunk was the galvanizing moment in a three-point win over the Golden Gophers, the last win of a forgettable Indiana season.
SIGNIFICANCE – The Hoosiers lost their next nine games to close the season, but Pritchard's dunk is still talked about as a remarkable feat of athleticism. As he smacked his chest while running back down the court, the emotion travelled from the court into the stands.
Dec. 10, 2011 – Christian Watford hits the "Watshot" to defeat Kentucky in Assembly Hall
EVENT – The play is well etched in the fabric of Indiana basketball. Watford in-bounding the ball to Verdell Jones III, who tossed it back to Watford after a screen was set by Zeller. The made 3-pointer, which toppled No. 1 Kentucky, led to a seismic court storming inside Assembly Hall and an iconic image.
SIGNIFICANCE – Indiana basketball was back in this moment. In the minds of fans, a national television audience and sports fans everywhere. This put the Hoosiers at the forefront of the college basketball discussion.
Dec. 17, 2011 – Indiana defeats Notre Dame in the first year of the Crossroads Classic
EVENT – The Crossroads Classic started up in 2011 as a chance for four of Indiana's best basketball schools to compete against one another. In the inaugural edition, Indiana beat Notre Dame, 69-58, with 21 points from Zeller leading the way.
SIGNIFICANCE – Over the last decade, the event has grown somewhat stale. Indiana is only able to fluctuate between two opponents, Butler and Notre Dame, with Purdue being the event's other participant. In the history of the Crossroads Classic, Butler and Indiana have both gone 6-3, with Notre Dame going 4-5 and Purdue a dismal 2-7.
Dec. 31, 2011 – Indiana defeats No. 2 Ohio State at home
EVENT – Indiana's first NCAA tournament trip of the decade was sparked by a strong start to conference play. The Hoosiers won three of their first four Big Ten games, including a 74-70 win over Ohio State which saw Victor Oladipo score the go-ahead basket with 36 seconds left.
SIGNIFICANCE – For the first time in program history, the Hoosiers beat the No. 1 and No. 2 teams in the AP poll in the same season.
Feb. 22, 2012 – Indiana goes perfect in non-conference for the first time since the 1989-90 season
EVENT – A late February win over North Carolina Central gave Indiana a perfect 13-0 record in non-conference games. This season also featured non-conference wins over Butler, NC State, Kentucky and Notre Dame.
SIGNIFICANCE – This was the first time in more than 20 years that the Hoosiers went undefeated in non-conference play, and provided evidence that this was a consistent team beyond the excitement that went along with the Watshot.
March 15, 2012 – Indiana makes first NCAA Tournament appearance under Tom Crean
EVENT – A result of the aforementioned consistency for the Hoosiers during the 2011-12 season was a 2012 NCAA tournament berth. The Hoosiers earned the No. 4 seed in the South Regional, winning against New Mexico State and VCU in Portland before losing to Kentucky in a rematch in the Sweet Sixteen in Atlanta.
SIGNIFICANCE – It was a nice tournament run for the Hoosiers, but it also required some late heroics via Will Sheehey's winning basket against VCU. It helped set the stage for what would become a dominant regular season from Crean's 2012-13 Indiana team.
Oct. 26, 2012 – Indiana voted No. 1 in the preseason AP Poll
EVENT – Expectations were established early on for this team, as the Hoosiers earned No. 1 honors in the preseason AP poll. The Hoosiers held this position through the first six weeks of the season, before later returning to the No. 1 spot in February 2013.
SIGNIFICANCE – There was no mincing of expectations for this team. The Hoosiers were expected to compete for a national championship right from the start, and looked the part for long stretches of the season.
Feb. 2, 2013 – Indiana beats Michigan at home with College GameDay in town, Oladipo nearly makes massive dunk
EVENT – No. 3 Indiana beat No. 1 Michigan in a blockbuster matchup. The result sent Indiana back to the top of the AP Poll and saw Zeller record 19 points and 10 rebounds. The game's viral moment was Victor Oladipo being inches away from a sensational one-handed alley-oop finish on the fastbreak.
SIGNIFICANCE – For the first time in school history, Indiana beat the No. 1-ranked team at home in back-to-back seasons. This victory in particular set the Hoosiers on course for the regular season Big Ten title.
March 10, 2013 – Indiana wins at Michigan to secure first outright Big Ten title in two decades
EVENT – That outright conference championship was confirmed with a one-point win at Michigan on the final day of the season, sending Don Fischer into hysterics on the radio broadcast, Victor Oladipo tumbling to the court at the Crisler Center and Tom Crean charging at former IU assistant Jeff Meyer.
SIGNIFICANCE – A magical regular season was capped by a magical win, and the Big Ten championship was the first of Crean's two at Indiana. Despite another early exit in the postseason Big Ten tournament, Indiana earned a No. 1 seed in the East Regional thanks to its strong regular season showing.
March 28, 2013 – Indiana loses in the Sweet Sixteen to Syracuse
EVENT – All the good work of the past few months, and really the past few years, came crashing down on a fateful night in Washington D.C. Syracuse used a 2-3 zone on defense that perplexed Indiana all night, and Michael Carter-Williams scored 24 points to send the Orange through while Indiana wasted what had been a great season.
SIGNIFICANCE – This is still a moment the Indiana program seemingly hasn't recovered from. The last legitimate national title contender produced by the program went out of the NCAA tournament at the first difficult hurdle it faced, and plenty of fans haven't forgotten about it.
June 27, 2013 – 2013 NBA Draft featuring Victor Oladipo and Cody Zeller
EVENT – The Orlando Magic drafted Victor Oladipo second overall in the 2013 draft and Cody Zeller was taken two picks later by the Charlotte Bobcats, now the Charlotte Hornets.
SIGNIFICANCE – It was a historic day for the program, producing two top four picks in the same draft. It started a recent trend of Indiana becoming a destination for potential players to make a name for themselves in preparation for the pros.
Early 2014 – Off-court issues: Part I
EVENT – Late April in Bloomington is a time for revelry, but two Indiana basketball players got caught when Yogi Ferrell and Stanford Robinson were arrested in downtown for consuming alcohol as minors and possessing fake ids.
SIGNIFICANCE – This would mark the start of a string of off-court incidents which painted the Hoosier program in a negative light, something that didn't reflect well on Tom Crean once the on-court results started to slip.
November 2014 – Off-court issues: Part II
EVENT – Later in the same year, two IU basketball players were involved in a car crash that followed the same theme as the earlier arrests. Emmitt Holt had just dropped off teammate Devin Davis in the Memorial Stadium parking lot, but when leaving, the car driven by Holt struck Davis. Holt was then cited for illegal consumption of alcohol and operating under the influence of alcohol under the age of 21.
SIGNIFICANCE – A pattern of behavior not befitting the Indiana program had now taken shape. Questions soon arose, in some cases warranted and others not warranted, about the players Crean was recruiting for his Indiana teams.
Jan. 22, 2015 – Indiana beats Maryland at home
EVENT – Back on the court, Indiana returned to the NCAA tournament after a year away thanks in part to several ranked wins during the 2014-15 season. IU's fourth Top 25 win of the season came in January against Maryland, marking the 19th Top 25 win for the program since the 2011-12 season.
SIGNIFICANCE – The season ended with an opening loss in the NCAA tournament to Wichita State, but the style of play continued Crean's trend of strong outside shooting. The Hoosiers excelled from behind the 3-point arc, making more than 40 percent of their shots from distance with Nick Zeisloft proving integral in this pursuit.
Nov. 25, 2015 – Maui Invitational struggles
EVENT – Indiana's schedule in the Maui Invitational to start the 2015-16 campaign featured three opponents that should have resulted in victories. However, the Hoosiers left the trio of games with two losses to Wake Forest and UNLV and only a victory over a bad St. John's team.
SIGNIFICANCE – A talented and promising roster that suffered those defeats had Hoosier Nation in a panic to start the year. Crean's job was seriously questioned after what transpired in Hawaii.
March 1, 2016 – Indiana wins at Iowa for the second outright Big Ten title under Tom Crean
EVENT – In Iowa City, Yogi Ferrell rose up for three with 37 seconds left and knocked it down to give Indiana a five-point lead, which was just enough for the Hoosiers to hold off the Hawkeyes 71-68. The victory secured the 22nd Big Ten Championship in program history.
SIGNIFICANCE – The game, and Ferrell's shot, was a perfect way to cap off a regular season that started off as a disaster, but ended in a 27-8 record with a Sweet Sixteen appearance. The Big Ten title and tournament run, which included a win over Kentucky, appeared to have the program trending in the right direction.
November 2016 – Indiana beats two top-three teams, loses at Fort Wayne
EVENT – The start to Tom Crean's final season at Indiana couldn't have been more hot and cold. IU started the season ranked No. 11 and defeated No. 2 Kansas 103-99 in overtime in the first game in Honolulu. They then took care of some cupcake opponents before unexpectedly losing to the school then-known as IPFW in overtime. They rounded out the first month with a home victory over No. 3 North Carolina, 76-67, moving up to No. 9 in the AP poll.
SIGNIFICANCE – IU's two early ranked wins were false hope in one of the most disappointing seasons of this decade, which started out with such high promise and turned into the end of an era. The loss to IPFW was more representative of what that Hoosier team was that season.
Jan. 18, 2017 – OG Anunoby gets hurt, James Blackmon hits buzzer beater at Penn State
EVENT – A bittersweet road victory for Indiana saw James Blackmon Jr. drain a 3-pointer at the buzzer to knock off the Nittany Lions in dramatic fashion. But, it also featured OG Anunoby injuring his right knee, which needed surgery and ended his season and college career.
SIGNIFICANCE – IU was 13-6 after this victory, so the season was very much still alive. Anunoby was by far Indiana's most well-rounded player on both ends of the floor, averaging 11.1 points and 5.4 rebounds per game. He was a projected NBA lottery pick, and his absence that season was a big reason why IU struggled and missed the NCAA tournament. Anunoby chose to forego his final two seasons at IU after the injury and went to the NBA.
Feb. 1, 2017 – Indiana beats Penn State in a triple-overtime thriller
EVENT – For the first time in Simon Skjodt Assembly Hall history, a game went into three overtimes. Thomas Bryant led the way with 31 points, and Robert Johnson and Josh Newkirk each added 27 points in the thrilling 110-102 victory.
SIGNFICANCE – In what was a pretty disappointing season, this game and victory put some energy back into Assembly Hall and the fans. It also created some momentum before IU hosted Purdue, a game that always matters regardless of how the season is going (Indiana lost that game by five).
March 2017 – Indiana fires Tom Crean, hires Archie Miller as head coach
EVENT – After missing the NCAA tournament for the fifth time in nine seasons and losing to Georgia Tech in the first round of the NIT, Tom Crean was fired two days after the loss to the Yellow Jackets. About one week later, Archie Miller was hired as the 29th head coach of the program.
SIGNIFICANCE – It was a fresh start for Indiana, a program still searching to return to consistent national relevancy. Miller had a good amount of success at Dayton, taking the Flyers to an Elite Eight, a destination IU hasn't advanced to since 2002. Fans were excited about the hire when it was announced.
Nov. 10, 2017 – First game of the Archie Miller era results in blowout home loss to Indiana State
EVENT – In Archie Miller's first game as Indiana head coach, there was a different feeling around the program. But, Indiana State spoiled that beginning with a 90-69 win, including 17 made 3-pointers against a stunned Indiana team and crowd.
SIGNIFICANCE – Right from the start, it had IU fans questioning Miller. He got off on the wrong foot with the Hoosier faithful, and it was just the beginning of the harsh criticisms that have followed in his tenure.
Dec. 18, 2017 – Indiana suffers another embarrassing loss to Fort Wayne
EVENT – In what was thought of as a revenge game for the Hoosiers to show what happened the season before was a fluke, IU failed to put away the Mastodons, this time in Assembly Hall, in an even worse loss, 92-72.
SIGNIFICANCE – This game proved there were going to be growing pains as Archie Miller took over Tom Crean's team. It also showed the mental toughness of the Hoosiers, and even how bought in players were to Miller's system, wasn't at its best early on.
Jan. 10, 2018 – De'Ron Davis tears Achilles tendon
EVENT – De'Ron Davis started the first 15 games his sophomore season and was averaging 9.6 points and 4.3 rebounds per game, shooting 61.5 percent percent from the field, good for fourth best in the Big Ten. He had missed two games after those first 15, and news dropped afterward that he had torn his Achilles in practice and would be out for the season, eliminating a dominant post presence for IU.
SIGNIFICANCE – The injury didn't just affect Indiana as a team that season, but it has since affected Davis' ability to remain completely healthy and get into any sort of rhythm on the court. A once promising career, which even showed flashes last season, has quickly been diminishing in his final campaign.
April 30, 2018 – Romeo Langford commits to Indiana
EVENT – At New Albany High School, Romeo Langford had three hats placed in front of him — Kansas, Vanderbilt and Indiana. The crowd, to no surprise, was filled with anxious Hoosier fans. So, when the five-star recruit picked up the IU hat and placed it on his head, the crowd erupted and waves were sent through the IU media bubble in excitement.
SIGNIFICANCE – This was Archie Miller's first recruiting class, and he vowed to search inside-out. Langford's commitment was a testament to Miller's recruiting skills to keep talented in-state products, and it set the standard for future recruits. It also created a level of excitement for the upcoming season, seven months before it started.
Dec. 15, 2018 – Rob Phinisee hits game-winning shot against Butler
EVENT – In a game where Indiana trailed by double digits in the second half, it was Juwan Morgan's career-high 35 points that kept the Hoosiers within striking distance. Tied at 68 with 18 seconds left, Indiana had the ball. An offensive possession to get Romeo Langford the ball was a disaster, so Rob Phinisee bailed the Hoosiers out with a buzzer-beating 3-pointer to secure the win.
SIGNIFICANCE – Obviously, any game at the Crossroads Classic is an opportunity to display state superiority, so Indiana's win in this one helped prove that. But more importantly, it was a game where Phinisee emerged as a poised presence and a clutch shot-maker, something that the sophomore guard still carries today.
Dec. 22, 2018 – Juwan Morgan records the second triple-double in Indiana history
EVENT – Indiana closed out its non-conference schedule in 2018 with a 30-point victory over Jacksonville at home. Despite the cupcake opponent, the game was historic as Juwan Morgan became the second player in IU history to record a triple-double after Steve Downing did it in 1971.
SIGNIFICANCE – The game perfectly summed up Morgan's career at Indiana as a do-it-all type player with 10 points, 10 rebounds and 10 assists. The game was in Morgan's final season at Indiana, and this game helped etched his name into the history books as one of those four-year, hard-working players Hoosier fans love to see come through Bloomington.
March 2, 2019 – Indiana does the regular season double over Michigan State
EVENT – The first win against Michigan State came amidst a seven-game losing streak, and it was inside the Breslin Center in overtime without Juwan Morgan for the most of the game. The Hoosiers survived 79-75. The second win came in Assembly Hall where Indiana erased an 11-point second-half deficit to win by one, 63-62.
SIGNIFICANCE – When the calendar flipped to 2019, the Big Ten schedule wasn't kind to the Hoosiers as they lost 12 of 13 games at one point, going 8-12 in conference play. But, two key wins over top-10 Michigan State remained bright spots for the season and kept IU alive in terms of postseason hopes.
Nov. 24, 2019 – Calbert Cheaney is inducted into the College Basketball Hall of Fame
EVENT – One of the all-time Hoosier greats, Calbert Cheaney finally got his due earlier this year. The all-time leading scorer in Indiana and Big Ten history was placed among the greats of the game in Kansas City, Missouri.
SIGNIFICANCE – Cheaney's legacy to Hoosier fans remains unquestioned, but now an even wider audience will learn about the type of player and person that he is.
Dec. 7, 2019 – Indiana fails to win at Wisconsin for another decade
EVENT – A 20-point road loss at Wisconsin wasn't even as close as the lopsided score indicated and confirmed that for the second straight decade, Indiana wouldn't have a road win at Wisconsin.
SIGNIFICANCE – In many ways this is a fitting way to end this list. For all the good the Hoosiers did on the court in the last decade, there were always faults and always things that seemed to frustrate this team. Indiana's inability to adapt to difficult situations has been a hallmark of the program's recent struggles, and part of the reason why they seemingly will never win again in Madison.
Filed to: Archie Miller, Cody Zeller, Juwan Morgan, Romeo Langford, Tom Crean, Tom Pritchard, Victor Oladipo, Yogi Ferrell