Five takeaways from Indiana's loss at Wisconsin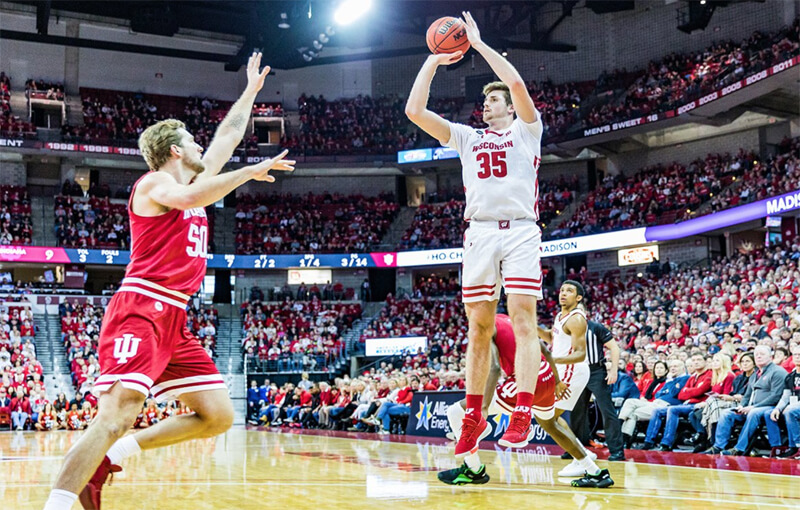 MADISON, Wis. — Indiana suffered its first loss of the season Saturday, as the Hoosiers were blown out by the Wisconsin Badgers, 84-64, inside the Kohl Center.
Here are five takeaways from the blowout loss, which marked Indiana's 17th straight defeat in Madison:
· Indiana looked out of ideas offensively in its first road game: Right from the tipoff, Indiana's offense looked to be stuck in mud.
The Hoosiers found it difficult to navigate in and around a compact Badger defense that took away entry passes to Joey Brunk and Trayce Jackson-Davis near the basket. As a result, the decision-making abilities of an Indiana backcourt (again without the services of an injured Rob Phinisee) comprised of Armaan Franklin, Al Durham and Devonte Green were tested.
The results weren't pretty. Ball movement was often limited to the perimeter, without any significant penetration, and off-the-ball movement and cutting toward the rim was hardly evident for long stretches of the game.
"Our team did not play well on either end of the floor," Archie Miller said postgame. "We were too quick to take a tough shot."
Indiana's 27 first-half points were its lowest output in an opening period this season, and by halftime the Hoosiers were facing a 20-point deficit.
Durham recovered with 15 second-half points, which included a 3-for-3 showing from behind the arc, but it proved to be too little and too late, and it still didn't solve the interior struggles faced by Brunk (two points and six rebounds) and Jackson-Davis (nine points and three rebounds).
· Joey Brunk lacked the athleticism to stay with Nate Reuvers: Speaking of Brunk, the transfer forward had a nightmarish performance against Wisconsin junior forward Nate Reuvers, who unleashed a smorgasbord of post moves and drives to the basket against him.
Brunk wasn't physical enough to stop Reuvers from gathering the ball in the post, nor was Brunk athletic enough to stay in front of him when he drove inside or to close down on Reuvers when he shot from distance.
Whatever the scenario, Brunk was torched time and time again by the Wisconsin big man.
"They got into a very comfortable rhythm running their stuff," Miller said. "There wasn't a whole lot of physicality from us — there wasn't a whole lot of tenaciousness on the ball."
Reuvers' final line of 20 points and four rebounds not only boosted a struggling Wisconsin offense (which had failed to score more than 54 points in any of its prior three games), but it also created space for redshirt sophomore guard Kobe King, who led the Badgers with 24 points on 10-of-15 shooting.
King terrorized IU from his spot on the wing, finding success at different times against Damezi Anderson, Jerome Hunter and Justin Smith.
King had space to operate because of the attention Indiana paid to Reuvers. As a result, Wisconsin's ball movement was free flowing, even as Miller threw a series of different lineups on the court in search of something that worked.
· Devonte Green fails to repeat scoring magic from Florida State game: Once again Devonte Green led the Hoosiers in field goal attempts (8), but the shot selection wasn't nearly as good, nor was the end result as successful, as his 30-point outing in the Florida State win.
Green and Smith were both Indiana's second-leading scorers with 10 points, but it was an inefficient 3-of-8 shooting showing from Green. It seemed like the senior guard was forcing things, trying to create plays where there were none and taking shots that weren't available.
That same concept could be applied to a number of Hoosiers on offense Saturday, but it was more glaringly evident with Green given what we know his scoring exploits can be.
Indiana's backcourt trio of Durham, Franklin and Green combined to shoot 40 percent from the field, something that's not horrible on its own, but magnified when the frontcourt anchored by Brunk and Jackson-Davis fails to contribute.
· Despite having a size advantage, Hoosiers get out-rebounded for first time this season: Indiana's win-loss record still matches its ability to win the rebounding battle.
Wisconsin's 29-28 rebounding advantage didn't come because the Badgers were taller than the Hoosiers, but rather because of positioning and will.
"It's not about size," Wisconsin coach Greg Gard said. "It's about liking contact and it's about heart and toughness, too."
Brunk's six rebounds led Indiana and Jackson-Davis had an uncharacteristically poor night with only three.
There were multiple instances of Indiana's players standing and watching while a Badger swooped in to gather a loose ball.
Each time this occurred it was met with a scornful glance from Miller, who gave opportunities to Damezi Anderson (four rebounds), De'Ron Davis (one rebound) and Race Thompson (four rebounds) to bang inside and compete for loose balls, but Indiana's heavy hitters didn't pull their weight down low.
· Leadership questions arise after the loss: Blowout losses usually bring plenty of blame, and Saturday was no different.
The isolating factor which Miller spent most of his postgame media conference discussing was leadership, and how much it was lacking for Indiana inside the Kohl Center.
"You could tell throughout the course of the game we had a quiet group today. All the way around," Miller said. "You've got to have a rallying cry at some point, someone's got to be able to jump start you to shake you up a little bit."
Green said the lack of communication caused Indiana defensive issues when it came to screen coverages and positioning, two factors that let Wisconsin's offense settle into an early rhythm.
"We've got to do better communicating," Durham said. "We gotta emphasize communicating and bounce back from this."
Indiana's turnaround is quick. The Hoosiers travel to Madison Square Garden on Tuesday night for a Jimmy V Classic matchup against Connecticut.
It remains to be seen if there's enough time until then to implement all the changes necessary after Saturday's showing.
Photo credit: Wisconsin Athletics
Filed to: Aljami Durham, Devonte Green, Joey Brunk, Wisconsin Badgers