Indiana lacks leadership, shows how much it misses Phinisee in loss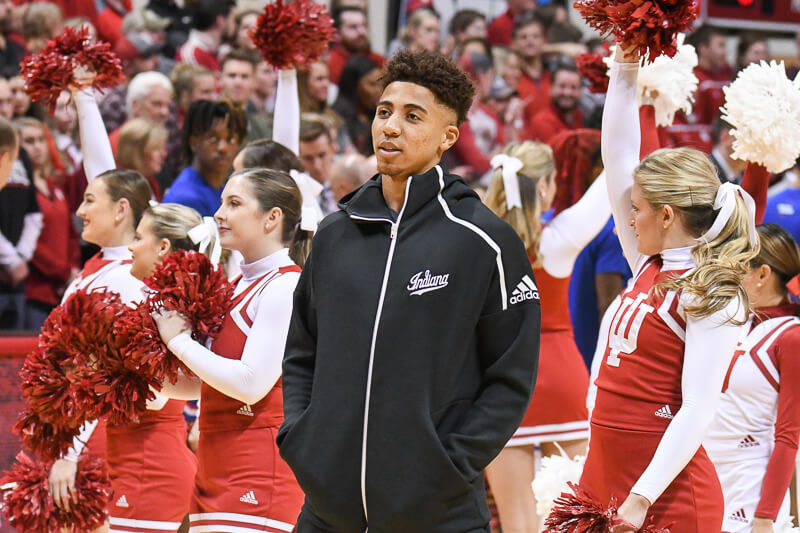 MADISON, Wis. — Devonte Green stood in the hallway of the Kohl Center with his hood up and expression low as he tried to explain Indiana's 20-point loss to Wisconsin on Saturday.
The answer seemed to always come back to Indiana's lack of communication and leadership. It's what Archie Miller talked about after the game. It's what Green often reverted back to in his comments and it's even what Al Durham sometimes blamed as well.
"I just don't think we were on the same page," Green said.
What does it mean when your head coach and two captains blame leadership as the reason for an embarrassing road defeat?
That answer remains unknown for now, but one thing that is certain is the Hoosiers' backcourt underperformed Saturday, and it shows how much it misses the presence of Rob Phinisee.
Phinisee may not be the loudest player on the team, but playing the point guard positions commands leadership.
The sophomore guard is battling an ankle injury right now, and Miller said he is doubtful for IU's next game against UConn in the Jimmy V Classic at Madison Square Garden, but he's hopeful for Phinisee to return in mid-December.
All Phinisee could do Saturday was sit on the bench in his black jumpsuit with a boot on his right foot and clap to encourage his teammates. On the floor, it was up to Green and Durham to take command of the offense, and both of them failed to do so.
"It starts from the top down," Durham said. "I feel like I gotta make it an emphasis for everyone to talk, and I take responsibility for it and I'll make sure it doesn't happen again."
Durham tried a few times to energize his teammates in the huddle, but nothing seemed to work as Wisconsin kept raining threes from the outside and getting easy looks off of screening action. The communication also lacked on defense, and Phinisee is Indiana's best perimeter defender, so that's another area where he is greatly missed.
The Hoosiers have managed without Phinisee for four of the five games he's missed this season, but Saturday's first road game in an arena they've lost 18-straight games in displayed the importance of the 6-foot-1 guard.
"I don't think we'll hesitate to play him as soon as he's ready to go and get him back reengaged with our team," Miller said before the Wisconsin game. "That would make us hopefully fully loaded, so to speak, as we enter the later month of December and as we go into January."
But for right now, the Hoosiers will have to move on without Phinisee, and more importantly, move on from this game. Miller had sort of a calming presence about himself after Saturday's loss because he thinks his players have the mental toughness to learn from it and put it behind them going forward.
Durham and Green displayed that mentality postgame. Green is from New York and Durham has family from that area, so being able to play at Madison Square Garden Tuesday provides both of them the ability to perform in front of their families. Despite that opportunity, the two were laser focused on the task at hand.
"Just focused on trying to get the win," Durham said. "Trying to get my teammates to learn from this and, you know, closing this chapter right here and try to come in on Tuesday with our hard hats and try to come in with a chip on our shoulder."
Photo credit: Wisconsin Basketball on Twitter
Filed to: Aljami Durham, Devonte Green, Robert Phinisee, Wisconsin Badgers