6-Banner Sunday: Indiana follows Florida State win with bad loss at Wisconsin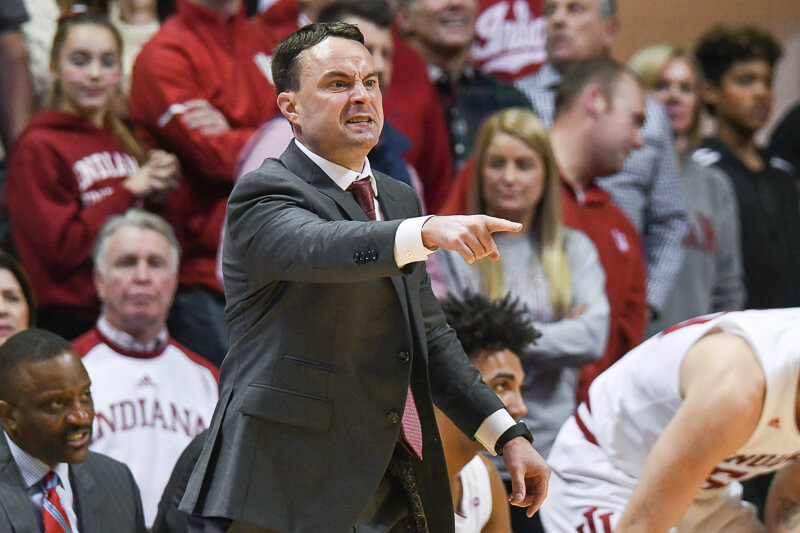 6-Banner Sunday is Inside the Hall's weekly newsletter in partnership with The Assembly Call. More than 6,500 Indiana fans receive the newsletter each week. In addition to appearing each week on the site, you can also opt to receive 6-Banner Sunday by email. A form to subscribe via email is available at the bottom of this week's 6-Banner Sunday.
Welcome to another edition of 6-Banner Sunday, a joint production between The Assembly Call and Inside the Hall where we highlight the five most essential IU basketball stories of the past week, plus take a look at how the other IU sports programs are doing.
Hopes were high after Indiana defeated No. 17 Florida State at home on Tuesday. The matchup represented Indiana's first true test of the season, and they exceeded expectations with a double-digit win. It had Hoosier fans expecting Indiana to break its 22-year losing streak at the Kohl Center on Saturday.
But … Wisconsin came out and outperformed Indiana in every way, taking the victory 84-64.
Let's take a look at the week filled with a lot of good and a lot of bad.
In this week's edition:
• Wisconsin dominates Indiana in all facets in Big Ten opener
• Leadership lacking for Indiana in Wisconsin loss
• Indiana takes down Florida State, Leonard Hamilton praises Hoosiers
• Green light: Archie Miller ready to live with Green's mistakes
• Pieces falling into place for Bob Knight's return to Assembly Hall?
• Hoosier Sports Roundup
Banner #1
Wisconsin dominates Indiana in all facets in Big Ten opener
After a few stifling defensive possessions for Indiana to start the game, their defense all of a sudden crumbled as Wisconsin poured in eight threes in the game's entirety.
While the Badgers shot 53.6% from the field, Indiana's defensive struggles weren't helped by its offense either. The Hoosiers shot just 42% from the field, and a woeful 33% in the first half, looking stagnant the entire time. There was no flow and the energy just seemed low the entire time.
In both Assembly Call Radio and Podcast on the Brink this week, the content featured keys to how Indiana could win this weekend and discussed the early season struggles of Wisconsin, including Nate Reuvers. Reuvers had his way against Joey Brunk, blowing by him off dribble penetration or just simply facing him up for a jumpshot as he scored 20 points in the game.
It was the complete opposite performance for Indiana from earlier in the week, and it leaves the question of who this Indiana team really is after this up and down week.
Banner #2
Leadership lacking for Indiana in Wisconsin loss
Communication was a big reason why Indiana struggled against Wisconsin. They failed to talk on screens, and it resulted in a lot of easy buckets for the Badgers.
They also failed to speak up with one another throughout the game, which kept the team's spirits low. Archie Miller said the team was quiet tonight, and he said that needs to change going forward.
Lack of communication was all Devonte Green talked about postgame as reasons to why the team struggled so much. With him being one of the captains, he took it upon himself to be better in that aspect of the game.
"I think we gotta be better in the area of talking," Miller said. "Just little stuff. We got to become a more savvy team in terms of talking and communication."
Banner #3
Indiana takes down Florida State, Leonard Hamilton praises Hoosiers
Indiana started out the week with an impressive win over No. 17 Florida State at home. The Hoosiers' 80-64 victory showed they might be for real this season.
Their win was highlighted by an offensive explosion from Devonte Green, who had 30 points and a lot of fancy moves. In the Assembly Call Radio postgame show, the Banner Moment was Green crossing over a Seminole defender with a behind-the-back dribble, then getting to the paint to make a layup through contact.
It was that kind of night for Green and the Hoosiers, and Florida State head coach Leonard Hamilton praised them for the way they played Tuesday night.
Hamilton believes Indiana is on its way back as an elite program.
"There's no doubt this is the best team we've played up to this point," Hamilton said. "I think they are definitely a top 25 ranked team. I think they are going to be a NCAA tournament team and I think the fans can be very proud and happy that they are showing signs of coming back to the Hoosier style of ball they've been accustomed to over the years."
Banner #4
Green light: Archie Miller ready to live with Green's mistakes
Devonte Green's career has been filled with ups and downs at Indiana. It's no secret his turnovers on the court and tendency to sometimes take poor shots have put Green in Miller's dog house.
But this season, Miller knows he can't afford to leave Green on the bench due to mistakes.
Inside the Hall student intern Cameron Drummond wrote about this concept ahead of the Wisconsin game, following Green's impressive performance against Florida State, which included a team-high four turnovers.
"It's (a) feast or famine type of thing, but to me, he's got to feast," Miller said. "He's got to be out there. He really does in the big games. And you're going to live with some mistakes.
"We're not going to worry about that. We need his confidence."
Banner #5
Pieces falling into place for Bob Knight's return to Assembly Hall?
Ever since Bob Knight returned to Bloomington, Indiana fans have wondered when he will show up at Assembly Hall for a game.
In an article in the Indianapolis Star, Dana Hunsinger Benbow wrote about how Knight could be nearing a return to the place he hung three banners in. Benbow talked to numerous sources in the article, including Todd Leary, Steve Alford, Sam Alford (Steve's dad), and Fred Glass.
Leary said he definitely thinks Knight will come to a game this season. Steve said he has no idea while his father believes there's a good chance Knight comes to a game this season as well.
As for Fred Glass, there have been talks about naming the court after Knight, and Glass said he "would not presume to predict what coach Knight might want to do" but said he is always welcome back in the Hall.
This quote by Leary sums up how much Hoosier fans care about Knight.
"People just want to know about him. When I go play in a golf tournament, it's not, 'What was your most memorable time playing at IU?' It's, 'Hey, give me your best Bob Knight story,'" Leary said. "There is a worldwide mystery about him."
Banner #6
Hoosier Sports Roundup
This content was contributed by Aaron Shifron.
Women's Basketball takes center stage this week as they continue to build on what has potential to be the best season in program history. However, despite being on hiatus until their Bowl Game, the Football team did make some huge news off the field in regards to their coach. Also, IU Men's Soccer had their season end in heartbreaking fashion and recent former Hoosier great Lily King makes a return appearance to Banner Sunday.
• Women's Basketball blew out a solid Washington State team to conclude their Virgin Island's Tournament with a 2-1 record. This allowed the Hoosiers to continue moving up the rankings to their highest spot in school history once again. The Hoosiers used the new ranking to continue to roll as they defeated a ranked Miami team on the road. Off the court guard Ali Patberg was named to the Ann Meyers Drysdale Watch List.
• Football's big news was an extension given to head coach Tom Allen. In other headlines, quarterback Peyton Ramsey (who is named after Peyton Manning) appropriately won an award named after the former Colts great and his family. Several Hoosiers were also named to the conferences postseason awards on both the defensive and special teams as well as the offensive side. Also, the athletic department declared the first year beer and wine sales a success.
• Men's Soccer's reached its conclusion with a heartbreaking Sweet 16 loss in NCAA tournament. However, because the Hoosiers replaced 10 of 11 starters and still produced a strong season that saw a Big Ten Title, the coaching staff received a major award.
• Swimming and Diving saw many former and current Hoosiers compete at the Toyota US Open including Lily King. Day one, two, and three of the event saw accomplishments for many others as well.
• Volleyball ended their season with a 3-1 loss to Michigan State. Outside Hitter Breanna Edwards was named to the Postseason All-Conference Team.
• Women's Soccer's midfielder Avery Lockwood was named to the U-20 Training Camp for the US. Also defender Allison Jorden was named a third team All-American and Sergio Gonzalez was announced as Associate Head Coach.
• Women's Tennis added the highest junior ranked Croatian player to its class as well as two other highly ranked recruits.
• Track and Field is sending two Hoosiers to the Philippines for the Sea Games.
Rowing signed a ten-person class.
Thanks for your continued support for The Assembly Call. We'll be back next weekend with a new roundup.
Now go enjoy yourself a 6-banner Sunday.
Filed to: