'Indiana is on its way back': Leonard Hamilton praises Hoosiers after loss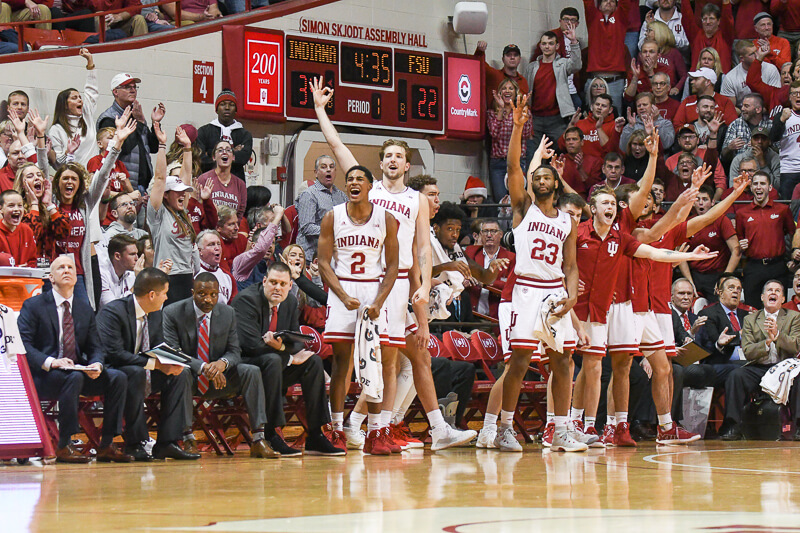 Leonard Hamilton served as an assistant at Kentucky from 1974-1986, and he remembers coming to Assembly Hall and facing tough teams in front of raucous crowds.
He was reminded of that feeling Tuesday night as his No. 17 Florida State Seminoles came to Bloomington to battle the Indiana Hoosiers as part of the Big Ten/ACC Challenge.
Hamilton has been at the helm at Florida State since 2002 and this was the first time he's matched up against the Hoosiers during his tenure.
The Seminoles got off a to a good start, leading Indiana 11-4 early, but then Devonte Green checked into the game and Hamilton walked back into the locker room at halftime with an 11-point deficit. There was a stretch in the first half where Green hit three straight 3-pointers — each one increasing the noise level as Florida State tried to operate on offense.
They came out with a purpose in the second half, forcing Hoosier turnovers while cutting Indiana's lead to just three points. Then more Devonte Green happened, more physicality mixed with athleticism from Trayce Jackson-Davis and Justin Smith, and Hamilton went to the locker room for the final time with a 16-point defeat, his team's second loss on the season.
When he walked into his postgame press conference, Hamilton was all smiles.
"We'll look back at the end of the year, and we'll realize this was not a bad loss for us," Hamilton said. "This was a loss against a team that's really really going to be a team to be reckoned with for the remaining of the season."
That statement was one of many positive things Hamilton had to say about Indiana. In fact, practically all seven minutes of Hamilton's postgame thoughts were about Indiana, and it went way beyond the "we have respect for" and "give credit to" stuff that most coaches feel obligated to say.
Hamilton saw up close a team that he thinks has a lot of potential. He was aware of the program's struggles over the years, but he felt the energy and passion from the sold-out crowd and sincerely spoke about how he thinks Indiana basketball is returning.
"I just thought that the Hoosiers — the players, the coaches, the fans — I thought that they showed that Indiana is on its way back," Hamilton said.
After the clock hit triple zeros on Tuesday, Hamilton approached Miller at half court and the two had a brief handshake as they cruised by one another, barely speaking a word. But after the game, Hamilton praised Miller on his game plan and how he had his players ready to go.
He described Green's performance (30 points on 10-15 shooting) as just one of those outings you know you're going to run into one or two times a season. Hamilton believes it was good experience for his team, though. He said he knows he will run into players who can get hot like Green did in the ACC this year, so it was a good test for his team to a play an opponent that can get them ready for conference play.
"The night was his night," Hamilton said. "He made a huge difference in the game. Everything he threw up seemed like it went in, especially from three."
Florida State was the first opponent for Indiana where the Hoosiers didn't have the size advantage. Despite that, IU still won the rebounding battle 35-25, which was mostly due to the efforts of Jackson-Davis and Smith.
Indiana's physicality, athleticism and depth were all additional attributes Hamilton pointed out postgame.
The win was a statement for Indiana this season and improved their record to 8-0. Their next task is a daunting one at Wisconsin on Saturday to open up Big Ten play. It will be Indiana's first true road game in a place where they have historically struggled.
Saturday is another opportunity for Indiana to sustain its success and prove they belong in the college elite this season, but in the eyes of Leonard Hamilton, the Hoosiers are already there.
"There's no doubt this is the best team we've played up to this point," Hamilton said. "I think they are definitely a top 25 ranked team. I think they are going to be a NCAA tournament team and I think the fans can be very proud and happy that they are showing signs of coming back to the Hoosier style of ball they've been accustomed to over the years."
Filed to: Florida State Seminoles, Leonard Hamilton