Five takeaways from Indiana's win over Florida State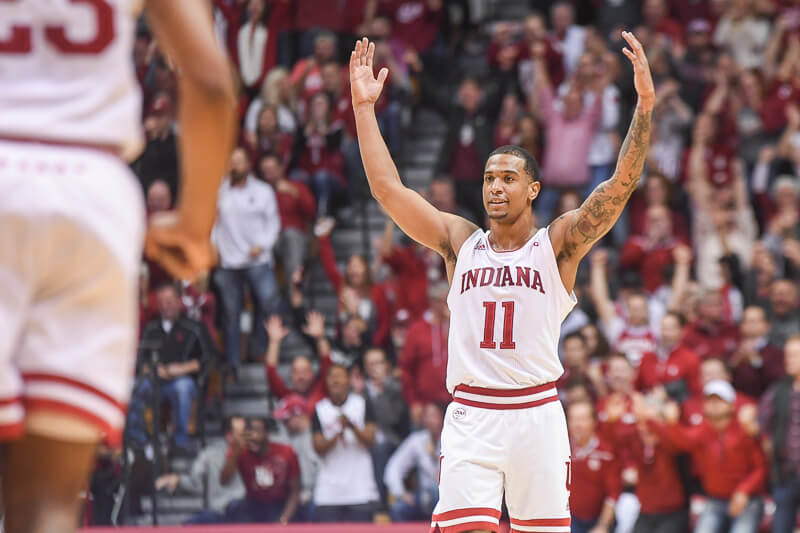 Indiana remained unbeaten with an 80-64 win over Florida State on Tuesday night in the Big Ten-ACC Challenge at Simon Skjodt Assembly Hall.
Here are five takeaways from the win over the Seminoles:
· Indiana continues to live at the free throw line: The Hoosiers entered Tuesday's matchup with Florida State ranked first nationally in free throw rate (FTA/FGA).
Those numbers, however, were built against a schedule featuring inferior competition. For that reason, it was fair to wonder if Indiana could continue its march to the line against a top caliber opponent.
Archie Miller has talked all season about how this Indiana team is built to get to the free throw line and Tuesday was validation of that. Indiana got to the line 38 times against the Seminoles for a free throw rate of 84.4 percent. Indiana only knocked down 23 of those attempts, but still outscored Florida State by 16 points from the stripe.
Through eight games, Indiana's free throw rate of 53.6 percent ranks first nationally.
"Our team is built to do something really well and that's get fouled," Miller explained postgame. "That was a huge thing tonight. It was a big, big part of the game to be able to, obviously, take 38, make 23 to their shot attempts of 16. Hopefully we can continue to do a little better job at the line and keep making them. That's a big thing for this team."
· Smith continues to show off improved game: Devonte Green will get most of the headlines for his 30-point outburst and rightfully so, but junior forward Justin Smith quietly put together a great performance in the victory.
Smith finished with 14 points, five rebounds, an assist and drew six fouls in a team-high 35 minutes. His defense was once again outstanding and he's now shooting 62 percent on 2s through eight games.
"I thought Justin Smith — I told him this after the game — I think he played the best college game of his career regardless of any numbers that he had," Miller said. "I don't even know what he had, I just thought he was a real calming force for us. I thought he was a calming guy in huddles and timeouts. And he was a leader tonight out there and that was great to see as well."
The 6-foot-7 forward, who took his share of lumps in his first two seasons, is a more complete and a more mature player thus far in his junior season.
After attempting only 70 free throws all of last season, he's already taken 36 attempts as a junior. His offensive rebounding percentage is up significantly from 8.2 last season to 11.9 and his turnover rate is down nearly six percent.
· Green finds his zone: Indiana continues to roll with Armaan Franklin in the starting lineup over Devonte Green, but that hasn't stopped the senior guard from leaving his imprint on games.
Green scored more points (30) than he played minutes (28) on Tuesday and was easily the best player on the floor.
The senior captain got rolling early by drawing a foul on a 3-point attempt just 23 seconds after entering the game. Just over a minute later, he got a steal and assisted a Jackson-Davis bucket to give Indiana a 12-11 lead. Green got his first bucket of the night after he got his shoulder past RaiQuan Gray and the only defense left for the Seminoles was to goaltend his layup at the rim.
By that point, Green was comfortable and he splashed a trio of 3-pointers in an 82-second period beginning at the 5:58 mark of the half to send Assembly Hall into a frenzy.
"There wasn't a whole lot of coaching that went into anything he did, as usual," Miller quipped in his postgame press conference.
Green's onslaught continued in the second half as he scored 16 points in 15 minutes as the Hoosiers rolled to a comfortable 16-point victory.
· Franklin delivers in first big time atmosphere: It's no secret that Armaan Franklin has struggled at times in his freshman season. South Dakota State dared him to shoot in IU's 14-point victory on Saturday and the Cathedral product had five turnovers in a total of 41 minutes over the previous two games.
But neither the atmosphere nor Florida State's pressure seemed to bother the IU freshman on Tuesday. He finished with nine points and just one turnover in 23 minutes in the win and his ability to play major minutes immediately has been crucial due to Rob Phinisee's injuries.
According to Miller, Franklin "grew up" on Tuesday.
"I thought tonight he played sturdy," Miller explained. "He showed some calmness to him. He competed and this should be something that he looks at all the way down the line and says to himself, 'I can, I belong out there, I got to keep working and getting better, but I belong out there.'"
· Florida State's length doesn't bother Jackson-Davis: Freshman forward Trayce Jackson-Davis was nearly averaging a double-double entering the game, but hadn't faced a frontline like Florida State's.
The 2019 Mr. Basketball had very few issues dealing with the Seminoles as he finished with 15 points and eight rebounds. He drew seven fouls, a team-high, and went 9-for-14 at the free throw line.
Jackson-Davis has nearly attempted as many free throws (60) as field goals (61) this season and his offensive rating of 138.4 is 13th nationally, according to Ken Pomeroy's stats.
"Really big compliments to my teammates for putting me in open positions to score," Jackson-Davis said. "I got to the line well tonight. Didn't drop as many as I should have but just got to keep working at it. But credit to Florida State because they're a great team and they wreaked havoc and we handled that pretty well."
Filed to: Florida State Seminoles