'He's got to feast': Archie Miller puts faith in Devonte Green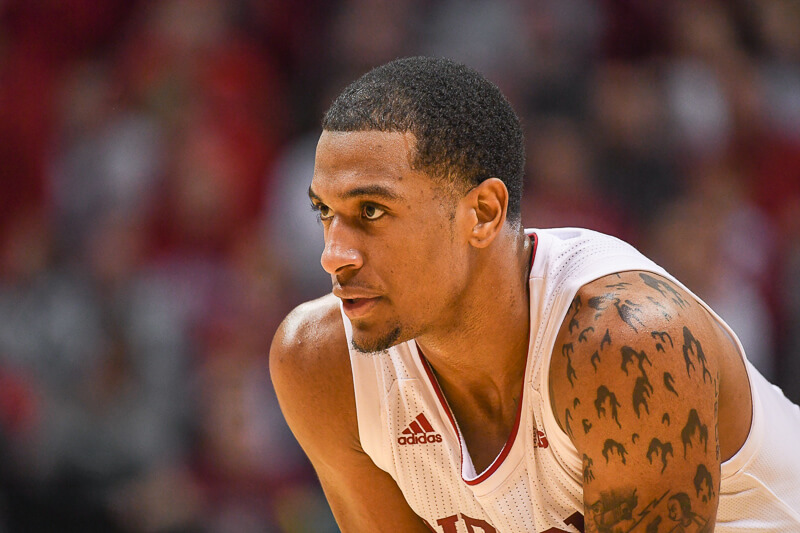 Devonte Green's delivery was deadpan.
Soon after scoring a career-high 30 points in Tuesday night's win over No. 17 Florida State, Green found himself perched at the podium along with forwards Trayce Jackson-Davis and Justin Smith to answer questions from the media.
One question was directed to Smith and Jackson-Davis, asking what the two frontcourt players think when Green begins to take over a game.
"I tell him to keep shooting, but I tell him to take good shots," Smith said.
Then Green chimed in.
It wasn't his turn, but he spoke nonetheless, with a steady tone and emotionless expression.
"Every shot is a good shot," Green said, as his blank face turned to a wry smile.
Jackson-Davis then got his turn to answer.
"Green light," he said. "That's what I think. Every time."
Despite coming off the bench for all five of his appearances this season, Green's role as Indiana's go-to scorer remains undisputed.
His 15.8 points-per-game average leads the team, as does his 51.9 percent shooting on 3-pointers. True to form, Green is also tied for second on the team in total turnovers and is second outright in turnovers per minute.
A hamstring injury forced Green to miss time to start the season before he rejoined the rotation from the bench, while Al Durham and Armaan Franklin took over starting guard duties with Rob Phinisee also hurt.
It's a move that gave Indiana instant bench scoring, but one that also hasn't altered Green's distinct style of play.
"When he's good, he's good on his own," Archie Miller said of Green after the Florida State win. "He rose to the level that a senior guard in that game you hope is able to do. Not get 30, but just make the plays to alleviate some of the pressure. He made almost every single one of them for us."
A major storyline entering the 2019-20 season for the Hoosiers was how Green would perform in a more defined role.
His time as the influential scorer off the bench seemed to have come and gone.
Green's senior season was set to mark his transition to full-time starter with all the responsibilities that come with the task, from slowing the game down to being more selective with his passes and shots.
None of that has fallen into place yet. But what has emerged is a willingness from Miller to let Green be himself on the court, without many of the constraints that were expected to be in place.
"You're going to have to live with some of the stuff that he does because he is gifted and he is talented and he can make shots," Miller said. "He's sort of the head of the snake when the pressure's on."
Miller is willing to live with the turnovers and hurried shots, the flamboyant passes and the at-times careless clock management.
Mistakes like the team-high four turnovers Green committed against the Seminoles could prove costly in the win-loss column later this season.
But Miller has accepted that trying to overcorrect these mistakes may stifle Green's offensive creativity and success.
"He doesn't have a fear of things going bad because he's got to be out there, he's got to play," Miller said.
For Green, making plays isn't premeditated or planned, it's spontaneous.
"I think every player feels a hot hand," Green said. "It's just something you feel. I can't explain it, it's just a feel thing."
"When he's hot, he doesn't miss," Smith said. "In practice, in games, he's just a microwave, so you just got to let him keep playing."
Miller isn't quite at the point where he doesn't care about the mistakes and turnovers.
He'll continue to educate Green on the proper decisions when certain situations arise, but Miller's done with the play-to-play worrying and the micromanaging.
Not all Devonte Green performances are created equal.
The environment and opposition awaiting him Saturday afternoon at Wisconsin will be markedly different from the one he was part of Tuesday night.
But implementing any wholesale change requires tinkering with Green's in-game equation, part math and part magic.
Miller is ready to let Green come up with the formula himself.
"It's (a) feast or famine type of thing, but to me, he's got to feast," Miller said. "He's got to be out there. He really does in the big games. And you're going to live with some mistakes.
"We're not going to worry about that. We need his confidence."
Filed to: Devonte Green