2019-2020 Player Profile: Devonte Green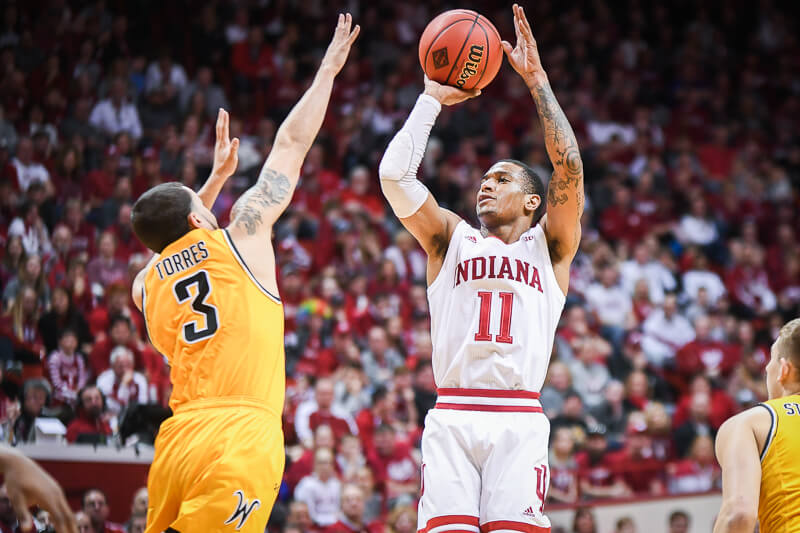 With the start of college basketball season on the horizon, we've transitioned from our look at other Big Ten programs to our player-by-player previews of the 2019-20 Indiana roster. Today, our player profiles continue with a look at Devonte Green.
(Previously: Armaan Franklin, Trayce Jackson-Davis, Jerome Hunter, Race Thompson, Damezi Anderson, Al Durham, Rob Phinisee, Justin Smith, Joey Brunk)
Before Devonte Green's breakout final month of last season, the bad often outweighed the good.
Green showed some unstoppable stretches at times, but decision-making was questionable. His penchant for the flashy play — one born from his New York roots — got him into trouble. Effort and focus wavered.
It led to moments like this:
But a light bulb went off for Green at the end of last season, his style of play finally emerging as a net positive for the Hoosiers. Green scored in double-digits in all of Indiana's March games — seven in total. That stretch included a 26-point barrage against Ohio State in the Big Ten tournament, punctuated by an 8-of-10 performance from deep. With Indiana struggling to get much of anything going on offense, Green's ability to freelance and get his own shot was a bright spot in an otherwise dark afternoon for the Hoosiers, one in which their NCAA tournament hopes went out the door with a loss.
As a co-captain of this year's squad, he seems to have a new resolve and focus heading into his senior season. The expectations are that Green has matured and will matter game and game out for the Hoosiers in 2019-2020. Green figures to start alongside Rob Phinisee in the backcourt this season. Phinisee will be this team's point guard, but Green is likely to get plenty of on-ball opportunities in Indiana's offense as well as an initiator. He led the team with an assist rate of 23 last season with Phinisee (19.3) clocking in at second in that category. However, that assist rate from Green also came with a turnover percentage of 23.2. That's a statistic that's dogged Green throughout his career, as he's been up over 20 percent in all three seasons in the cream and crimson, including a freshman season at 28.8. Green's scoring output over the last month of last season helped balance out his turnover rate, but if he's  really going to step into a new era of play this season, he must be better and smarter with the ball and bring his turnover percentage under 20.
In a 2018-2019 season where the Hoosiers were woeful from distance, Green shined from beyond the arc, hitting 41 percent (48-117). And over his three seasons in Bloomington, Green is a career 38.8 percent 3-point shooter. There's plenty of evidence to suggest he should have the green light from distance — especially if Indiana's offense achieves more balance this year and Green is getting in rhythm looks. Though, if all else fails, him breaking down a defender and creating space for himself on the perimeter and rising and firing from distance isn't necessary a bad shot either. Green shot just 39.2 on 2s last season, another number that could use an improvement in his senior season.
The Phinisee-Green backcourt also projects well defensively. Green has a strong upper body and the ability to hound the ball without committing fouls. He also is a great thief, leading the team with a steal percentage of 3.1 last season, good for 106th best in the country and third best in the Big Ten.
Bottom Line: Green projects to have the best season of his career as a senior, but there's still some work to be done for him to prove it. If Green brings down his turnover percentage and becomes a more efficient 2-point shooter while keeping his 3-point shooting, assist rate and defense humming along, it figures to be a successful year for the North Babylon, New York native.
Quotable: "Just the maturity level. Mentally, I'm at much more mature level now. I don't let things get to me as much. I don't act on impulse. Things like that." — Green at Big Ten media day when asked what's changed his his freshman year
Filed to: 2019-2020 season preview, Devonte Green