2019-2020 Player Profile: Joey Brunk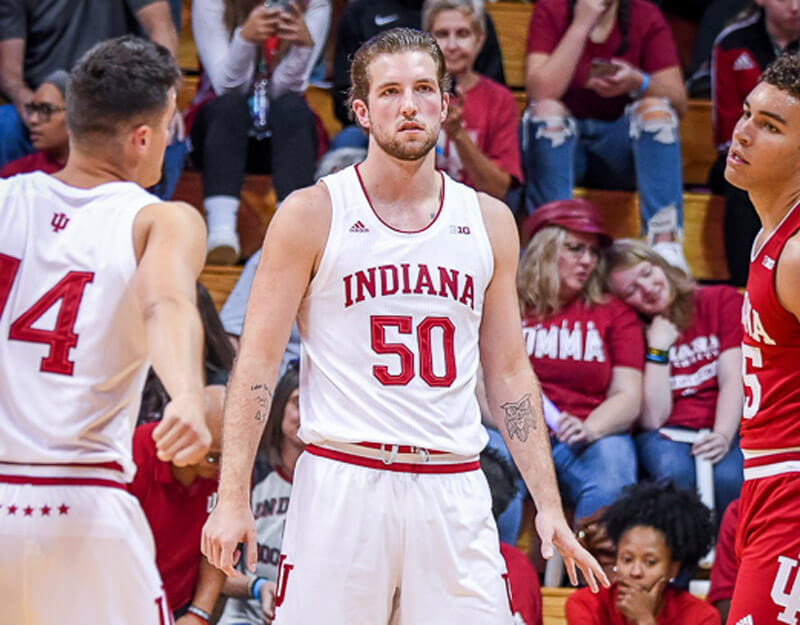 With the start of college basketball season on the horizon, we've transitioned from our look at other Big Ten programs to our player-by-player previews of the 2019-20 Indiana roster. Today, our player profiles continue with a look at Joey Brunk.
(Previously: Armaan Franklin, Trayce Jackson-Davis, Jerome Hunter, Race Thompson, Damezi Anderson, Al Durham, Rob Phinisee, Justin Smith)
Joey Brunk's arrival at Indiana came subtly and without much fanfare.
There wasn't a flashy announcement video or a customized social media graphic.
Instead, the former Butler big man signaled his intent to join the Hoosiers by way of concise message on Twitter in mid-April.
"I've grown up an Indiana kid & I'm proud of where I come from," the tweet read. "Excited to be an Indiana Hoosier & play for Coach Miller. Looking forward to joining the tradition."
Brunk is one of three scholarship players to join the Hoosiers this offseason, but unlike freshmen Armaan Franklin and Trayce Jackson-Davis, he comes with college experience.
The redshirt junior arrives with two years of eligibility still remaining after spending the last three seasons at Butler. With most grad transfers only being one-year players at their final destinations, having two years in Bloomington should allow Brunk to better settle into a role with Indiana.
Playing in 53 games for the Bulldogs over the past two seasons, including all 33 games last season, allowed Brunk to test himself against Big East opposition. He led Butler last season by shooting better than 61 percent from the field, and his average of 7.6 points and 3.6 rebounds per game would compliment his frontcourt teammates at Indiana well enough this season.
Indiana's meager nonconference slate to start the season (the Hoosiers play seven winnable home games before Florida State comes to Bloomington on Dec. 3) offers coach Archie Miller a chance for experimentation.
Miller said he wants Indiana to play a big lineup this season. That means early-season games against the likes of North Alabama and Louisiana Tech will be the time to see which combinations of Brunk, Jackson-Davis and senior De'Ron Davis work on the court, and which don't.
During Indiana's secret scrimmage loss to Marquette on Sunday, Brunk played just over 20 minutes, making three of his four shots, five of his eight free throws and gathered seven rebounds. By comparison, Jackson-Davis played 17 minutes (scoring 11 points with 1 rebound) and Davis played only 10 minutes while scoring three points.
Brunk's numbers weren't mind-blowing at Butler, but he's expected to bring a physical presence around the basket, something crucial due to Davis' career injury problems and the likelihood Jackson-Davis will need time to adjust to the rigors of college basketball.
Bottom line: Either as a starter or coming off the bench, Brunk will be expected to be a bruising, yet calm on-court presence for the Hoosiers. In practice though, Miller wants Brunk to be loud and to use his personality to provide a boost to a "quiet natured" Indiana team. The most important element to Miller being able to play two of his three main frontcourt players simultaneously will be communication and the ability to defend the perimeter. Those two things go together and will have to be managed by Miller. Jackson-Davis has better athleticism than Brunk, but Brunk knows where to position himself on the court. Expect to see different lineup iterations for Indiana to start the season, and from there confidence and matchups will determine how Miller goes about implementing his old-school lineup.
Quotable: "It's been a really smooth transition, we have a bunch of great guys here. They all welcomed me with open arms…I'm comfortable with who I am. I don't have any problem talking and speaking up about anything" — Brunk at IU media day.
Filed to: 2019-2020 season preview, Joey Brunk