2019-2020 Player Profile: Damezi Anderson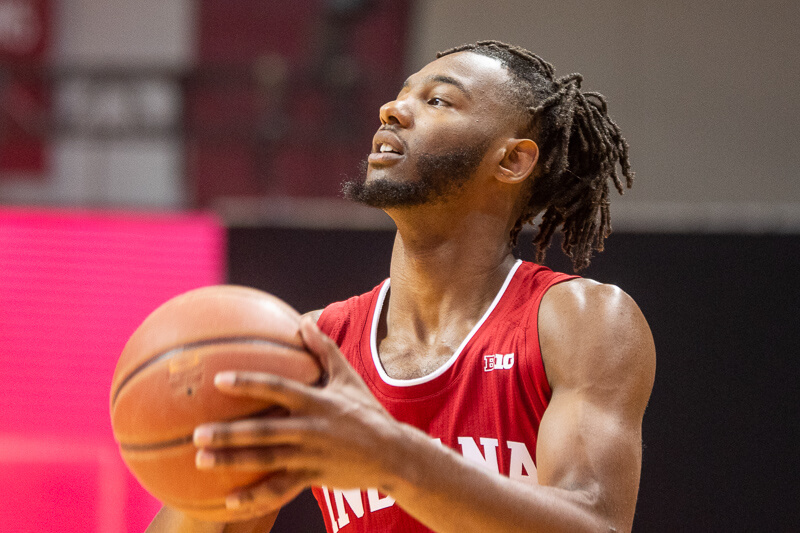 With the start of college basketball season on the horizon, we've transitioned from our look at other Big Ten programs to our player-by-player previews of the 2019-20 Indiana roster. Today, our player profiles continue with a look at Damezi Anderson.
(Previously: Armaan Franklin, Trayce Jackson-Davis, Jerome Hunter, Race Thompson)
Year two for Damezi Anderson at Indiana comes once again with an unspecified role, but certainly increased expectations.
The 6-foot-7, 225-pound sophomore forward from South Bend, Indiana played in 21 games, all off the bench, for Indiana last season, often struggling to make an imprint offensively.
His season-high totals of nine points (against Jacksonville), four rebounds (against Rutgers) and two assists (against Minnesota) weren't standout stats, and the 3-point shooting threat Anderson was supposed to bring the IU lineup never truly materialized.
Anderson was just 7-for-30 on 3-pointers last season, and his shooting struggled from inside the arc as well. He finished the season making just 12 of his 43 shot attempts, which equates to less than 28 percent from the field for an Indiana team that was often uncertain of its scoring sources beyond Romeo Langford and Juwan Morgan.
As everyone knows, Langford and Morgan won't be with the Hoosiers this season.
The resulting scoring responsibilities trickle down throughout the Indiana team, headlined by players like senior guard Devonte Green and junior forward Justin Smith, but also including Anderson.
"He's so much more prepared mentally to know what he's dealing with," Miller said during Big Ten media day earlier this month. "Without question one of the gifts he has is he can shoot the ball."
Indiana needs that ability to show through this season, but what remains unknown is the role Anderson will have in this pursuit for the Hoosiers.
Like last season, Anderson won't be a starter, but his bench minutes could come with more regularity. He played in 11 of 20 conference games last season, only once playing more than 11 minutes.
At Indiana's media day in late September, Archie Miller singled out Anderson and Jerome Hunter as players who need to "find their way on the perimeter."
"Being able to defend on the perimeter is something those two guys are going to have an adjustment at," Miller said. "But they give us some versatility as well."
Bottom Line: Miller knows this season's Indiana team is built differently than his previous two.
With more of an inside-out approach featuring size and skill around the basket compared to reliable outside shooting, Miller has frequently brought up the concept of playing two big men on the court at the same time.
But the need for outside shooting still persists, and it has to come from someone, with Anderson the most likely player not named Al Durham or Devonte Green to contribute in this pursuit.
Anderson's niche as a 3-and-D specialist for the Hoosiers comes with the caveat that he's able to influence meaningful games in both facets.
Learning to better defend the perimeter and consistently make shots is the simplest way to go about doing so, and it's something Miller is counting on happening.
Quotable: "Just being confident in my shot and making sure I knock it down and having the confidence to knock it down no matter what the situation in the game is." — Anderson after last season's home win against Texas-Arlington in which he hit a late 3-pointer to give Indiana a double-digit lead.
Filed to: 2019-2020 season preview, Damezi Anderson