2019-2020 Player Profile: Trayce Jackson-Davis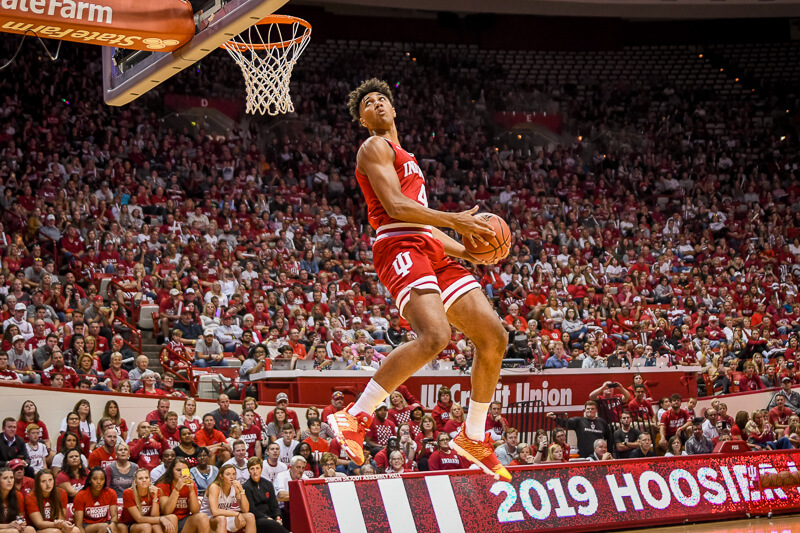 With the start of college basketball season on the horizon, we've transitioned from our look at other Big Ten programs to our player-by-player previews of the 2019-20 Indiana roster. Today, our player profiles continue with a look at Trayce Jackson-Davis.
(Previously: Armaan Franklin)
Indiana's frontcourt will receive a major boost this winter with the addition of Trayce Jackson-Davis.
Jackson-Davis, a 6-foot-9 forward from Center Grove, is the second consecutive Indiana Mr. Basketball to sign with Archie Miller and Indiana.
The signing of Jackson-Davis last fall was a major recruiting win for Miller and the coaching staff for several reasons. It kept the in-state recruiting momentum established in the 2018 class when the Hoosiers inked Romeo Langford, Rob Phinisee and Damezi Anderson.
It also was the culmination of a recruitment that Indiana invested a lot of time and effort into. Shortly after Miller took over in March of 2017, he and the coaching staff identified Jackson-Davis as a priority target for the program.
"Trayce was one of the very first couple young kids in the state that we targeted just in terms of saying that we want to have a good chance of building a rapport and relationship," Miller said last fall. "We worked tirelessly, my staff did, with them. I have a great relationship with the family and Trayce. And to be able to get that caliber of player, obviously, from the state is huge."
So how can Jackson-Davis impact this Indiana team?
The McDonald's All-American could feature in smaller lineups as Indiana's only big or he could play alongside De'Ron Davis or Joey Brunk, provided he can defend adequately on the perimeter. Playing Jackson-Davis with Davis or Brunk could give the Hoosiers a frontcourt lineup that is difficult for Big Ten foes to match up with.
Whether those "old school lineups" happen with any regularity is almost exclusively dependent on Jackson-Davis being able hold his own defensively against other fours who can space the floor.
"He knows he has to defend on the perimeter," Miller said at IU's media day. "He's going to have to do that to be able to play with other guys. He's going to have to learn early and probably go through some hard times getting used to guarding college actions and scouting and what not."
Jackson-Davis, who chose Indiana over Michigan State and UCLA, looked noticeably stronger in his upper body during Indiana's first public scrimmage at Hoosier Hysteria.
While his game is primarily focused in the paint at this time, Miller made it clear at media day that he doesn't expect Jackson-Davis to operate exclusively in the post.
"He's not a prototype typical big," Miller said. "He's very mobile, athletic, he's got great endurance for a young player. He's just going to have to get some experience under his belt."
Bottom Line: Besides Jerome Hunter, no player on IU's roster has the ability to impact this team's ceiling more than Jackson-Davis. He improved rapidly during his high school career and there's no reason to believe that improvement will slow down at the college level. He is athletic, aggressive, skilled at finishing in the paint and can make reads on the floor that young bigs often struggle with. While he's sure to experience the growing pains that most freshmen do in college basketball, his long term potential is an All-Big Ten player who has a chance for a successful NBA career down the road.
Quotable: "You don't get to where he's at — being a McDonald's All-American, being a (2018 FIBA Americas U18) gold medalist — without hard work. Trayce is always working on his game, trying to figure out where he's going to get better. And he attacks every single day with the mindset that he isn't as good as he wants to be yet, so he tries to go out every single day and get better any way he can." – Keion Brooks, a close friend of Jackson-Davis, to Inside the Hall's Seth Tow last spring.
Filed to: 2019-2020 season preview, Trayce Jackson-Davis