Trayce Jackson-Davis is ready for the pressure of changing a culture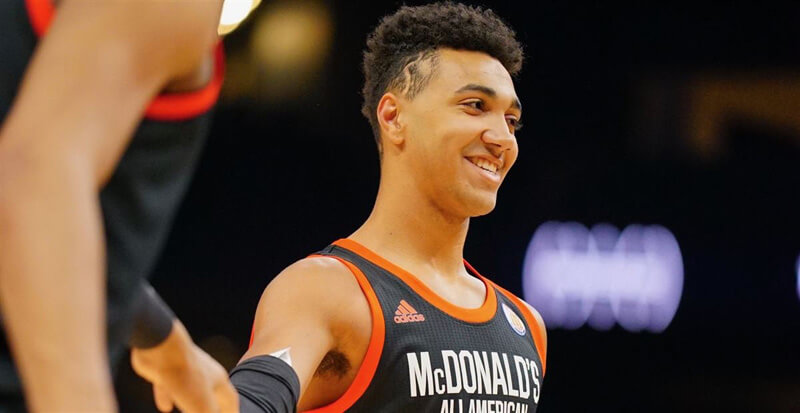 The Hatchet House was loud. Half the bleachers in Ben Davis purple and black, the other in Center Grove red and white. A spot in the 2019 IHSAA Class 4A state championship game was up for grabs, and more than 7,000 fans packed the gym.
That environment can be intimidating for many. But you wouldn't know it from Trayce Jackson-Davis' demeanor. While his teammates wore the moment on their faces, the Center Grove star carried the same stoic expression going through layup lines as he did before a home game in November against Cathedral and a January battle at Ben Davis, games with far less on the line.
Jackson-Davis isn't ignoring the pressure — far from it, actually. He acknowledges its presence, shrugs his shoulders at it and allows it to get comfortable.
"I think it's a good thing," Jackson-Davis says. "It's just all about your mind and how you take on the pressure. Usually I just say to myself, 'You're always going to just play your hardest and do your best, and if it's good enough, then it's good enough. If it's not, you did all you can.'"
Jackson-Davis, 19, developed that mentality through hearing many other elite athletes recite their own renditions. The outlook will come in handy as he transitions from high school basketball to suiting up for the Indiana Hoosiers next year.
Jackson-Davis is a five-star recruit who's ranked No. 18 overall in 247Sports Composite; he's also the son of former NBA player Dale Davis. Every time he stepped on a high school court, and even more on social media, opposing fans went after him.
"He constantly had pressure, especially his senior year with being a frontrunner for Mr. Basketball," Center Grove head coach Zach Hahn said. "He handled all that with great maturity. He never let it affect him, and I think sometimes he used it as fuel for the way he played."
Jackson-Davis credits his mindset to notable advice he heard from LeBron James, his favorite player, at Nike Skills Academy. He said that advice was the most memorable he'd ever received.
"(James) said, 'On Instagram and on Twitter, all these people that are talking to you, they're not real,'" Jackson-Davis recalls. "'Even the guys with the blue checks, they're not real, they're just people with their opinions. And they know nothing about what's actually going on inside the locker room and inside the actual players' huddles.'"
*****
When the hype and expectation around Jackson-Davis grew as he got older and better, he never let it affect him.
It's sometimes hard to say whether he's humble or shy — and while his teammates and coaches would be quick to say that both are accurate, the reserved personality is the first thing you notice about the 6-foot-9, 210-pound Jackson-Davis. He's hesitant to open up if he doesn't know you.
He shares that personality trait with fellow IU signee Armaan Franklin.
"I think Trayce is a lot like me," Franklin says. "He's a quiet kid, but once you get to know him, he's one of the coolest people, one of the funniest people. Me and him share a lot of laughs. He's a pretty cool person to be around. I think that's the biggest thing for me and him. We're so much alike, so I think that's why we kind of connected."
Franklin's not the only one to vouch for Jackson-Davis' humorous side. Former IU target and now-Kentucky commit Keion Brooks Jr., who became friends with Jackson-Davis while they were AAU teammates on Indy Heat during summer 2018, says Jackson-Davis would jokingly sing along to songs on the radio at tournaments and crack jokes on the court. Hahn said that Jackson-Davis knows how to strike a balance between making a joke in the huddle or locker room without becoming obnoxious.
Even when he's being light-hearted, in other words, Jackson-Davis still comes off as reserved. After all, showing emotion — serious or not — on the court isn't a natural tendency for him. His coaches would sometimes have to coerce it from him when the team needed a spark, and he eventually grew to be able to identify those moments himself. He stops short of saying it's an effort for him to show emotion, but he said it's something he knowingly thinks about.
"I just think it all depends on the atmosphere I'm playing (in) or how much my team needs effort," Jackson-Davis says. "Sometimes, guys on my team bring their own effort. But sometimes I need to create energy. So I'll get an and-one and I'll start screaming or do something like that because I know it gets my guys pumped when they need energy."
*****
The semi-state game at the Hatchet House was Jackson-Davis' last high school game — his 34 points weren't enough to save Center Grove from a 67-61 Ben Davis victory.
And yet there he was, taking photos with fans after the game, while inside he was wishing he was the one climbing the ladder to cut down the net. There he was, smiling and laughing with the media afterward, masking the sting of losing behind that same stoic expression he'd sported just two hours earlier.
There he was, comforting his younger brother and teammate, Tayven Jackson, who was unsuccessfully attempting to shield his tears behind a towel.
The emotion came from the realization of a missed opportunity. Tayven didn't get the playing time he hoped for as a freshman, and one of his biggest goals was to play high school basketball with his older brother. Thinking about that after the game caused him to cry.
Trayce assured him that everything would be okay and told him that it's his team now.
"It meant a lot, that he really cared," Tayven said. "I know he's my brother, he always kids around. But in that moment, I could tell that he really cared."
Trayce and Tayven's relationship is rather typical for brothers. They fought a bit when they were younger, but they've grown closer as they've matured. It was meaningful for them to be each other's teammate for a season, even if Tayven didn't see the court as much as he wanted.
They got under each other's skin a bit as teammates, but it was largely because of Trayce's high standards for his brother. He'd make sure Tayven heard him if he wasn't playing as hard as he could.
During one game in which Tayven did see the court, the Cathedral game against Armaan Franklin, he exceeded his brother's expectations. With less than 30 seconds to play and Center Grove down 60-59, and the entire gym expecting Trayce to get the ball, Tayven hit a clutch go-ahead 3-pointer to give the Trojans the lead for good. Minutes after the game, Trayce could hardly contain his wide smile when talking about the shot.
Tayven wasn't the only one who needed consoling after the semi-state loss. Jackson-Davis did his best to cheer up the whole team.
"I just try to bring some positivity to the team," Jackson-Davis said. "In the locker room, a lot of our guys were upset, so I just tried to comfort them and tell them that everything was going to be good. It's just one game."
That attitude has rubbed off on those he's led, as he's also a guy who leads by example. Tayven said the biggest thing he's learned from his brother is being an unselfish team player.
Jackson-Davis' work ethic has also influenced his peers. Tayven added that when Trayce saw his recruiting ranking as a junior, his humble reaction was to work even harder to move up the list.
But that work ethic wasn't always something that came naturally to him.
When Jackson-Davis and Franklin were AAU teammates on Team Teague in middle school, the difference in skill level between the two was notable. Franklin says Jackson-Davis was actually one of the worst on the team.
Franklin even remembers his former and future teammate trying to dunk and coming up well short at the end of games that were out of hand — which is ironic now, given that Jackson-Davis described his junior year dunk over Hamilton Southeastern's 7-foot-1 then-sophomore Mabor Majak as the moment from his high school career that defines him as a player because of his love for dunking on people.
Hahn said Jackson-Davis always worked hard, but he didn't know the proper way to do so early on. The work never translated to progress until his skill and athleticism caught up with his work ethic. It took a few years at Center Grove for that to happen.
Hahn says Jackson-Davis wasn't very detail-oriented early on, but that improved as he gained more experience and learned more about the game.
"There's a lot of guys that are really talented but don't know anything about basketball, but Trayce wasn't one of those guys," Hahn says. "He wasn't talented as an eighth grader, as a freshman, and even part-way through his sophomore year. And then all of a sudden, he took that next leap athletically and physically. And that's when you started to see, the IQ took off, as well as the ability."
The work ethic took off as well. Jackson-Davis' friendship with Brooks was formed on a bond over pushing each other to work as hard as they could and get better every day.
"You don't get to where he's at — being a McDonald's All-American, being a (2018 FIBA Americas U18) gold medalist — without hard work," Brooks says. "Trayce is always working on his game, trying to figure out where he's going to get better. And he attacks every single day with the mindset that he isn't as good as he wants to be yet, so he tries to go out every single day and get better any way he can."
*****
IU basketball began a rebuild when the program hired Archie Miller as head coach. His first two seasons have been bumpy as he attempts to establish a new system and culture.
Jackson-Davis is no stranger to changing a culture. Before his career, Center Grove was mainly known as a football school. The Trojans reached semi-states in football eight of nine years between 2008 and 2016, with three state championship appearances and two titles in that span. Center Grove boys basketball won just one sectional championship in the 20 years preceding Jackson-Davis' arrival and hadn't won a regional title in 43 years.
The football team didn't slow down in his four years, playing in the regional title game every year with two appearances in the state championship game and one title.
But with Jackson-Davis leading the way, Center Grove became a basketball power as well. The Trojans won three straight sectional titles, a first for the school, from 2017 to 2019, and advanced to the semi-state game in Jackson-Davis' senior year.
Tayven said his brother didn't verbalize it very often, but he could tell changing the culture meant a lot to him.
"He took that personally," Tayven said. "Basketball's his sport, and he took that kind of personally because we didn't get a lot of fans for basketball. So he wanted to play harder and harder for that, to get more fans to come to the basketball games."
That attendance increase was tangible. Center Grove's gate receipts for boys basketball show higher attendance during Jackson-Davis' junior and senior years than the program had in any of the nine years prior. That number was especially high in Jackson-Davis' senior year, when Center Grove brought in over $9,000 more at the gate for boys basketball than it had in any of the previous 10 seasons.
Center Grove athletic director Jon Zwitt says community and state-wide interest in Center Grove boys basketball continually rose throughout Jackson-Davis' career.
Jackson-Davis views that culture change as a big part of his legacy at Center Grove, and it translates directly to one of his goals in Bloomington. He and Franklin have discussed and established their intent to change the culture of the program and turn things around.
Jackson-Davis spent months following his commitment talking to Brooks about IU, trying to convince his friend to join him. That program revival and culture change was a main aspect of his recruiting pitches.
"He just wants to bring Indiana basketball back to what it used to be," Brooks says. "He wanted to take our friendship that we developed and take it out to college with us. We could really have had some success there together, and just being around each other."
When Brooks committed to Kentucky, it only added to the weight on Jackson-Davis' shoulders next year and the pressure he'll face upon his arrival. But that doesn't faze the Indiana All-Star.
*****
Jackson-Davis will have a role for next year's Hoosiers. How significant that role will be could vary, depending on how the roster evolves and how Miller decides to deploy his front court next season. He should have a chance to start, but he could also come off the bench as a sixth man, or even have to work his way up to major minutes.
Bart Torvik, who uses analytics to create projections for teams and players on his site, says his system projects Jackson-Davis at 9.7 points and 5.5 rebounds per game for next season. While the projections for incoming freshmen are basically only derived from height and recruiting rank, they're a useful baseline for setting expectations. Last year, Torvik projected Romeo Langford to score 14.5 points per game — pretty close to his actual tally of 16.5. The Jackson-Davis projection is representative of a player who'd both solidly contribute as a freshman and have room to improve down the road.
Long-term, he's essentially the heir apparent to Juwan Morgan. Their games bear some similarities: passing prowess inside, strong post game and finishing ability, and an outside shot that could improve over time. Jackson-Davis doesn't see himself filling that role immediately, but thinks that's a mold he could fit into in a few years as he continues developing his game.
And yet, Jackson-Davis succeeding Morgan creates an interesting trend for the Hoosiers, whether intentional or not. Indiana's hoping to escape a three-year stretch without NCAA tournament play, and those teams were also fronted by shy, lead-by-example players. As fans grew frustrated by teams that often lacked fire, it's fair to wonder if IU might repeat its past frustrations.
But that's not the Trayce Jackson-Davis the Hoosiers see arriving in Bloomington this summer. Although Indiana center De'Ron Davis hasn't been able to talk with him very much, he thinks the incoming freshman will be key next season.
"He's going to be a great guy (with) offensive rebounding, scoring in the low post," Davis says. "And I feel like our team's always been better when we have two low post scorers, in my opinion. So he's going to come in and fit right in."
However, the Hoosiers are getting more than just rebounding and post scoring in Jackson-Davis. They're getting a player who steps up in big moments. 23 of his 34 points in that semi-state game came in the second half while trying to lead a Center Grove comeback. He was relatively quiet in the first half, but he ensured his presence was felt after halftime.
That game followed up his 40-point performance in a regional championship game win over Bloomington South. And that came one week after scoring the last 18 points of the Trojans' comeback, overtime win over Franklin Community High School in the sectional title game.
They're getting a guy who prides himself on being a good teammate. While some highly-rated recruits will put up 30 shots a game and pull up from almost anywhere, Jackson-Davis focuses on passing from the post and taking smart shots.
He's not a guy that's coming to Bloomington with the sole intention of playing in cream and crimson for one year before heading to the NBA draft. He's coming to be part of the team.
"I want to go to college," Jackson-Davis said, "and then I'll stay there as long as I need to until I become (professional) level and until I'm really ready to go to the NBA Draft, whenever that is, if there is a time for that. I'm just worried about college right now, making my team better, making my teammates better around me and being a good teammate."
But as Jackson-Davis said, his main priority is winning.
"They're going to get a player that's explosive, that wants to win and is going to try to do everything in their power to win."
Filed to: Trayce Jackson-Davis