Indiana Media Day Notebook: What the players said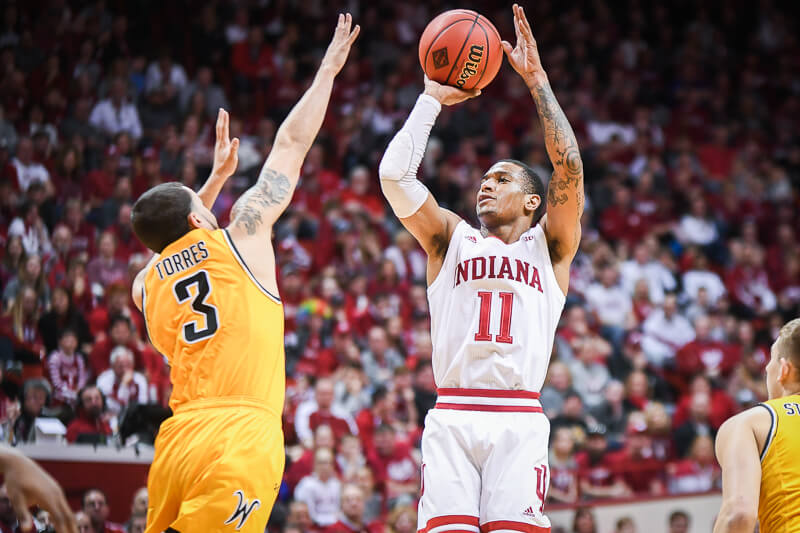 Indiana's 2019 Media Day schedule is spread out over two days this year, with all 11 scholarship players meeting Tuesday with media members inside the press room in Assembly Hall.
The players were divided into three groups of three and one group of two when speaking with head coach Archie Miller set to speak Wednesday.
Below are the most significant takeaways from Tuesday's media session, sorted by the player groupings.
Damezi Anderson, Trayce Jackson-Davis, Devonte Green
Green said he is ready for the opportunity to take on more of the scoring load for Indiana this season. The senior guard finished third on the team in scoring last season, averaging 9.4 points per game, but was buoyed by a NIT run which saw Green average 14 points per game across three postseason games.
He hinted at ways Indiana's offense would adapt to the losses of Romeo Langford and Juwan Morgan as the team transitions to Green as the go-to scorer.
"I think there's going to be a lot more off-the-ball movement involving everyone on the team," Green said.
This movement would keep opposing defenses off balance against a backcourt combination of Green, Al Durham and Rob Phinisee. Green also said the movement would help an Indiana offense which already has good versatility down low.
It remains to be seen how much Anderson or Jackson-Davis would factor into the frontcourt rotation. Anderson made 21 appearances for the Hoosiers last season, but was one of the teams worst shooters as he made less than 28 percent of his shots.
Jackson-Davis, a five-star recruit and McDonald's All-American last season at Center Grove High School, praised the offseason strength and conditioning program implemented by Director of Athletic Performance Clif Marshall. Jackson-Davis said he's increased his vertical and has gotten stronger since arriving in Bloomington, and De'Ron Davis described him as a "cool, calm and collected kid."
De'Ron Davis, Jerome Hunter, Rob Phinisee
The headline moment from Tuesday's session was the official news Hunter is participating in all basketball-related activities.
Hunter didn't appear in a game for Indiana last season and said it was the first time he was forced to sit out of basketball for a year (his season-ending leg surgery took place last November).
"Last year really hurt, but as you keep getting through it you start thinking of other things and how you can get better off the court," Hunter said. "That's all I focused on, how next year I could be the best player I could be."
Time away from the court also afforded Hunter the chance to familiarize himself with Miller's system.
"They recruited me for my versatility," Hunter said. "I feel like I can just be anywhere on the court that he (Miller) wants me to be."
Davis, another IU player who's struggled with injuries during his Hoosier career, said he's continuing to take precautions with his body and improve his diet ahead of his senior season.
Transfer Joey Brunk will join Davis as another upperclassman in Indiana's frontcourt, and Davis said Brunk has already brought a loud voice to the Indiana locker room.
Phinisee's second season will come with more offensive responsibilities after a freshman campaign in which he was praised for his defense.
He averaged 6.8 points per game last season while making just over 36 percent of his shots.
"Just having that mindset to be more aggressive, I feel like it opens up everything for everybody else," Phinisee said.
Al Durham, Armaan Franklin, Justin Smith
For an Indiana team which collectively made just 31.2 percent of its 3-pointers last season, both Durham and Smith made it a priority this offseason to improve distance shooting.
Durham was already an effective long-range shooter, having made nearly 35 percent of his attempts last season, the second-best mark on the team behind Green (41 percent). Smith meanwhile made just seven of his 32 attempts, but said he expects 3-point shooting to make up more of his offensive game this season.
These shooting opportunities for Durham, Smith and others will likely be born out of increased movement during Indiana's half-court sets.
Durham's may have a front-row seat to this, as he's gotten reps at point guard this offseason, offering Indiana an alternative main ball-handler to either Green or Phinisee.
Given this, it will be difficult for Franklin to wiggle his way into the Indiana rotation.
He'd do well to take advice from Smith, who passed along words of encouragement to another freshman, Jackson-Davis, about what to do during your first season in the Big Ten.
"Stay patient and take everything one step at a time, one day at a time," Smith said. "The days can kind of blur together as the preseason, summer, going into the beginning stages of the season… really just focus on what you can do that one day to really make a difference."
Joey Brunk, Race Thompson
The juxtaposition between Brunk and Thompson was evident in the day's final grouping.
Soft-spoken and reserved, Thompson is still trying to put together his complete package to earn more minutes in Miller's system.
His standout performance from last season, shutting down Wisconsin's Ethan Happ in a home upset win over the Badgers, came with the qualifier that Thompson must get better on offense.
Thompson said improving his shooting was a point of emphasis this offseason, the period which Brunk used to acclimate himself to Bloomington.
Despite being a graduate transfer from Butler, Brunk will have two years of eligibility for the Hoosiers.
"During my time at Butler I had a great three years, but kind of that chapter of my life is over and it's a new chapter in Indiana for the next two years," Brunk said. "It doesn't have to be forced right now. I really get to be part of Indiana, it's not just a nine-month exchange."
Brunk is already well-versed in Indiana basketball tradition.
He recalled growing up and watching Indiana teams featuring Jordan Hulls, Victor Oladipo and Cody Zeller, and also alluded to the veteran leadership he's already tried to provide his new team with.
"I'm comfortable with who I am and I don't have any problem talking and speaking," Brunk said.
Hoosiers add walk-on guard
An additional announcement Tuesday completed the Indiana roster for the 2019-2020 season.
Jacquez Henderson, a 6-0, 185 lb. guard will join the Hoosiers as a walk-on for the upcoming season.
He attended The Geneva School in Winter Park, Florida and graduated from Geneva in 2016. He previously attended Louisville and Butler and is listed as a junior. Henderson will wear the number 22.
Subscribe to Inside the Hall's YouTube channel and like our page over on Facebook.
Filed to: