2019-2020 Player Profile: Al Durham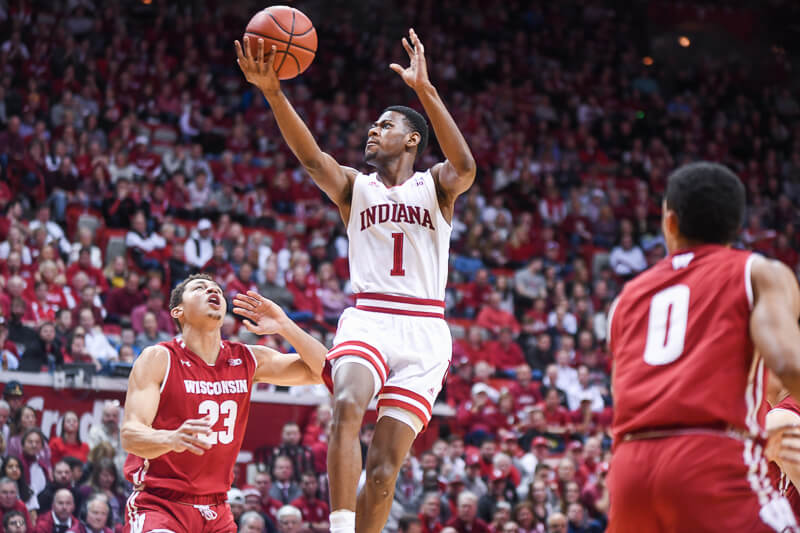 With the start of college basketball season on the horizon, we've transitioned from our look at other Big Ten programs to our player-by-player previews of the 2019-20 Indiana roster. Today, our player profiles continue with a look at Al Durham.
(Previously: Armaan Franklin, Trayce Jackson-Davis, Jerome Hunter, Race Thompson, Damezi Anderson)
During last year's stretch in which Indiana lost 12 of 13 games, Al Durham seemed to be one of the players who showcased the most emotion on the court, trying to rally his team out of their slump.
Now heading into his junior season, Durham was voted to be one of the team's two captains alongside Devonte Green.
In a year where Indiana's expectations are low, Durham will need to improve in just about all facets of his game — leadership, scoring, shooting, defending, passing, ball handling — you name it, and he knows it.
"Just being more vocal, making sure everyone is in their spots, making sure everybody's doing the right thing," Durham said at Big Ten media day. "I know I'm going to be an upperclassman. I can't do the things I was doing freshman and sophomore year."
Durham's freshman year he was thrusted straight into the fire with Archie Miller at the helm. He played in 31 games and averaged 18.8 minutes and 4.8 points per game while shooting 14-49 from beyond the arc (29%).
His sophomore year saw a major increase in production. He appeared in 34 games, playing 28.8 minutes and scoring 8.3 points per game. He shot 40-115 from beyond the 3-point line (35%), and despite that percentage, Durham had the second-highest percentage and second-most 3-point makes behind Green.
His outside stroke was briefly on display at Hoosier Hysteria as he made one in the scrimmage and won the 3-point contest with women's basketball's Jaelynn Penn.
"It's just something I can continuously improve in," Durham said at IU media day about his perimeter shooting. "Even though I took strides last year, I want to continue to make strides this year."
But improved shooting isn't the only thing Durham will look to do this season. For the first time in his Indiana career, he will be tasked to create plays as a ball handler. Miller has said on numerous occasions in the offseason that he plans to play Durham at the point guard this year.
In his first two seasons, Durham has averaged just 1.4 assists per game. That will likely increase if the ball will be placed in his hands more. Durham said he's been taking reps in practice at that position with Rob Phinisee, and he feels comfortable doing it.
"To me, he can push the ball, and he has good tempo," Miller said of Durham at point guard. "He looks at me when we talk about it, he knows what's going on. He knows what I'm looking for. He can really, to me, continue to help our pace."
Durham believes he was selected as the captain of this team for a reason, and said he just needs to continue what he's doing.
Bottom line: On a roster that has a lot of frontcourt depth, the backcourt will be essential to giving Indiana's frontcourt players room to go to work. Whether coming off the bench to back up Phinisee at the point or starting alongside Phinisee and Green, Durham will need to be more a playmaker for Indiana this year, and he'll need his 3-point shooting to be more of a threat to space the floor and complement Green and Phinisee if they're on the court at the same time. With Miller preaching more off-ball movement and a better-flowing offense, Durham will be instrumental in making those wishes come true as well.
Quotable: "I see us moving a lot more, and I feel we've been working to get the ball moving a lot on our offense. A lot of motion, so everybody gets a feel of the ball and get us moving so we're not really stagnant this year." — Durham at IU media day.
Filed to: 2019-2020 season preview, Aljami Durham