Big Ten media day notebook: Indiana's expectations for sophomore Damezi Anderson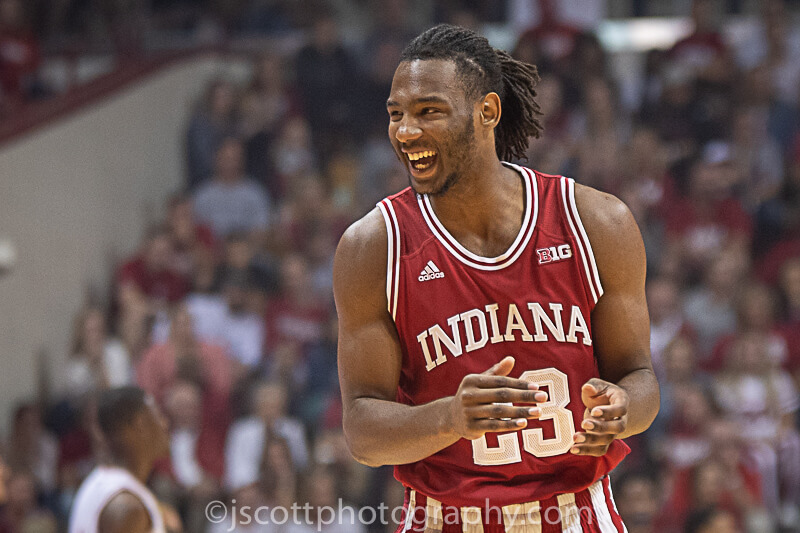 ROSEMONT, Ill. — Archie Miller strode to the media stage inside the Hilton Rosemont hotel with a sense of purpose and style.
A distinct crimson-colored blazer differentiated Miller from the other 13 Big Ten men's basketball head coaches during Wednesday's conference media day just outside Chicago. But soon enough Miller's rhetoric lumped him back in with his colleagues.
From a newly-passed California bill allowing college athletes to profit from their likeness to questions about 3-point shooting, Miller was quizzed on some of college basketball's hot topics, along with more specific questions about how his Hoosiers will fare in his third season as head coach.
Damezi Anderson's time to take advantage
During both Wednesday's Big Ten media day and Indiana's media days last week, sophomore forward Damezi Anderson's name was commonly cited as a player Indiana will rely more on this season.
"Right now he's as big and strong and as well-conditioned as he's been," Miller said. "Just in his communication in this offseason and what we try to do with him, he'll be the first to tell you that he had a lot to learn, and there's some things he needs to do better."
Indiana's need for Anderson to produce is obvious. The Hoosiers tied with Rutgers for the worst 3-point shooting percentage (31.2) in the Big Ten last season, despite hoisting 64 more 3-pointers than the Scarlet Knights.
While Indiana returns two of its better distance shooters from last season in guards senior Devonte Green and junior Al Durham (two players who also represented IU at Big Ten media day), Miller is comfortable singling out Anderson as a player he plans to rely on in the same vein.
"He's so much more prepared mentally to know what he's dealing with," Miller said. "Without question one of the gifts he has is he can shoot the ball…he's got to be able to defend his position a bit better."
Anderson is bigger this season. Listed at 6-foot-7 and 225 lbs. it's a 10-pound increase from Anderson's freshman season.
In theory it allows Anderson to bang and crash down low in the post more for an Indiana team intending to use a bigger lineup this season. Anderson isn't part of those conversations, with redshirt junior Joey Brunk, freshman Trayce Jackson-Davis and De'Ron Davis comprising the focal pieces of Indiana's front court.
But Miller appears to be banking on Anderson for spot minutes off the bench at a bare minimum.
"O Captain! My Captain!"
Monday's announcement of Durham and Green as Indiana's captains for the 2019-20 season went nicely with the team's media day pairing.
Both players are at different junctures in their college careers though, having arrived at this point from differing pasts as well.
Durham has long been valued as a steady and calm on-court presence. He's demonstrated the ability to knock down 3-pointers (Durham shot 34.8 percent on 3s last season). Despite Miller's teams lacking sufficient ball movement on offense during his first two seasons in Bloomington, Durham has always seemed willing to make the extra pass, even at times to his detriment.
This season, expect to see Durham take on more primary ball handling and point guard responsibilities.
"To me he can push the ball and he has good tempo," Miller said of Durham at point guard. "He (Durham) looks at me when we talk about it, he knows what's going on. He knows what I'm looking for. He can really, to me, continue to help our pace."
This contrasts with Green.
Often a score-happy, free-flowing player with the ball, Miller hopes to utilize Green more in off-the-ball movement this season.
"With Devonte, he's a guy that uses a lot of dribbles sometimes," Miller said. "I think maybe Al as a facilitator, and as a guy that continues our pace, can allow Devonte off the ball a little bit more."
Miller said he will experiment in the early season with Durham, Green and sophomore guard Rob Phinisee at point guard. The goal is to get Green down the floor quickly and away from the ball to create space for half court and transition offense.
"We have a good three-ring kind of circus there with those three guys," Miller said.
This increase in in-game responsibilities for Durham and Green comes as both players have found newfound maturity ahead of their third and fourth seasons at Indiana.
"Just being more vocal, making sure everyone is in their spots, making sure everybody's doing the right thing," Durham said. "I know I'm going to be an upperclassman, I can't do the things I was doing freshman and sophomore year."
"Mentally, I'm just at a much more mature level now," Green said. "I don't let things get to me as much. I don't act out of impulse."
New California bill met with confused reactions at media day
Monday morning also marked the signing into law of the Fair Pay to Play Act by California Gov. Gavin Newsom. The legislation states colleges in California can't punish athletes for collecting endorsement money.
The law doesn't require schools to pay athletes directly like they would employees, but rather just makes it illegal for schools to stop an athlete from earning money based on the rights to their name, image or likeness.
While this won't go into effect in California until January 2023, the signing of the law was a popular question posed to several Big Ten head coaches as well as conference commissioner Jim Delany.
"I think it's obviously a very complex issue," Maryland coach Mark Turgeon said. "I remember when I played, missing meals and not having enough money because you didn't have time for a job. It's a little different today than it was then. So you always want what's best for the student-athlete."
"I don't know exactly what it's going to be, but I think it's a good idea," Minnesota coach Richard Pitino said. "I think the biggest thing now is just getting everybody on the same page, getting all the states, getting the NCAA, getting everybody working together is the most important thing. But the more we can get these guys, these student-athletes, I'm all for it.
Delany, who will conclude his time as league commissioner in January 2020, seemed clear in his concern for where the bill may lead college athletics.
"We're involved in an enterprise that touches 100,000 players, and maybe there's 1 percent or 2 percent that may have commercial value, but I would prefer that they have the choice to move that into the professional ranks," Delany said. "Because I really don't see much difference myself between name image and likeness payments by a corporate sponsor or pay for play."
Delany said whatever solution comes to pass, he would like it to be a national one compared to a case-by-case and state-by-state basis.
"We're not perfect, but I think that the opportunities that we have for the great many shouldn't be sacrificed at the altar of the 1 percent that probably would have an opportunity to benefit here," Delany said. "It's a college game. It's different than the NBA, different than the Olympics, different than the playground. So I hope we're able to maintain the opportunities we have for men and women and avoid pay for play insofar as we can."
When Miller was asked about the bill, he was more direct than most in his stance on athletes being compensated.
"I think the big thing is that in today's day and age, if you're not evolving, if you're not forward thinking, you're standing in cement, so to speak," Miller said. "You have to be forward thinking when you're dealing with young people right now because there's so much at stake with the decisions they make and where they go and there's so much money involved with television.
It's natural to start to look and say 'is there a better way?'"
Filed to: 2019 Big Ten media day, Aljami Durham, Archie Miller, Damezi Anderson, Devonte Green