2019-2020 Player Profile: Justin Smith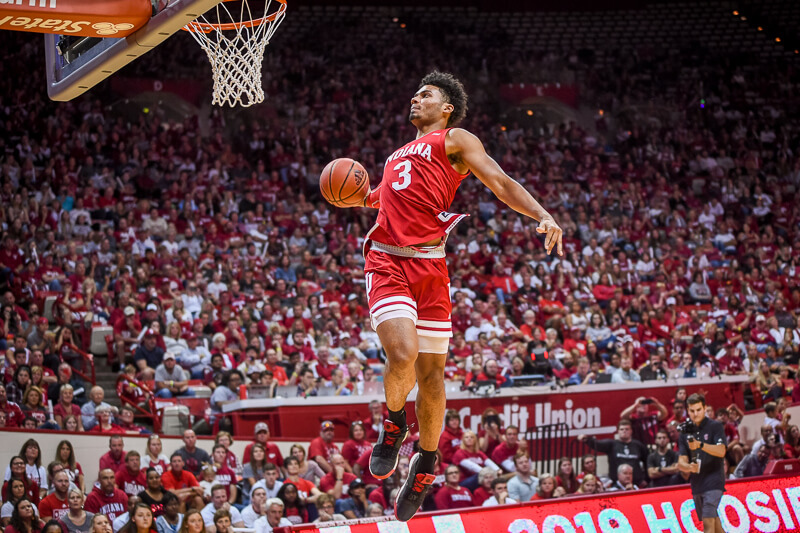 With the start of college basketball season on the horizon, we've transitioned from our look at other Big Ten programs to our player-by-player previews of the 2019-20 Indiana roster. Today, our player profiles continue with a look at Justin Smith.
(Previously: Armaan Franklin, Trayce Jackson-Davis, Jerome Hunter, Race Thompson, Damezi Anderson, Al Durham, Rob Phinisee)
Indiana's frontcourt is deep this season. There's a lot of pieces, and a lot of questions surrounding how Archie Miller will divvy up the minutes.
Among those pieces is Justin Smith, who will be a junior this year after starting 32 of 35 games last season.
In those games, he averaged 8.2 points and 4.5 rebounds per game, shooting 49 percent from the field. Smith wasn't looked at last year as much of a scorer, but he provided the team with rebounds and help defense.
One of his best defensive plays was getting a fingertip on Cassius Winston's shot to alter it in overtime to secure the Hoosier victory in East Lansing. The Spartans also fell victim to Smith's best offensive outburst of the year, where he scored 24 points and knocked down three 3-pointers in another Hoosier victory.
With those high points came low points as well. Smith struggled to find consistency throughout the season and at times looked like he lacked confidence. Smith will need to maintain a more consistent level of play if he hopes to have a big role in Indiana's front court plans this year.
"We have a big, strong, long group that in my opinion has some versatility, and we've got to get the most out of it by having them challenge each other every day," Miller said of his frontcourt at Big Ten media day.
Joining Smith in the paint are guys like De'Ron Davis, Joey Brunk, Trayce Jackson-Davis, Race Thompson and Jerome Hunter. For the "old school" style to work for Miller playing multiple bigs, some will have to be able to defend on the perimeter.
If there's one player in that group who has proven he can do that, it is Smith. There's no denying he's had some mental lapses on the defensive end of the floor, but his quickness and agility allows him to hedge ball screens or switch on to other players on the perimeter and hold his own. His athleticism and jumping ability also makes him a shot-blocking luxury. He's had double-digit blocks in each of the last two seasons.
But the real question for Smith is how his game can evolve offensively. Aside from his performance at home against Michigan State, Smith shot just 22 percent from the 3-point line last season. Even his efficiency at the rim decreased from freshman to sophomore year. But with the offense heavily focused on Romeo Langford and Juwan Morgan last year, Smith's scoring roll never seemed to be clear.
"I plan on it being more of a point of my game this year," Smith said of his perimeter shooting. "We're just going to continue to work every single day to try and get better just to make sure I have success in that area."
Bottom line: Smith has the potential to be one of the most versatile players on the team. His build and his athleticism can make him a dynamic player on the floor — it's just about staying consistent and not getting derailed mentally. Smith could be a starter this season, or he could come off the bench. He could play at the four like he did a majority of last season and his career at Indiana, or, if his shot improves, he could slide in at the 3 to add to Miller's big-ball repertoire. There's a lot of questions on how the third-year forward will perform this season, and his ability to level out his talent with on-court production will ultimately answer them.
Quotable: "I'm just focused on getting better at every aspect possible. Shooting, dribbling, being more versatile on the floor defensively. I'm excited to get the season going… I think every day is an opportunity to get better. I'm going into every day with that mindset just trying to really focus on how I can make myself one percent better each and every day." — Smith at IU media day.
Filed to: 2019-2020 season preview, Justin Smith