Five takeaways from Indiana's win over Michigan State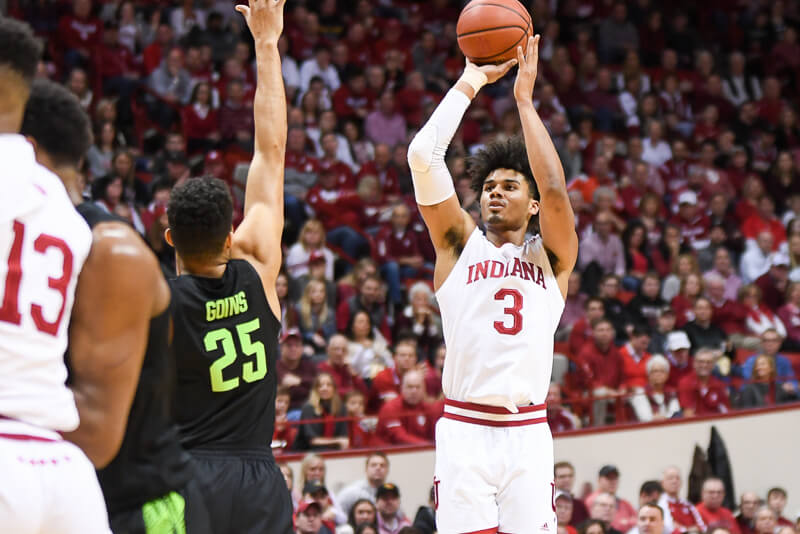 Indiana completed a season sweep of Michigan State on Saturday afternoon with a thrilling 63-62 win at Simon Skjodt Assembly Hall. The victory improved the Hoosiers to 15-14 overall and 6-12 in the Big Ten with two regular season games to go.
Here's a look at five takeaways from the win over the Spartans:
· Defense holds up when it matters most: Matt McQuaid sunk a 2-point jump shot with 4:13 to play to put Michigan State ahead 62-56.
It was the last time the Spartans would score in the contest.
The Hoosiers held Michigan State scoreless over its final five possessions, which included a missed McQuaid jumper, a missed Aaron Henry jumper, another missed jumper from McQuaid, a turnover by Cassius Winston and a miss from Winston in the game's final seconds that would have won it for the Spartans.
On an afternoon in which Indiana looked shaky defensively at times, particularly in the first half, credit the Hoosiers for getting stops at the game's most crucial points.
"It feels good to watch the guys right now just in terms of their mindset, their disposition and how they're doing things," Archie Miller said. "And you've got to play tough, and you've got to play really hard, and you've got to make some things happen for yourself, and we did that today."
· A career day for Justin Smith: Indiana had an unsung offensive hero on Saturday afternoon in sophomore forward Justin Smith.
The 6-foot-7 forward scored 16 of his career-high 24 points in the first half and hit three of his six 3-point attempts. Coming into the game, Smith was 4-for-20 from distance this season.
It's been an up and down season for Smith, who was benched the entire second half just eight days ago at Iowa.
"I was due to hit some shots," Smith said postgame. "Hadn't hit a couple in a while, and then once I got a couple going, my teammates kept giving me confidence, told me keep shooting it, and that's what I did, and I was able to make a couple."
· Winston brilliant, but Phinisee clamps down late: Michigan State guard Cassius Winston has a legitimate claim to win Big Ten player of the year.
And for most of Saturday afternoon, it looked like he would single handedly lift the Spartans to victory. Winston finished the afternoon with a team-high 20 points on 8-for-12 shooting and also dished out 11 assists.
But Winston's inability to make plays in the game's final four minutes was largely centered around the defense of IU freshman Rob Phinisee. Miller has often referred to Phinisee as the team's best perimeter defender this season and late in Saturday's game, Phinisee disrupted Michigan State by keeping Winston off balance.
"That's the guy that we all saw very early on in his career was going to be a special type of a player, and the way that he guarded in that last situation, it can't get any better," Miller said. "If he would have made the shot, he would have made it over a challenged guy in his face. But luckily it rimmed out for us, and the horn sounded."
· Hoosiers win despite quiet afternoons from Morgan, Langford: For the first time all season, both Juwan Morgan and Romeo Langford failed to score in double figures.
Indiana's star duo combined for just 16 points on 6-for-22 shooting, which further underscores how important the performances from Smith and Devonte Green were.
Green, who has been Indiana's most polarizing player all season, has played arguably his two best conference games this season against the Spartans. After scoring 11 points last month in Indiana's win in East Lansing, Green had 13 in 25 minutes on Saturday.
"The other guys, they stepped up today," Miller said. "Devonte and obviously Justin had really big games. Devonte hit some really big shots for us in the game to keep us hanging around. You know, some other guys obviously didn't get as many minutes here today, but I just thought the way that Justin was playing, he was a guy that was going to be out there quite a bit today with the way he played."
· Indiana's NCAA tournament hopes are revived: There's still plenty of work to be done, but after wins against Wisconsin and Michigan State this week, the Hoosiers are at least back in the conversation for the NCAA tournament.
Indiana now owns six quadrant one victories and no losses that fall outside of quadrant two, which will help offset the 14 losses on the resume.
"I think our resume at the end of the day will speak for itself," Miller said postgame, when asked about his team's tournament prospects. "We have two more games. You have to control what you can, and that's the only thing you've got to worry about right now. Then you have the Big Ten Tournament. But we have a unique resume. Our schedule strength is off the charts."
Filed to: Michigan State Spartans