2019-2020 Player Profile: Rob Phinisee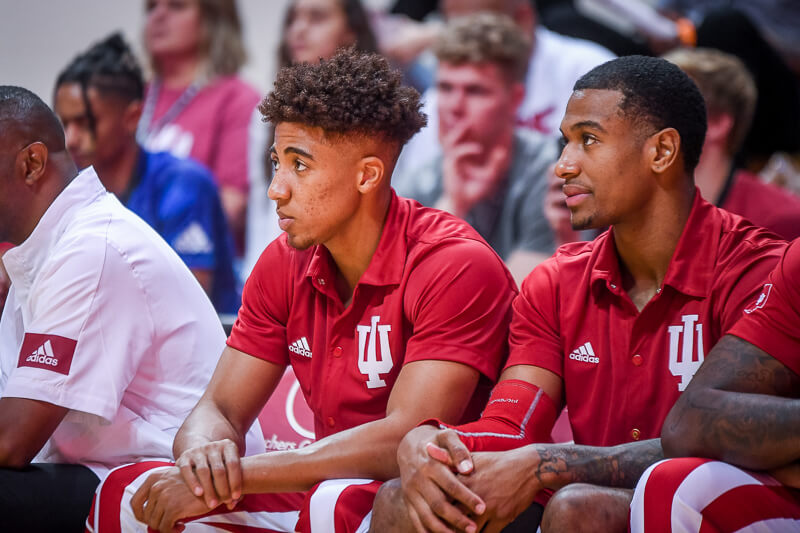 With the start of college basketball season on the horizon, we've transitioned from our look at other Big Ten programs to our player-by-player previews of the 2019-20 Indiana roster. Today, our player profiles continue with a look at Rob Phinisee.
(Previously: Armaan Franklin, Trayce Jackson-Davis, Jerome Hunter, Race Thompson, Damezi Anderson, Al Durham)
Fellow guards and upperclassmen Devonte Green and Al Durham will be Indiana's captains for the 2019-2020 season. But if Indiana is going to lift itself higher than its preseason pundit consensus of another middling Big Ten season and get back to the Big Dance, an emergent season from sophomore Rob Phinisee would be an important first step.
Guard play is essential in college basketball and Phinisee figures to resume primary ballhandling duties this season as the starting point guard. While all current signs point to Jerome Hunter playing this season, it's too much to expect him — along with the on-and-off-again freelancing ability of Green — to fill the hole left on offense by the departures of Juwan Morgan and Romeo Langford to the NBA. Phinisee will have to raise his game. His coach made that known shortly after the season ended.
"Rob Phinisee's got to develop a bigger role offensively," Archie Miller said at Huber's Winery in May.
Miller also added back then that with all the minutes and experience Phinisee received as a freshman, it meant "he should be viewed as an upperclassman" this season.
Phinisee had a flair for the late-game big moments on both sides of the ball last season. He knocked down that impossible game-winner against Butler in December. On defense, he locked down Cassius Winston in a big way to help close out Indiana's second win against Michigan State on March 2. But a concussion also slowed him down as non-conference play gave way to the full conference slate. Phinisee missed three games in late December and early January, and it took him longer than that to get back up to speed. Upon his return on Jan. 11 against Maryland, the West Lafayette native shot just 10-of-41 (24.3 percent) over Indiana's next seven contests, a stretch the Hoosiers went 1-6.
It contributed to a season where his final offensive shooting numbers weren't great. Phinisee shot under 40 percent from the field (39.5) and had an effective field goal percentage of just 42.4. He went 27-of-87 (31.0 percent) from distance. Though, Phinisee's assist rate (19.3) and turnover percentage (16.3) were pretty solid for a freshman point guard.
Beyond simply improving his shot year over year, Indiana's offense might present some fresh options for him. We're a long way off from knowing for sure. But on paper, Indiana seems to possess more options and balance on offense — and maybe better 3-point shooting, too — which could help unclog the middle and give Phinisee more opportunities at the rim. Higher percentage looks should lead to higher shooting percentages. And if Indiana is able to find more flow on offense, Phinisee's shot selection from distance might also improve. Often last year, Indiana's 3-point shooting came not from rhythm or design, but from no other available options.
And as Miller's packline defense moves into year three, Phinisee will play a key role with all the minutes he's likely to play. What Phinisee lacks in size, he makes up for with effort and instincts.
Bottom Line: Others will need to show up and get after it for Indiana to get back to the tournament this season. But if Phinisee makes a leap in his sophomore campaign and has a big breakout season, the Hoosiers will be in better shape than currently projected. Phinisee is this team's point guard. As he goes, so could the Hoosiers.
Quotable: "Talking. Being more vocal in other areas. Whether you're in the weight room group with him, whether you're in conditioning and you hear him talk — he's no longer that silent assassin that takes care of himself and doesn't worry about anything else. Now it's more. It's bigger than that. He's got to be thinking about other people. He's got to be thinking about the group. He's got to be the pulse. Rob is one of those guys to me that an added skill to his game is not only just the basketball, but it's the leadership capabilities." — Miller at Big Ten media day when asked how Phinisee has grown.
Filed to: 2019-2020 season preview, Robert Phinisee