Devin Davis in serious condition following accident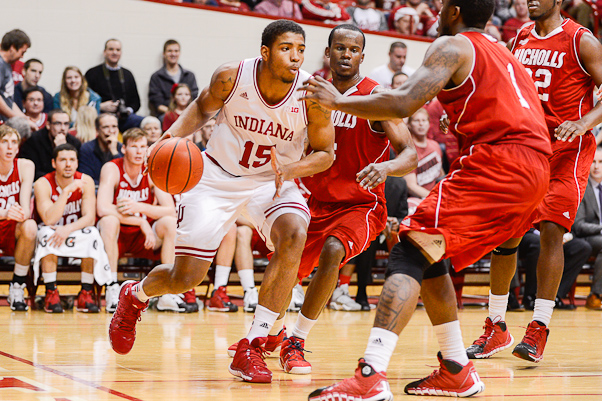 Indiana sophomore forward Devin Davis is in serious condition at IU Health Bloomington hospital following an accident involving teammate Emmitt Holt.
According to a program release, Davis, a 6-foot-7 native of Indianapolis, was injured after being struck by a vehicle driven by Holt, a freshman who joined the program in August. The incident occurred on Indiana's campus.
Holt was cited for illegal consumption and operating a vehicle with a blood alcohol content above 0.02. Details released by Indiana indicate that Holt's BAC was 0.025.
"First and foremost, our thoughts are with Devin and his family and we pray that his condition improves in the coming days," Indiana coach Tom Crean said in a release. "An injury to one of us is an injury to all of us and we are devastated by the news. We will continue to support Devin and Emmitt in every possible way and I know the Hoosier family will come together to rally for these young men. We are working to gather additional information on the accident."
A program spokesman said that Crean has remained with Davis at the hospital since the accident.
The Indianapolis Star's Zach Osterman reported some additional details via Bloomington Police Department:
According to Bloomington Police Department Sgt. Jeff Canada, Holt dropped Davis off in the parking lot of Memorial Stadium at approximately 12:45 a.m. Saturday.

After Davis exited the vehicle, Holt turned back onto 17th Street, heading west. For an "unknown reason," Davis unexpectedly reentered the roadway and was struck by Holt's car, according to Canada.

Police responding to the accident found Davis unconscious north of 17th Street with an injury to his head, according to Canada. He was treated by ambulance personnel and transported to Bloomington Hospital. Canada could not say whether Davis had regained consciousness before being transported from the scene.

Canada said there were other passengers in Holt's car, but he wasn't able to identify them.
Indiana canceled Saturday's planned Haunted Hall of Hoops scrimmage and open practice, but members of the team are scheduled to be at Assembly Hall from noon to 1:30 p.m. to pass out candy, sign autographs and take photos.
This is the third alcohol-related incident for the program in the last nine months.
Hanner Mosquera-Perea was arrested for operating while intoxicated endangerment, and operating with a blood alcohol content above .15 in February and Yogi Ferrell and Stanford Robinson were arrested in April by state excise police for consumption of an alcoholic beverage and possession of a false identification.
Update: Here's a press release from the Bloomington Police Department on the incident:
At approximately 12:45 a.m. this morning, the Bloomington Police Department investigated a single car traffic accident involving a pedestrian at 17th and Indiana Avenue near IU Athletics facilities.

Information gathered at the scene indicates that the driver of a white 2012 Jeep Liberty, Emmitt D. Holt, 18, had just dropped off a passenger, Devin L. Davis, Jr., 19, in the parking lot of Memorial Stadium on the IU campus. According to the driver and other witnesses in the vehicle, Holt then exited the parking lot to travel west on E. 17th Street. For reasons unknown, all witnesses indicated that Davis then entered the roadway and was struck by the front passenger side of Holt's vehicle. Damage to the vehicle was located near the passenger side front fender and windshield.

Upon the arrival of emergency personnel, Davis was located lying on the north side of E. 17th Street. He was unconscious and had a head injury. Davis was transported to IU Health Bloomington Hospital and his current injury status is unknown.

The driver, Emmitt D. Holt, had been consuming alcohol, but was not intoxicated. He was issued citations for Illegal Consumption of Alcohol (Misdemeanor) and for Operating Under the Influence of Alcohol Under Age 21 (Infraction).

No additional information is available at this time.
Sunday AM update: Here's a tweet just published from Davis' father, Devin Davis Sr.
This is family, my family @IndianaMBB keep my son lifted up in prayer. God Bless you all pic.twitter.com/itD9Igkgoe

— Coach_DevSr (@DevinDavisSr) November 2, 2014
Filed to: Devin Davis, Emmitt Holt