A preseason look at the stats that matter for Indiana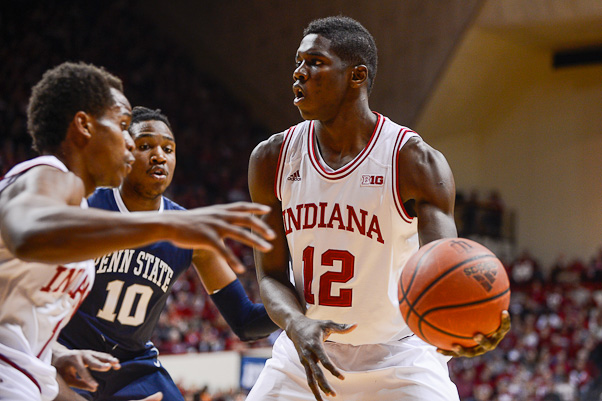 While it's true talent is the biggest factor in winning big at any level in sports, there are also numbers and trends that we can correlate to success. Advanced statistics are the reason why Ken Pomeroy's ratings are often more predictive than any top 25 poll or preseason prediction.
This preseason, Indiana is being picked all across the board and the season that lies ahead holds more uncertainty and intrigue than last for a variety of reasons.
Among them:
– The Big Ten, beyond Wisconsin, appears to be wide open.
– Indiana underwent major roster turnover for a second straight offseason.
– Indiana added several players who appear capable of shoring up a major 3-point shooting deficiency.
– Indiana lost the best rebounder in the conference and it's fair to ask: "Does this roster possess the pieces to replace that production?"
All of those themes and questions will come more into focus over time as the games are played and the season rolls along. It's quite possible the Big Ten will have a more defined hierarchy than many believe. It's also possible that Indiana's shooting will be better (or worse) than many are predicting. And the rebounding and roster turnover pieces may (or may not) play as big of a role as we think.
But as we study the numbers and look at what it's going to take for Indiana to be successful this year, several things stand out. Here they are:
· Turnovers should be a major focus: Many of Indiana's failures last season were blamed on turnovers. This was not unjustified. The Hoosiers ranked 330th nationally in turnover percentage, last in the Big Ten and last among teams in a BCS conference.
Interestingly, something not many are talking about is Indiana has been average at best in this department for the last six years. Here's Indiana's turnover percentage and Big Ten rank for conference games over the last six years: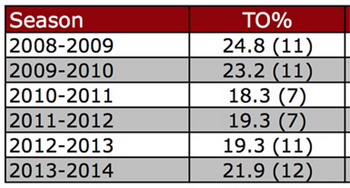 When Indiana was No. 1 in 2013-2014 for several weeks and earned a No. 1 seed in the NCAA tournament, the Hoosiers ranked eleventh in turnover percentage in Big Ten games. No one talked about turnovers then because Indiana's offense was elite in other areas (top two in the Big Ten in effective field goal percentage, offensive rebounding percentage and free throw rate) and was able to mask the deficiency.
In 2013-2014, the rest of the offense fell back to the pack last year and the turnovers became the focus. Indiana must make strides in taking care of the ball if it hopes to climb into the top half of the league standings, but expecting improvement of more than a few percentage points while continuing to attempt pushing tempo may be an unrealistic goal.
· Rebounding looms large: There's a reason Tom Crean is bringing up Indiana's rebounding frequently this preseason. It's a major question mark heading into the season, particularly when you consider that Noah Vonleh, a major force on both the offensive and defensive glass, is now in the NBA.
Crean's best teams excel on the offensive glass and right now, this roster lacks a proven commodity on the boards. Both Hanner Mosquera-Perea (10.8 OR%) and Devin Davis (11.4 OR%) were solid on the offensive glass a season ago, but as their minutes expand, it's no given that either player can continue that level of production.
The defensive glass, however, may be the bigger concern. Vonleh was a one-man wrecking crew in that area as he grabbed more than 27 percent of available defensive boards while he was on the floor a season ago. There's no heir apparent to replace that type of production and the question of just how Indiana plans to clean up the defensive glass is a legitimate one.
· How well will Indiana defend at the rim? Indiana was a middle of the pack team defensively in league play last season, finishing sixth at 1.04 points per possession allowed.
The Hoosiers had the best 3-point percentage defense in conference games, but the second worst 2-point percentage defense at 50.8. Having a go-to shot blocker (or alterer) isn't necessarily a prerequisite to defending well at the rim, but it's helpful. Indiana's best returning shot blocker, Mosquera-Perea, has been foul prone, which makes the prospect of fully unleashing him a scary one.
Indiana's best chance of success defensively is to stop the ball from getting into the paint with any regularity, which means containing ball handlers and forcing more mid-range shots.
· The free throw line is IU's friend: Another staple of Crean's successful teams is making trips to the foul line a major part of the offense. In IU's two Sweet Sixteen seasons, the Hoosiers were first in free throw rate (FTA/FGA) in league play. Cody Zeller was a big part of that number in both of those seasons and with his departure prior to last season, a regression was a near certainty.
The Hoosiers fell back a bit more than Crean probably would have liked (fifth in league play) and that was with Vonleh, who was third best in the conference at getting to the stripe. With Vonleh gone, where will the free throw attempts come from?
Troy Williams and Stanford Robinson are both essential pieces in this regard and Robinson's free throw rate of 77.7 percent was impressive in Canada, but guys like James Blackmon Jr. (24.1% free throw rate), Robert Johnson (23.9%) and Yogi Ferrell (34.6%) simply didn't get to the line frequently enough on that trip.
Indiana doesn't have the premier post talent capable of producing a ridiculous free throw rate figure like Zeller or Vonleh, which makes a by-committee approach essential to preventing another dropoff.
Filed to: Statistics