IU sophomore Hanner Mosquera-Perea arrested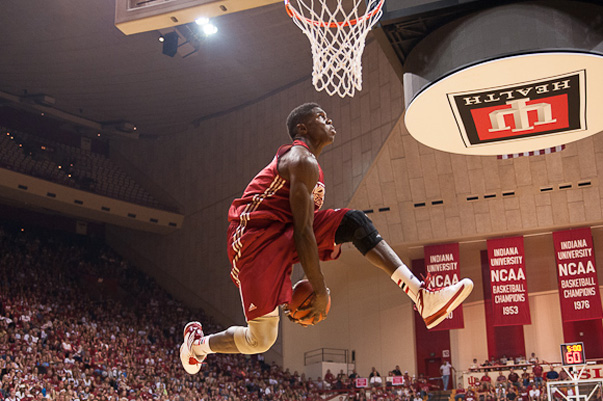 Indiana sophomore forward Hanner Mosquera-Perea was arrested early this morning and charged with two class A misdemeanors, according to a spokesperson at the Monroe County Jail.
Mosquera-Perea was booked at 4:45 a.m. on charges of operating while intoxicated endangerment and operating with a blood alcohol content above .15, according to the Monroe County Jail.
"We're aware of it, we're in the process of getting more information," Indiana coach Tom Crean said this morning on a teleconference. "It's a disappointing shock to all of us. At the same time, we're waiting to learn more about it. I don't have an update on anything other than that."
Crean said he wasn't aware of the situation until 8:15 a.m. this morning.
The 6-foot-9, 225 pound Colombia native is averaging 2.9 points and 2.3 rebounds in eight minutes per game this season.
The Hoosiers are 14-10 overall, 4-7 in the Big Ten and play Purdue on Saturday at 4 p.m. ET at Mackey Arena.
—
Update, via Jordan Littman: According to Craig Munroe of the IU Police Department, this incident occurred at 3:11 a.m. as officer Kyle Moulden was driving on Dunn Street near the intersection of Third Street. This was where Mosquera-Perea was stopped at a red light, trying to turn left onto Third Street, a one-way street at that point.
This caught the officer's attention, and Perea corrected himself once the light turned green. Driving 10-15 miles per hour, according to the officer, Perea proceeded down Atwater and struck the northside curb. He continued driving, swerving in and out of lines and again striking the curb near Ballantine Road. He was stopped at the 1200 block of E Atwater with a Blood Alcohol Content of more than twice the legal limit.
—
8:47 p.m. update: Crean just tweeted a statement regarding Mosquera-Perea, in it saying that he will not play at Purdue tomorrow and will be "withheld from competition indefinitely."
His full statement: "I had a chance to speak with Hanner before we left for Purdue. The first things I told him were that we loved him and wanted to support him. We are disappointed in him but also disappointed for him. He knows he made some terrible choices which have turned into big mistakes. Hanner has let his family, loved ones and our program down and he knows that with choices come consequences. The law will handle some as will we. He will not be with us at Purdue and we will continue to work with him on a daily basis and will be withheld from competition indefinitely."
Filed to: Hanner Mosquera-Perea