IU release: Devin Davis has normal speech, use of all extremities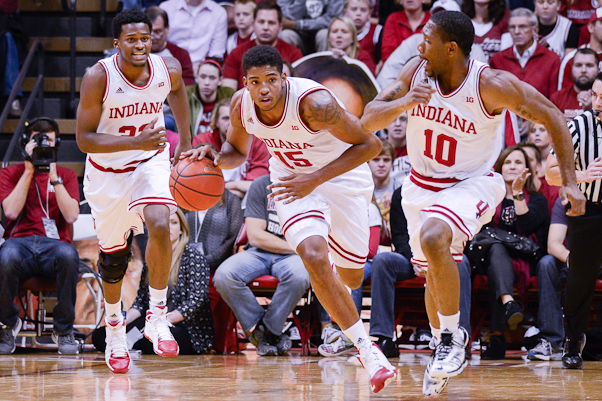 After suffering a serious head injury in an accident near Memorial Stadium at approximately 12:45 a.m. on Saturday morning, the condition of Indiana sophomore forward Devin Davis is improving at the IU Health Bloomington Hospital.
"I am glad to report that Devin is doing better this morning and has benefited from uninterrupted rest," IU team physician Larry Rink said in a release issued late Sunday morning. "His speech in normal and he has the use of all extremities. Devin is being cared for by the best medical team and the support from his family, friends, and teammates has been incredible."
According to Bloomington Police Department, the 6-foot-7 forward was struck by a 2012 Jeep Liberty driven by IU freshman forward Emmitt Holt.
Emergency personnel responding to the scene found Davis unconscious with a head injury on the north side of E. 17th street. Holt was issued citations for Illegal Consumption of Alcohol, a misdemeanor, and for Operating Under the Influence of Alcohol Under Age 21, an infraction, but was not intoxicated according to BPD.
In a released statement, IU coach Tom Crean said the program is looking forward to continued progress for Davis.
"Too often in life, we all take for granted the simple tasks of opening our eyes, processing thoughts and putting a simple sentence together," Crean said. "In our program, we routinely emphasize to our players that everything matters and watching Devin improve just over the last 36 hours has furthered our belief in that approach.
"On behalf of the Davis family and the IU men's basketball program, we appreciate the concern, calls, texts, and thoughts and prayers we have received. We are especially grateful for every doctor, nurse, and staff member at IU Health Bloomington Hospital. We look forward to his continued recovery."
Devin Davis Sr., Devin's father, published the following tweet at 10:29 a.m. on Sunday morning:
This is family, my family @IndianaMBB keep my son lifted up in prayer. God Bless you all pic.twitter.com/itD9Igkgoe

— Coach_DevSr (@DevinDavisSr) November 2, 2014
Filed to: Devin Davis