Yogi Ferrell, Stanford Robinson arrested by state excise police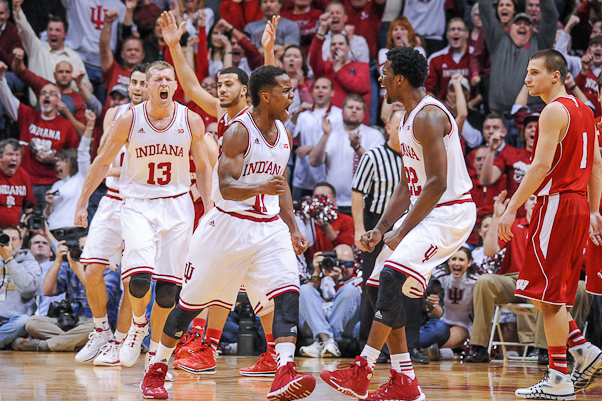 Indiana basketball players Yogi Ferrell and Stanford Robinson were arrested early Friday morning by the Indiana State excise police and preliminarily charged with minor consumption of an alcoholic beverage and possession of a false identification.
Here's the full release issued by the Indiana State excise police:
Indiana State Excise Police officers arrested two members of the Indiana University Men's Basketball team early this morning. Kevin D. Ferrell, 20, of Indianapolis, and Stanford B. Robinson, 18, of Landover, Maryland, were each preliminarily charged with Minor Consumption of an Alcoholic Beverage and Possession of a False Identification.
At approximately 1:00 am, Ferrell and Robinson allegedly attempted to enter Kilroy's Sports Bar located at 319 North Walnut using false identifications. Indiana State Excise Police officers working inside the premise recognized the identifications to be false at that time.
Ferrell and Robinson were each issued summonses and released. The two will be required to appear in Monroe County Court on Sunday, April 27th at 8:30 am.
As the enforcement division of the Indiana Alcohol and Tobacco Commission, the primary mission of the Indiana State Excise Police is to promote public safety by enforcing Indiana's Alcoholic Beverage Code. While excise officers have the authority to enforce any state law, they focus primarily on alcohol, tobacco and related laws.
All criminal defendants are to be presumed innocent until, and unless, proven guilty beyond a reasonable doubt in a court of law.
You can also view the release in PDF format, with "Ferrell" spelled incorrectly, here.
The Little 500 takes place this weekend, culminating one of the biggest party weeks of the year in Bloomington.
As of Friday afternoon, Ferrell, who will turn 21 on May 9, had removed his Twitter account.
Ferrell and Robinson become the second and third IU players to be arrested since February. Sophomore Hanner Mosquera-Perea was booked on Feb. 14 with two Class A misdemeanors: Operating While Intoxicated Endangering a Person and Operating a Vehicle with an Alcohol Concentration Equivalent to .15 or More.
—
5:16 p.m. Update: Here are statements from Crean, Ferrell and Robinson:
Tom Crean
"We are aware of the two infractions with a couple of the guys on our team. One of our big problems on the court this year was solid decision making, which directly mirrors our lack of decision making off the court. We had too many players that had a maturity problem all year and that maturity has not grown yet to where it needs to be. This isn't about a time of year or a special week on campus. This is about poor judgment, selfishness of actions, and disrespect for what this program stands for. We will continue as we have all year to push the responsibility of what it means to play in this basketball program and to represent yourself beyond reproach. We have been successful in doing that in the past and will continue to demand those same principles."
Kevin "Yogi" Ferrell
"I apologize for letting down my family, coaches, teammates and fans and truly regret the mistake I made. This is something I have to learn from, use better judgement and I have a responsibility as a leader on this team to make sure nothing like this happens again."
Stanford Robinson
"I'm very sorry for my actions. I know I have embarrassed my family and this program and have let a lot of people down. I have no excuses for the mistakes I made and I take full responsibility for them."
Filed to: Stanford Robinson, Yogi Ferrell