Road win gives Indiana outright Big Ten championship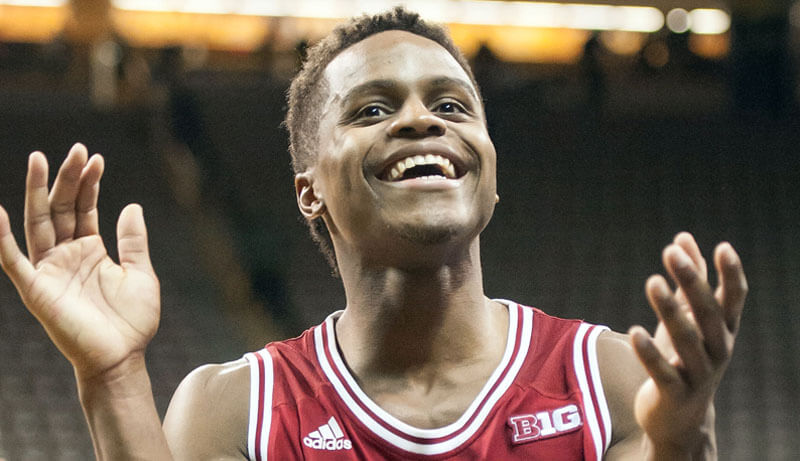 It was senior night in Iowa, but it was Indiana's star senior Yogi Ferrell who had the best night.
Ferrell hit a dagger of a 3-pointer in the final minute to seal No. 12 Indiana's 81-78 win against No. 16 Iowa. The win makes the Hoosiers sole Big Ten regular season champions, the second time they have won the title outright under Tom Crean. It is also the second time in the last four years the Hoosiers have won it.
"(Crean) never gave up on us, he kept believing in us," Ferrell said. "What he wanted to do was prove the doubters wrong."
Indiana (24-6, 14-3) built up a 14-point lead in the second half, but an 11-0 run by the Hawkeyes combined with some sloppy play by IU led to an Iowa comeback.
"We just couldn't get discouraged," Ferrell said. "Iowa was a great team obviously playing at home, so we knew they were going to make a run. They punched back, we just had to punch back a little harder. I felt like we stayed with it."
Going back and forth until the final minute, it took the Ferrell 3 and some free throw shooting to secure the win.
Iowa had multiple chances in the final seconds to tie the game, but Peter Jok's attempt missed, starting the Hoosier celebration which was felt all the way back at Assembly Hall, where a large crowd gathered to watch the game.
"It's special man, all our hard work paid off," Ferrell said. "We stayed together the entire year, had a few losses here and there but I felt like we battled back."
ESPN captured Crean delivering his speech to his players in the locker room following the game, he addressed IU's final home game against Maryland on Sunday.
"There is absolutely no way, there's no way, there's no way, there's no way that we aren't walking out of that place Sunday with a win and our seniors heads held extremely high," Crean told his players. "There's no way that this group is not going to walk out that way."
With the victory, Ferrell cemented his place among IU greats with two Big Ten championships. Only Max Bielfeldt, who won an additional two at Michigan has more.
"It means a lot to me, as a player, as a human being," Troy Williams said. "The way I view it is it's even bigger for the program, it's even bigger for our seniors. It's big for Max, it's big for Yogi, it's big for everybody."
Despite the big shot and scoring a game-high 20 points, Ferrell said that it was OG Anunoby and Juwan Morgan who were the game's MVPs.
Freshman big man Thomas Bryant shared his thoughts on the senior point guard after the game.
"He's very special, there's nobody like him," Bryant said. "Yogi doesn't get enough respect. This guy is the real deal."
Meanwhile, Crean said part of the reason this team is so successful is that it truly takes things one day at a time. Something that at first sounds like coach-speak, but ended up being how players viewed each game.
"As far as winning the championship with this group," Crean said. "I probably don't have all the words figured out for that year I just know it's an absolute honor to be with them every day and I love them as much now as I loved them in the Duke locker room because I believed in them then."
(Photo credit: Photo credit: Jeffrey Becker-USA TODAY Sports)
Filed to: Iowa Hawkeyes, Yogi Ferrell