Cody Zeller to IU: What it all means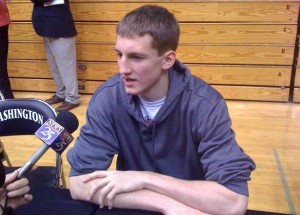 Tom Crean did it.
He walked into a gym on the first day he was allowed to, found just the man he wanted to — Washington boys' basketball coach Gene Miiller — and discussed the player he knew he needed to have, and finally got today: Cody Zeller.
This was in the spring of 2008, not long after Crean took the head coaching job at Indiana. Originally unable to recruit on the road due to sanctions stemming from NCAA violations committed by Kelvin Sampson and his staff, Crean received clearance to head out on the road for a few days during the early period. He attended the Top 100 workout at Ben Davis. Upon walking into the long hallway leading to the gym, he saw Miller and stalked straight to him.
This was, even then, about Cody Zeller.
At the time, Zeller could hardly walk. His feet seemed as big, heavy and nimble as cinder blocks. The rest of him was rail thin. Guards whose bodies had filled out earlier would muscle him in the post. Wings with better coordination swooped past him often. While he was certainly a valuable high school and AAU player at the time, you had to know something about the Zellers before you could realize how important landing him was.
Not that Indiana had pushed for Luke. Mike Davis barely gave him a look. While that didn't cause too much consternation among the fan base — the first Zeller was not all that hyped — it did cause some concern. To many it felt as though Indiana should have at least handled the situation with more class; it always paid, they felt, to recruit top players in Indiana and find a way to make them a part of the program if that is their desire.
Kelvin Sampson did recruit Tyler Zeller, and he and his staff felt they were in good position with the middle brother. During Sampson's first year, the Hoosiers showed traits that anybody who cares about basketball the way people from Indiana do adore: hustle, dedication to defense, desire to rebound. That appealed to Tyler. What happened next didn't.  Sampson became distracted by the violation situation, and the players on his team lost discipline. The culture didn't feel right for the Zellers, and they knew trouble was on the horizon.
So as the dust settled or the clouds lifted or the smoke cleared — whatever it was that happened in those first days after Crean arrived — it became abundantly clear that recruiting Cody Zeller would be important.  Even as gawky sophomore, Zeller showed as much — if not more — promise than his brothers. He'd had to play them over and over in family games, after all. But this much was inevitable, too: he was the type of player that traditional IU fans wanted the team to be built around. He's not flashy. He appreciates the fundamentals. He keeps it simple. He plays with gusto.
Crean knew this then, and Zeller's importance only grew over the next few years. He showed a strong inside-outside game, something Crean loves. He got stronger. He bonded with other players around the state during a time when, even by Indiana's lofty standards, the classes were pretty impressive. He showed that he was a winner.
Interestingly, a few coaches in Indiana told me that the Hoosiers' recent success with future classes was a significant factor for Zeller. As with other recruits, he was concerned with the pace of Crean's rebuilding project.
Zeller's commitment shows that it is at full sprint.
Perhaps the only unfortunate thing about today is that Cody Zeller will face inordinate, Damon Bailey-like pressure. Such are the circumstances. Bailey had a fine career; I'm not sure there's anything he could have done to live up to the hype his high school career created. More recently Eric Gordon was considered a flop by many despite leading the Big Ten in scoring and playing the second half of the season with a hurt wrist on a team shredded by the Sampson fiasco.
But Zeller might be able to handle it. He's fairly unshakable and is deeply dedicated to the game. Besides, Crean won't stop now. For all the work he's put into Zeller, it's only just begun.
Though maybe he should take a few minutes to celebrate.  Only a few. There's a game to prepare for.
The rest of you . . . exhale. Then celebrate. Because basketball is here again, and it's soon going to be just like you remember it at Indiana University.
Filed to: Cody Zeller