The Minute After: Kentucky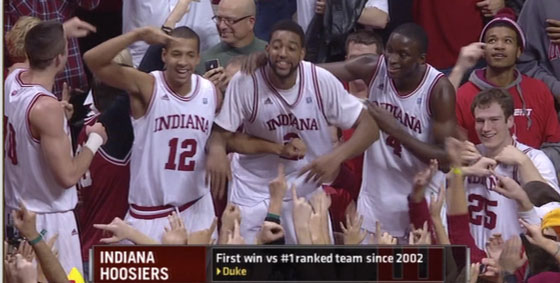 Thoughts on a 73-72 win over the Wildcats:
They did it.
These Hoosiers took down mighty No. 1 Kentucky inside Assembly Hall this evening in a game that meant so much to so many.
A ton of hype and coverage and buzz coming into this one. Energy flowing through Assembly Hall like it hadn't in so long. In too long. And it showed in the first half. A combined 24 turnovers between UK and IU. It was frantic and exciting and just plain fun.
And there the Hoosiers were in the second half, up comfortably — well, as comfortably as a lead of 8-to-10 points can be against a team as athletic and talented as the Wildcats —  and finding their stroke from beyond the arc after a first half where it was pretty much non-existent. Six straight threes. Anthony Davis picking up his third and fourth fouls. Terrence Jones looking discontented and disinterested.
The upset was brewing.
But Marquis Teague started exploiting Jordan Hulls off the dribble. He had 15 in the second half. Darius Miller hit some big shots. Indiana never got the ball into Cody Zeller when it was clear they needed to. The offense sputtered and they missed shots. This Kentucky team has a knack for putting up big runs. Suddenly, that lead that felt secure disappeared.
Teague went around Hulls again to put the Wildcats up 71-70 with 49 seconds to go. After a missed Christian Watford jumper, Zeller fouled Davis. He missed the front end of a one-and-one. Life. An IU timeout. A Victor Oladipo turnover and subsequent foul of Doron Lamb, who was also instrumental in Kentucky's offense (19 points). 5.6 seconds to go. Lamb on the line. He misses the first. Indiana timeout. He makes the second. 72-70 Kentucky. No timeouts left for the Hoosiers.
Verdell Jones gets the inbounds pass and dribbles down the court. He's halted by Darius Miller near the paint. He turns around and passes to Watford behind the 3-point line. Watford shoots, the clock expires, the ball splashes through the net.
73-72 Indiana. Ball game.
Bedlam inside Assembly Hall, a sea of red on Branch McCracken Court, the students and players in a collective celebration over what's just transpired. Will Sheehey, Jones, Watford and Oladipo on the scorer's table, the kings of the court. Tom Crean in an old school Indiana hat, placing it atop Dicky V's head as he's interviewed. How sweet the scene was.
December 10, 2011: The day no team in sports matters more than these Hoosiers. The day Indiana returned to relevancy.
OTHER ITEMS OF NOTE
+ Heck of a game from Watford. As Zach Osterman tweeted, tonight was his best game as a Hoosier. Besides his buzzer-beater for the win — which goes down in Indiana lore forever — Watford hit a number of key buckets down the stretch and played with no fear. He finished the night with 20 points (8-of-15 shooting, 4-of-6 from three). And on a night with 18 turnovers for the Hoosiers, he only recorded one in 30 minutes.
+ Going into this one, many pundits predicted a hot shooting night from three was the way to victory for the Hoosiers. They were right. Indiana hit seven straight at one point (last one of the first half, six straight to start the second half) and finished the night 9-of-15 for 60 percent. Sheehey was 2-of-2 from beyond the arc, while Hulls was 3-of-6.
+ Indiana was leading the free throw battle in the first half, but Kentucky ended up edging them in free-throw rate by the end of the contest (31.5 to 29.3). Still, both teams shot 17 from the stripe and Indiana connected on four more (14) than the Wildcats (10) which was key in a narrow victory.
+ Getting Davis into foul trouble was big. With Davis around the rim, Indiana wasn't as effective at the bucket. His presence loomed large. But with him out for long stretches, there was a little more ease around the hoop for the Hoosiers.
+ Indiana won the offensive rebounding battle, just edging the Wildcats in offensive rebounding percentage (41.2 to 38.5). It aided in 16 second-chance points, while Kentucky had 10 second-chance points. Indiana also scored more points off the Wildcats' 17 turnovers (23) than Kentucky did off of Indiana's 18 turnovers (19).
Filed to: Kentucky Wildcats