The Minute After: Penn State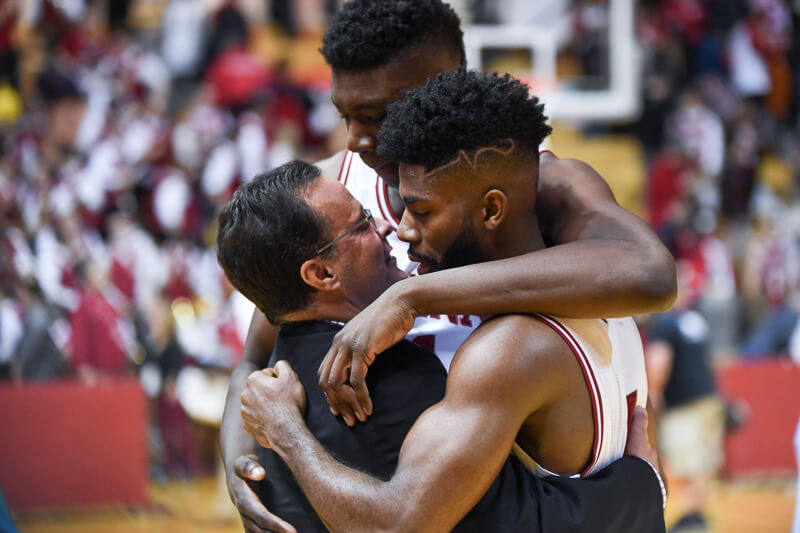 Thoughts on a 110-102 win over the Nittany Lions:
It was at times a hot mess, a dark comedy full of schadenfreude and calamity. But after three overtimes, the first ever for Indiana in Bloomington, it's now finally … officially … a victory.
You may have forgotten — before this game devolved into the weirdest, wildest, strangest, most never-endingist contest of the Tom Crean era — but Indiana put together a strong stretch in the first half. It was all energy and effort. Indiana out-worked Penn State on the boards and punched its foot to the accelerator hard on break. Thomas Bryant continued to remind Indiana fans of a season ago when he dominated games. Penn State was left in the dust and the Hoosiers busted out to a comfortable nine-point lead at half (46-37).
But this is Indiana this year. And no lead is safe. No upward trend likely to continue. And so we went to the second half. The offense stalled, reminiscent of Sunday's performance against Northwestern. Indiana turned the ball over and over and over again. The Hoosiers had issues stopping the second worst offense in the conference and had to resort to a zone defense for long stretches.
But on a night neither team shot well from the the free throw line, freshman De'Ron Davis saved the Hoosiers in regulation, hitting two free throws with three seconds to play to tie the game at 72. Indiana gave Josh Reaves a coast-to-coast look at the buzzer that didn't fall.
Onwards to overtime one. And overtime two. And finally overtime three. There was enough going on in each to make your head spin. The Josh Newkirk first overtime buzzer beater that almost wasn't. The times it looked the Hoosiers had pulled it out, only for Penn State to come back. The times it looked like Penn State had pulled it out, only for the Hoosiers to come back. An exhausted group of players on both teams, the ball bouncing around the court like a pinball, fumes for fuel as each scrapped and clawed and tried, however awkwardly, however ugly, to will their team to a victory.
"It wasn't pretty by any stretch of the imagination," an amped-up Tom Crean said on Branch McCracken Court after the contest. "But with everything we've been dealing with as of late, we'll take it. And I'm incredibly proud of the way they battled."
Bryant played Goliath to a host of Penn State's Davids time and again, but he kept fighting through the constant barrage of double and triple teams on his way to a career high 31 points before fouling out in the third overtime. Without James Blackmon Jr. for a second straight contest, Josh Newkirk lit it up from 3-point range, hitting 4-of-8 from distance, finishing with a career-high 27 points. And Robert Johnson, who was all of a sudden splashing in floaters, also added a career-high 27 points.
It would be foolish to say this game is going to turn around Indiana's season. There are too many tough contests ahead, there are a number of injuries and a conference-worst defense to boot.
But for a night, however whacky it was, Indiana's depleted roster never gave up, never gave in, kept fighting and stuck with this one for 55 minutes of play amidst Hoosiers Nation's growing apathy for this team and the season.
Tip your hat, all.
Filed to: Penn State Nittany Lions