The Minute After: Jacksonville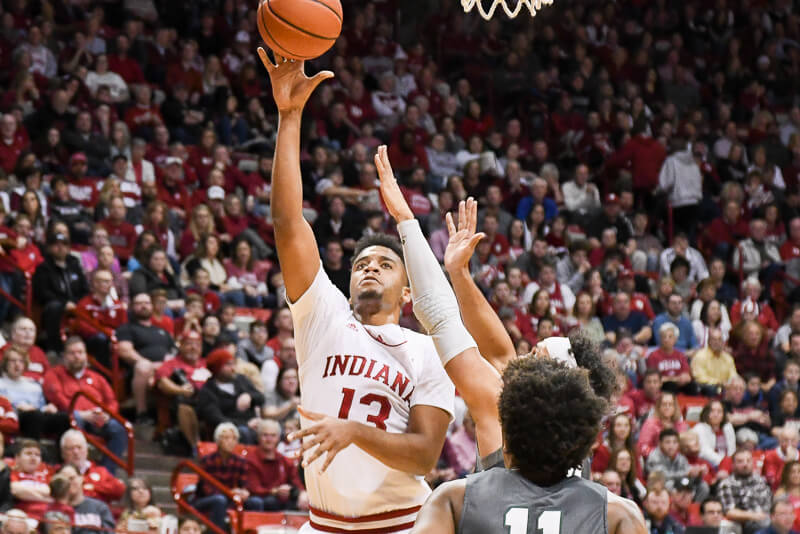 Thoughts on a 94-64 win against the Dolphins:
In this season of giving, the Hoosiers were handing each other gifts all game tonight.
Save for some outlier possessions, this was a balanced offensive attack, no one trying to do too much alone, the ball moving around until Indiana found the right shot on possession after possession. Indiana's 21 assists tonight were its third highest in that category this season. It comes off their best mark of the year (25) in their dominant win over Central Arkansas earlier this week.
As it so often does with this team, that started with Juwan Morgan tonight. Morgan morphed into the ultimate point forward in this game, dishing out assists from the post with authority like usual, but also racking them up from the perimeter as well. The stat watch was on early in this one for Indiana's senior star, as he all of a sudden had six points, five rebounds, four assists, three blocked shots and a steal in the early goings. By half, Morgan amassed eight points, seven rebounds and five assists, and the triple-double watch was in effect.
Morgan got to 10 rebounds first, then 10 assists, and then finally, on a baseline out of bounds play, put a lob in for 10 points at the 7:57 mark of the second half, the triple-double complete. It marked just the second in program history and the first since Steve Downing's 28 points, 17 rebounds and 10 blocked shots against Michigan on Feb. 23, 1971, this feat nearing 50 years in the making. The triple-double is a bit of a made-up, arbitrary marker, but its impressive nonetheless and goes to a deserving player as any to join the Indiana record books.
The balance tonight meant everybody in the starting lineup was in double digits, from Al Durham Jr. (18 points) all the way down the line. Romeo Langford had 15. Justin Smith and Devonte Green chipped in with 13. Morgan had his 10. Damezi Anderson was close with nine on three made 3-pointers. Jake Forrester continues to make the most of his minutes, racking up a quick seven points in just five minutes of action. Clifton Moore's only bucket of the night came off a post move, as he backed down his defender on the right block and dang near dunked over him.
The Hoosiers scored 1.26 points per possession tonight, their third best mark in that category this season. Their effective field goal percentage of 72.8 was a season high. They turned the ball over on 16 percent of their possessions, an acceptable mark in a season where they've struggled in that area at times.
As our Seth Tow pointed out on Twitter, tonight's win caps off Indiana's first time in five years it finished non-conference play without a KenPom sub-100 loss and the first time it's gone undefeated in December since the 2007-2008 season. The Hoosiers were a point blank De'Ron Davis tip-in away from re-entering Big Ten play with just one blemish on their win-loss record, the shellacking at the hands of Duke in Durham.
There's been some griping about the incompleteness of this team, that it hasn't quite fired on all cylinders. The slow, sloppy starts have been maddening. But there's a strong, solid foundation to this team in the second year of the Archie Miller era that's readily apparent. They find a way to win. They play for each other.
This much is true as Indiana heads back to conference play: The Hoosiers are a tough out and there's still room to grow.
Filed to: Jacksonville Dolphins