Five-star guard Romeo Langford commits to Indiana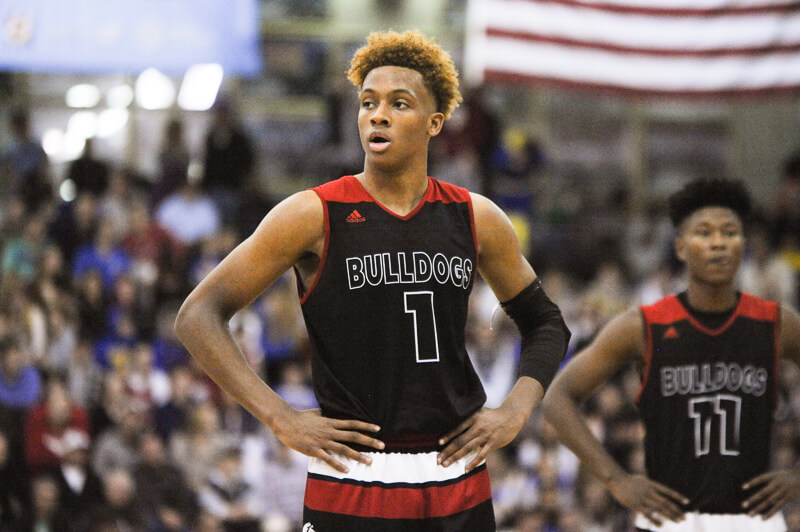 Indiana added its biggest commitment to-date of the Archie Miller era on Monday evening as five-star New Albany guard Romeo Langford gave his pledge to the Hoosiers.
The announcement came in front of a large gathering of fans in New Albany at the school's gymnasium.
The nation's top shooting guard joins Jerome Hunter, Damezi Anderson, Robert Phinisee and Jake Forrester in Indiana's 2018 recruiting class, which is now ranked in the top ten nationally.
Langford was measured at 6-foot-6 (with shoes), 201 pounds with a 6-foot-10 inch wingspan at the Nike Hoop Summit in Portland earlier this month. He averaged 35.5 points as a senior at New Albany and was named Indiana's Mr. Basketball on Sunday.
Over four seasons at New Albany, Langford scored 3,002 points and he led the Bulldogs to a 100-10 record and a Class 4A state championship in 2016. He was also the Gatorade player of the year in Indiana, a McDonald's All-American and a Jordan Brand All-Star.
National Rankings
Langford is a consensus top-10 prospect nationally and chose the Hoosiers over Kansas and Vanderbilt. Some of his other scholarship offers were Duke, Kentucky, Louisville, North Carolina and UCLA.
At No. 6 overall in the 247Composite, Langford is the highest ranked player to commit to Indiana since Eric Gordon in the class of 2007. He's the first Indiana Mr. Basketball to sign with the Hoosiers since Cody Zeller, a member of IU's 2011 recruiting class.
· 247Composite: No. 6 (five-star)
· Rivals: No. 6 (five-star)
· ESPN: No. 5 (five-star)
· 247: No. 5 (five-star)
Video
We've compiled the biggest library out there of Langford with over 15 videos from various events throughout his high school career. The complete playlist is available below:
Scouting
At 6-foot-6, Langford is the perfect size to play the two, but can also handle the ball as he showed throughout his career at New Albany. His offensive game is advanced for an 18-year old and he might be the best pure scorer in the class of 2018. He has a deadly step back jump shot that is nearly unguardable one-on-one, has a very good midrange game and also attacks the rim relentlessly. Langford shot over 80 percent from the free throw line as a senior and took more than 250 attempts.
Defensively, he's got a great wingspan and the athleticism to be disruptive. He should be able to guard multiple positions, which will allow Archie Miller to utilize him in a variety of lineups.
ESPN's Jonathan Givony and Mike Schmitz:
Romeo Langford is an outstanding overall talent with prototypical physical tools, including size, length and terrific quickness getting off his feet. He has advanced scoring instincts, creating shots for himself inside the arc, getting low to the ground with strong ballhandling skills and footwork, as well as the ability to finish creatively around the basket. His jump shot remains a work in progress, though, and he lacks a degree of feel and toughness on both ends of the floor, having a tendency to blend in at times.
Langford is a scoring wing who is a threat at all three levels. He has good positional size, long arms (6-foot-10 wingspan), and a strong build that should blossom in a college weight room. He has an advanced scoring package for his age and understanding of how to create his own shot as he moves without the ball, has good use of both hands, and good footwork. He's an especially efficient scorer around the lane as he has a full assortment of pivots and spins at his disposal, shoots at very high percentage on two-point field goals, and goes right into contact to get himself to the free-throw line in high volume. Langford is a solid vertical athlete and good rebounding wing, particularly on the offensive end, where he'll fly at the glass from the perimeter. He moves well enough laterally to be a solid defender and may even have some potentially versatility to guard bigger guys as he builds up his body.
Eric Bossi of Rivals after the McDonald's All-American Game:
Langford looked like the most gifted pure scorer in attendance. Seriously, everything on the offensive end comes easily for him. He made people pay from deep, played above the rim, rebounded and showed that he has the tools to be a big-time defender down the road.
Fit and outlook
While it was never fair to place Langford in the "must-get" category for Indiana, the Hoosiers certainly sped up their timeline for competing in the Big Ten and nationally by landing his commitment. Things had gone quiet in recent weeks in terms of Indiana adding guard help for next season and we now know why.
Guard depth shouldn't be considered a strength of Indiana's roster for next season, but with Langford, freshman Robert Phinisee, junior Devonte Green and sophomore Al Durham Jr., the Hoosiers have a well rounded group that can contribute in a variety of ways.
Langford is the clear centerpiece of next season's backcourt rotation and should slide into the starting lineup from day one. There are many who believe he has a chance to be the nation's top freshman scorer next season and he won't have an issue getting the opportunities to make that happen. With his size, he will be able to play the two in big lineups and also slide over to the three if Indiana wants to play two of its other guards alongside him.
He's very likely a one-and-done player, but isn't the type of kid who will have one foot out the door before the season ends. Expect Langford to buy into the team, the program and being a part of Indiana basketball while he's on the roster. Even as a local legend for the past several years in New Albany, Langford has always been a team-first player who didn't seek out the spotlight.
It's no overstatement to say that Langford is a potential program changer for Archie Miller and the IU coaching staff as they attempt to bring the Hoosiers back to national prominence.
Filed to: Romeo Langford