Hoosiers take the hard road for Big Ten title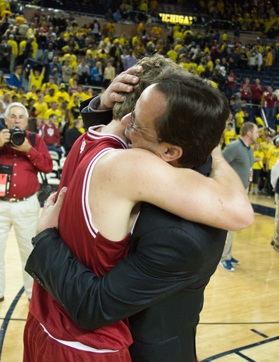 ANN ARBOR, Mich. — Against the odds, Indiana clinched sole possession of the Big Ten title. That's the way it was supposed to be, though. Right?
Think about it. This Indiana team, at least the seniors and the juniors on it, started from the bottom with nothing ever handed to them. They grew into the nation's No. 1 team, became everyone's pick to win the national title after a road win at Michigan State, and then fell off again.
A loss at Minnesota had some questioning the Hoosiers' toughness. A home defeat against Ohio State on Tuesday night brought even more questions.
Maybe clinching a conference crown at home on Senior Night would have been top idealistic. Would have seemed too perfect, too easy. Nothing for these seniors has ever come that way.
Instead, the Hoosiers went on the road to Michigan, where no team had won this season and only one had won in the last two years, and pulled out a fairly miraculous win.
They looked disorganized and sloppy in the first half, and trailed by five points with only 52 seconds left. The Big Ten title was bound to be split between four teams.
But the Hoosiers, much like they did in East Lansing last month, found a way to win with big plays at the end.
Indiana 72, Michigan 71. The Hoosiers have their first championship of the season.
"It just gives us momentum," said Indiana forward Will Sheehey. "We needed to win the Big Ten title outright. We stumbled our last couple weeks, but we just stuck with it together."
If it was just a share?
"It definitely wouldn't feel this sweet," guard Remy Abell said.
Other than when they jumped out to a 10-3 lead, the Hoosiers looked unlike themselves in the first half. Shots didn't go, lineups didn't make sense and the edge didn't seem to be there.
Despite playing much better in the second stanza, Indiana still trailed by five with 52 seconds left. Michigan makes free throws and protects the ball, the game is over.
But Tim Hardaway Jr. and Trey Burke each missed the front end of one and ones, and Cody Zeller scored six straight points to put the Hoosiers back on top.
Entering the game, every national media outlet was talking about the race between Victor Oladipo and Burke for the Big Ten player of the year. Zeller reminded everybody why he was on the cover of some many preseason magazines (25 points, 10 rebounds).
"Cody, Cody, Cody Zeller should be the player of the year," Oladipo said afterward. "If you guys don't give it to him, no disrespect, but there's something wrong with y'all."
Added Indiana coach Tom Crean: "That is one of the best players that's ever gonna come through Indiana, and we've got some good ones coming in. No matter how long he stays, he's one of the best players."
Everything had to go right for the Hoosiers to win late. They had to convert on every offensive possession, Michigan had to miss three free throws, and Indiana had to stop the Wolverines on their final trip down the floor.
Burke went around a screen from Jordan Morgan, got to the left side of the lane against Zeller and flipped it up. It was long, but Morgan was there for the tip. The ball bounced on the rim four times.
"I was trying to blow at it from where I was," Abell joked.
The ball eventually rolled off, Christian Watford saved the rebound to Jordan Hulls, and the game was over.
"We got a really good look by Trey, and then Jordan, that tip in, I just thought for sure that baby was going in," said Michigan coach John Beilein. "It woulda been great, but it didn't work out. They get the win. And the championship."
Oladipo immediately galloped to the bench and jumped into Sheehey's arms. He then stumbled toward midcourt, stopped, and laid face down with his hands over his face. When Oladipo got up, there were tears flowing from his eyes. He embraced an emotional Crean near the sideline.
"The past couple games, I didn't bring it at a high level," Oladipo said. "I wasn't myself. Coach Crean reminded me of what got me here and why I'm in the postion I am. I just went back to the old Vic, to the reason why my teammates need me to win. It was a variety of emotions. It all just kind of came out."
The Hoosiers have had a lot of signature wins this season, but this was the most important one. It not only gives them the conference title, but as Sheehey says, it gives them much needed momentum heading into this week's Big Ten Tournament and the NCAA Tournament that follows.
Indiana was up against a wall, and it won. I'm starting to wonder: Would the Hoosiers want it any other way?
"Nobody thought we were out of time," Crean said. "Obviously they gotta miss a couple shots to help you out, but nobody felt like we weren't gonna come down and make plays. They stayed committed to what was working. And they knew that No. 40 was impossible to guard tonight."
Filed to: Remy Abell, Tom Crean, Victor Oladipo