Film Session: Arkansas
Indiana lost its fourth and final marquee non-conference game of the season, falling to Arkansas 71-64 in Bloomington on Sunday night. The Hoosiers carried a nine-point lead at the 8:08 mark in the second half. But from there on out, they only scored three points as the Razorbacks finished the game on a 19-3 run.
It was reminiscent of Indiana's second half against Notre Dame. Except this time around, the Hoosiers weren't able to come back and regain the lead to pull out the victory.
So what happened? Devonte Green and Armann Franklin turnovers. Dribble penetration leading to Arkansas 3-pointers. Trayce Jackson-Davis not getting involved on the offensive end. Green missing 3s. And when Indiana ran good offense, it failed to convert.
We'll take a look at a Green turnover, two Arkansas 3-pointers and a missed Damezi Anderson 3-pointer during the final 8:08 in the latest edition of Film Session:
With the Hoosiers still up seven, Anderson sets a ball screen for Green on the left wing: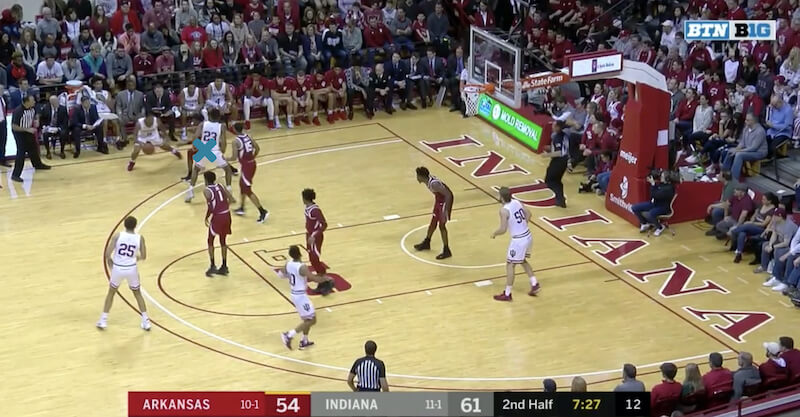 Jimmy Whitt Jr. and Mason Jones toss a double on Green. Anderson pops to the wing: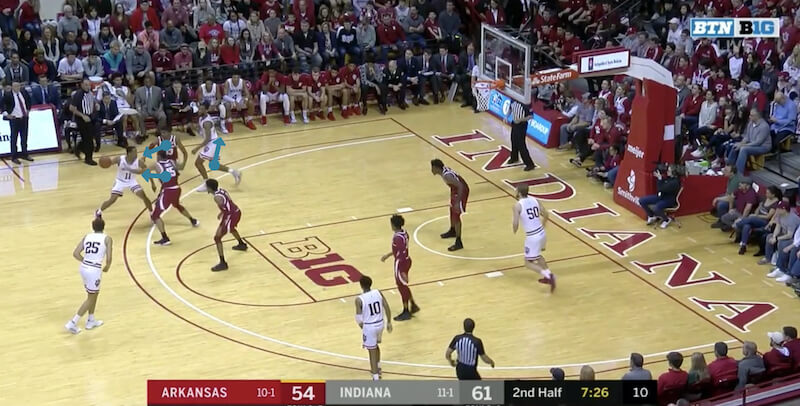 As Whitt Jr. and Jones continue to double Green, the senior starts heading back towards the timeline and grips the ball with one hand: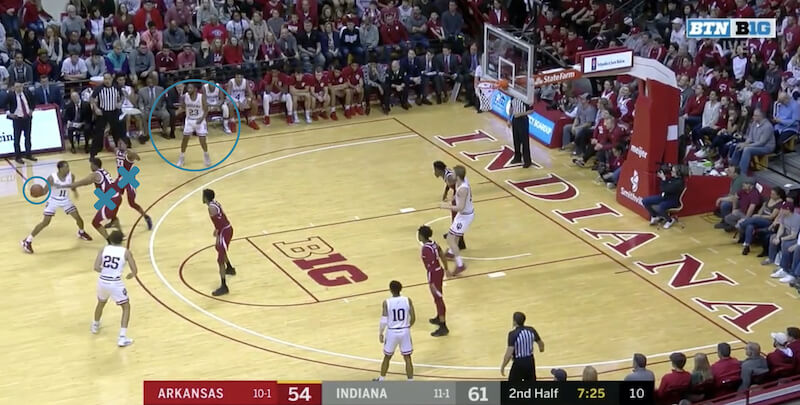 Green fades back and throws a one-handed whip pass to Anderson. It's intercepted by Whitt Jr.: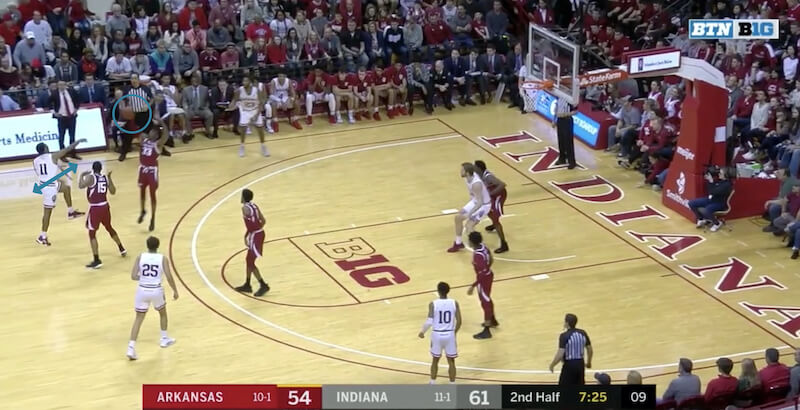 Whitt Jr. dribbles it down the court and finds Isaiah Joe on the trailer. Green and Thompson are in the paint: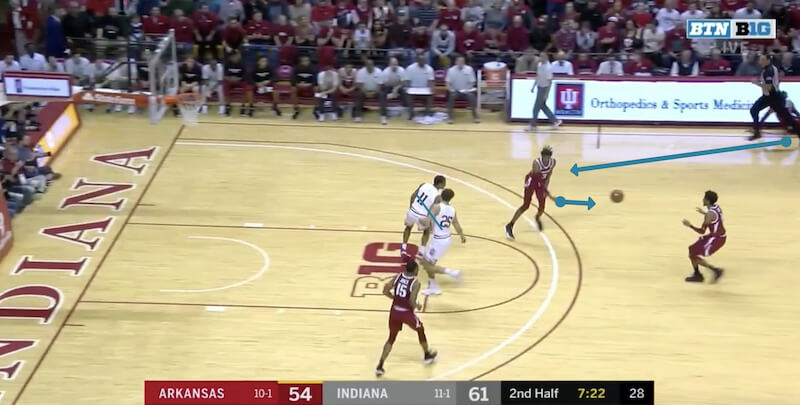 Neither Green nor Thompson comes to Joe and the ball. Despite taking 17 3-point attempts in this one, Joe opts to pass up the wide open shot and passes to Mason Jones in the left corner: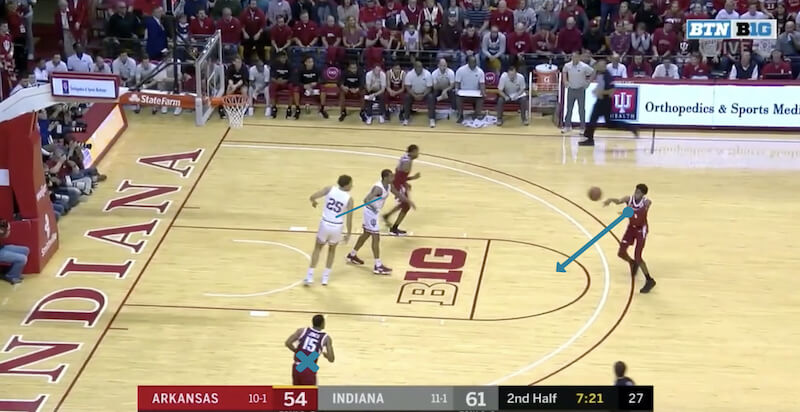 Thompson rotates out to Jones as Rob Phinisee covers Joe up top. Jones opts to drive right on Thompson instead of shooting: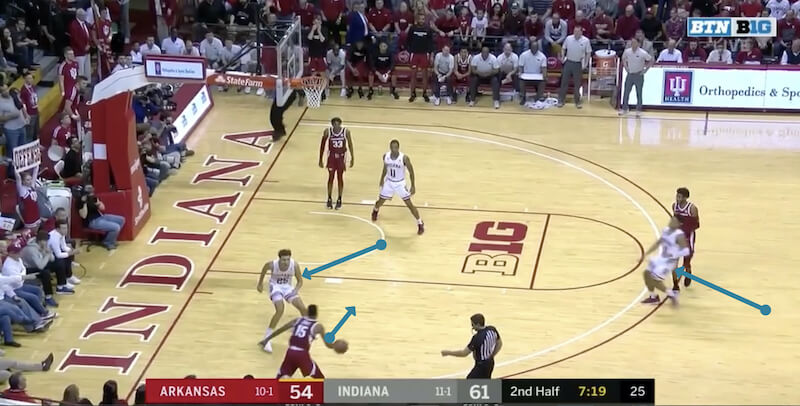 Thompson sticks with Jones on the drive, but he goes behind the back as gets near the paint: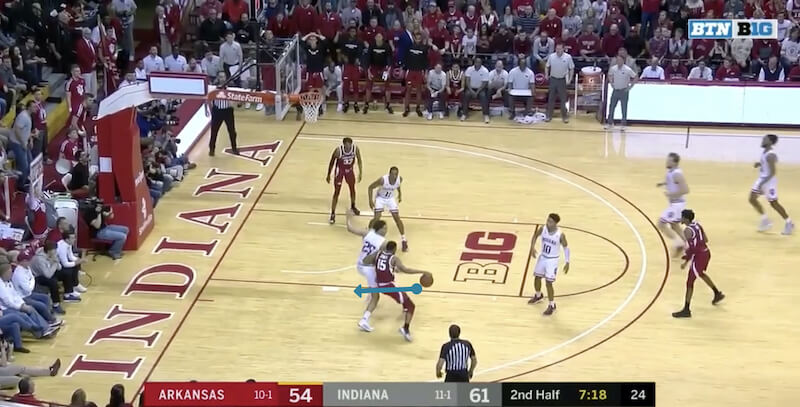 It allows him space to get the shot off and he connects for two points: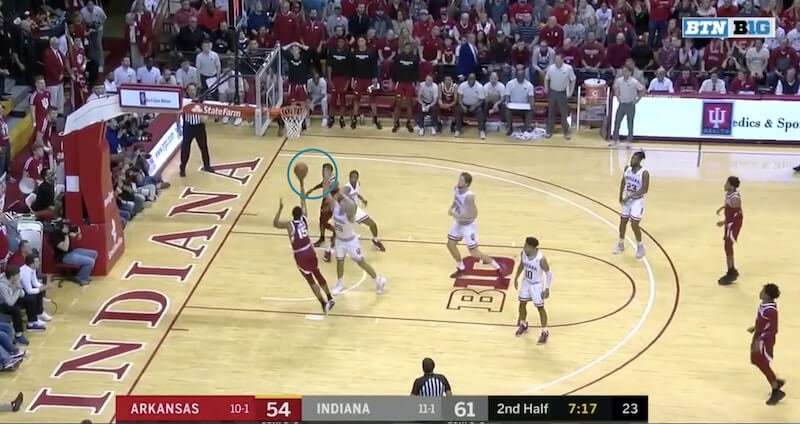 Green's decision to throw the one-handed fallaway whip pass instead of gathering with two hands and going around the defenders with a bounce pass doomed Indiana on this possession. It's the type of play from a senior guard that just shouldn't happen. But we've been here with Green before.
Filed to: Arkansas Razorbacks