Five takeaways from Indiana's loss to Arkansas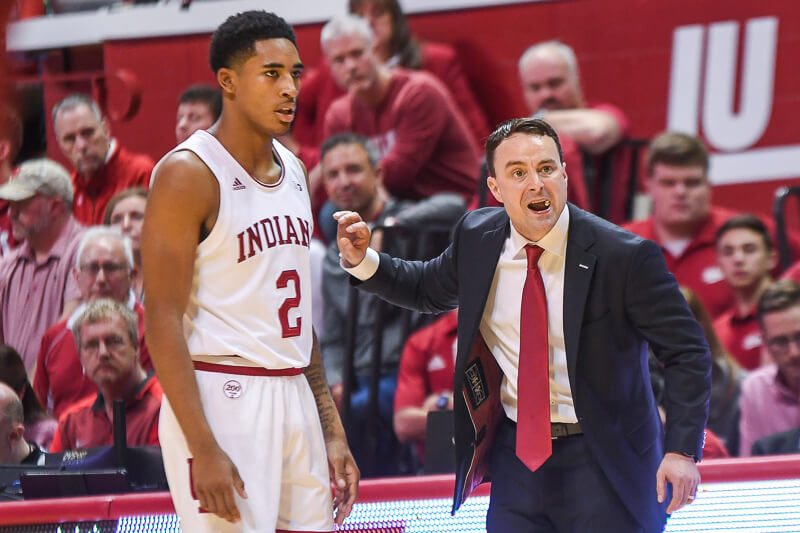 Indiana closed out 2019 with a disappointing 71-64 loss to Arkansas on Sunday evening at Simon Skjodt Assembly Hall. The Hoosiers led by as many as 11 in the second half before an offensive drought over the final 8:08 led to their demise.
Here are five takeaways from the loss to the Razorbacks:
· Offense collapses in final 8:08: Indiana had multiple opportunities in the second half to push its lead to a comfortable margin.
At the 16:04 mark, the Hoosiers led 50-39 on a pair of Justin Smith free throws. Arkansas promptly answered with a 11-2 run to get within two with 13:24 remaining on an Isaiah Joe 3-pointer.
Indiana pushed the lead back out to nine with 8:08 to play on a Joey Brunk layup. From that point forward, the Hoosiers would score just three points as a total offensive collapse down the stretch led to the first home loss of the season.
How did it happen?
Indiana either couldn't or wouldn't get the ball inside to Trayce Jackson-Davis, committed unnecessary turnovers and its only offense was from the perimeter.
Here's a rundown of Indiana's possessions in the final 8:08:
– Devonte Green turnover with 7:24 remaining
– Green turnover with 6:52 remaining
– Justin Smith missed 2 in the paint, Jackson-Davis offensive rebound and Armaan Franklin missed 3-pointer with 6:03 remaining
– Franklin turnover with 5:14 remaining
– Green missed 3-pointer with 4:32 remaining
– Green missed layup, Brunk offensive rebound, Brunk missed layup with 3:49 remaining
– Franklin splits a pair of free throws with 3:17 to play
– Green missed 2 in the paint with 2:28 remaining
– Damezi Anderson missed 3-pointer, team offensive rebound, Franklin draws foul and splits a pair of free throws with 1:20 to play
– Green missed 3-pointer with 43 seconds remaining
– Franklin made 2-pointer with 21 seconds remaining
– Green missed 3, Anderson offensive rebound and Franklin missed 3 with 10 seconds remaining
That's 12 possessions and three points. And not a single shot attempt for Jackson-Davis, who had 20 points in the loss.
"We wanted their perimeter players to get as many shots up as we could," Arkansas coach Eric Musselman said. "And I thought that by eliminating Trayce Jackson-Davis's inside shot attempts and trying to make them beat us from the perimeter, I thought it changed the game a little bit for us."
· Durham's ejection hurts guard depth: Indiana's ability to play small over the game's final 27 minutes was limited by one of the team's captains committing a flagrant two foul in the first half.
Following the under eight TV timeout in the first half, Al Durham Jr. was ejected for a blatant elbow to the face of Arkansas forward Adrio Bailey. It was an uncharacteristic play from Durham Jr. and a costly blow to the team's depth.
Without Durham in the game, Indiana only had three scholarship guards available for a large portion of the game and had to use frontcourt players to try and contain the four Razorback guards. Arkansas hit eight 3-pointers in the second half and many of them were a result of Musselman exploiting mismatches to get clean looks.
"Every game we hear the same thing, how is Arkansas going to match up with people? Well, they also have to match up with us because we play four guards," Musselman said. "And we space the floor and we're hard to match up with when we're knocking down threes."
· Jackson-Davis dominant at times: When Indiana was able to get the ball to Jackson-Davis, the freshman forward showed why he is one of the nation's best newcomers.
The sturdy lefty finished with 20 points on 8-for-11 shooting in 34 minutes. He did miss five free throws, but was the most reliable offense the Hoosiers had all night against an undersized Arkansas frontcourt.
According to Archie Miller, Indiana didn't have enough motion offensively late, which was a major reason that Jackson-Davis was unable to get any looks in the game's final 9:01.
"We didn't move enough to be able to get him moving around," Miller said. "If you want to stand on the block and have a guy front you the whole game and say, hey, throw it inside, throw it inside, it's not that easy. It's just not that easy to fire the ball inside 50 times when they're fronting the post and they've got guys on help side."
· Indiana's 3-point shooting percentage continues to crater: Whether it's a lack of recruiting shooters or developing shooters, the Miller era has yielded below average production from beyond the 3-point line.
Indiana was just 5-for-21 on 3s last night and over its last four games, the Hoosiers are 17-for-76 on 3s. Those facts will not be lost on Big Ten opponents when conference play resumes on Saturday in College Park.
Last season, conference foes packed the paint and dared Indiana shoot from the perimeter. And as Musselman's postgame comments indicated, the scouting report on how to successfully defend the Hoosiers hasn't changed.
· This loss makes Indiana's path to the NCAA tournament more difficult: Last season, Indiana was one win away from an NCAA tournament berth. Many pointed to the missed tip-in late in Fayetteville in November of 2018 as the setback that cost Indiana a trip to March Madness.
As we saw earlier this month when Indiana was blown out in Madison, road wins are going to be difficult to come by in league play.
That makes taking care of home court essential, which Indiana had done to this point. With the loss to Arkansas, the Hoosiers now must win at least 10 conference games to reach 20 regular season wins, which will be no easy task.
Filed to: Aljami Durham, Arkansas Razorbacks, Trayce Jackson-Davis