The Minute After: Michigan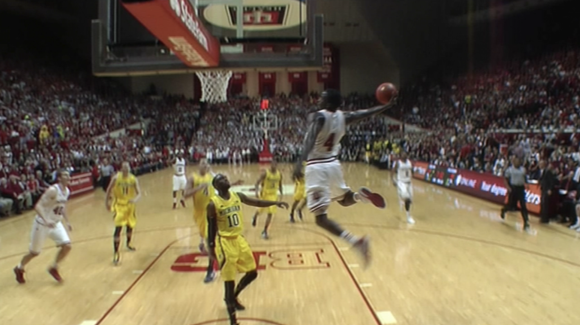 Thoughts on a 81-73 win against the Wolverines:
There were Michigan runs to keep it interesting, some sloppy missteps by Indiana, but the fact was this: The Hoosiers owned this game. They owned it because they were at home, and when you come at the king on Branch McCracken Court, you best not miss. They owned it because they never trailed. They owned it because Christian Watford and Cody Zeller, who have been labeled soft, played so big and so strong, overpowering Mitch McGary and the rest of Michigan's frontline.
Zeller had three putbacks dunks; his array of post and offensive moves were in full effect. He chased down a loose rebound all the way out to the perimeter late in the game to keep the possession with Indiana and further seal the victory. He finished the night with 19 points on 10 shots and 10 rebounds. This is not the time or place to go the rabbit hole about Zeller's declining draft stock or the criticism he's taken of late or whether he's better or more important to this team than Victor Oladipo, but this is the time and place to say there was clearly more fire in his humble spirit tonight and Indiana needs it the rest of the season. Watford looked more confident and coherent around the rim and quietly put up a great night: 14 points, 10 rebounds.
Yogi Ferrell further cemented himself as an emerging defense rock, doing great work on Trey Burke. When he went out with his second foul in the first half, the frustration he showed when he took a seat on the bench showed how much he was looking forward to this matchup, how much he wanted to be out there sliding and shuffling and keeping Burke from turning the corner and getting into the lane after the high ball screen. Speaking of Burke, Michigan's offensive second half mostly lacked him getting into the lane and creating easy looks for his teammates. Burke would get his buckets and looked filthy on a couple of stepbacks and treys. But he was also nowhere near his hyper-efficient self tonight: He needed 24 shots to score 25 points. It was a collective effort at times with Oladipo, Ferrell, Will Sheehey and Christian Watford seeing some time on him.
And there was Jeremy Hollowell, in maybe his best performance of the season. Hollowell aided in Indiana's defensive effort, recording three blocks. He would also score four points in 10 minutes of action. Michigan would try to get back into this late off the strength of some quick 3-pointers, but Indiana would continue to hit free throws down the stretch and have now had back-to-back strong performances at the line dating back to the Purdue win on Wednesday. It hit 22-of-25 including an 8-of-8 performance from Ferrell. (Michigan shot only seven.) This is an encouraging sign as the Big Ten schedule continues to give Indiana challenge after challenge.
And there was Oladipo, too. Oh me, oh my, oh my. That near alley-oop from Jordan Hulls was, as John Gasaway put it: "If Oladipo dunks that it's the play of my lifetime." Dick Vitale — a man no stranger to hyperbole, granted — was comparing the unheralded DeMatha product to a college Michael Jordan. Oladipo continues to solidify himself as one of the better players in college basketball, making a number of moves to the rim on both the break and in the halfcourt tonight that made you stand up and cheer. He finished the night with 15 points. Oladipo had a weird end to the game: An ill-advised 3-point attempt that missed when Indiana was better served draining the clock and a windmill dunk at the buzzer that well, you just don't do. He would later apologize for it in his post-game comments. Oladipo also got into Burke's ear a bit as Indiana shot free throws in the waning minutes of the game, and so this was a big game on a big stage where Oladipo got a bit nasty.
For now, the Hoosiers appear likely to regain that No. 1 ranking in the country. It's nice and it's fun, but as Michigan found out tonight, the Big Ten's road does a team no favors, and Indiana's time back on top has no promises beyond February's first full week.
Filed to: Michigan Wolverines