The Minute After: Maryland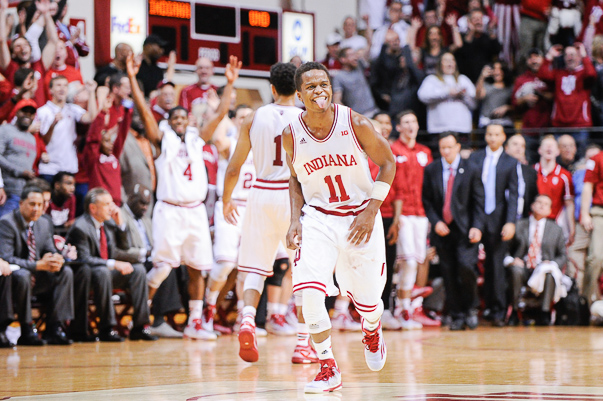 Thoughts on an 89-70 win over the Terrapins:
Tom Crean trimmed the roster fat this summer. He studied Euroball. He knew his team lacked size and experience. But there was no question they'd be able to shoot. No question they'd have better ballhandlers and playmakers. He wanted his offense to space the floor and drive to the hole. Find those shooters and knock down shots if the defense collapsed. He wanted to keep the tempo up in transition, making plays and hitting 3-pointers. The parts could interchange and the results would still wind up the same.
His summer dreams became winter reality tonight inside Assembly Hall.
This was not just a win over No. 13 Maryland, a team entering the contest as the Big Ten's best defense and tied for the conference lead. This was a blowout of epic offensive proportions. It was a game Indiana controlled for a full 40 minutes. Maryland had no answer for Indiana, as it essentially played a five-guard lineup for most of the contest. Oh, the Terrapins tried disrupting the flow. They went 1-3-1 in the second half. Indiana stayed patient, moved the ball, found Troy Williams in the short corner. He passed to Robert Johnson for a 3-pointer. Splash.
Maryland tried full-court pressure on Indiana's next possession. The Hoosiers stayed patient, moved the ball, found James Blackmon Jr. for a 3-pointer. Splash. Indiana hit 15-of-22 (68.2%) from distance for the contest. Max Hoetzel (1-of-1), Johnson (1-of-3), Blackmon Jr. (3-of-5), Collin Hartman (3-of-3) and Yogi Ferrell (7-of-8) all got in the mix. It helped the Hoosiers shoot an effective field goal percentage of 75.0 percent. They also scored 1.39 points per possession against a Maryland squad coming in allowing just .90 in conference play.
Ferrell was absolutely on fire and feeling it. Didn't matter how he got his 3-pointers tonight. Stepback, shot clock winding down, etc. — they were all going down. Ferrell also held Melo Trimble to a pedestrian 10 points. He also posted five assists and zero turnovers. Stop nitpicking his game. This kid has the goods.
Hartman was an absolute revelation. He's been the glue and hustle guy all season long. But tonight he cemented himself as someone more. Hartman got the 3-point barrage going with two early triples. He had a career-high 10 points at half and finished with 15. He blocked Trimble twice in the second half, had three for the game and took a charge to boot. Hartman also added something new to his repertoire tonight: He got to the basket off the bounce like his teammates, even cashing in on an and-1 off the top of the key to the hole in the second half. On a drive out of the corner in the first half, he found Williams for a bucket.
Just what do you do when the opposing five is hitting 3s, driving to the cup, finding his teammates and protecting the rim? Crean has turned Indiana's perceived disadvantage of a lack of size into a mismatch nightmare.
The Hoosiers also got it done in an area they keyed on before the game. They kept Maryland off the line, one of its strengths. The Terrapins hit the charity stripe just 12 times tonight and made only six of those attempts. They also stayed pretty even on the offensive boards, as Maryland snagged 20.7 percent to the Hoosiers' 18.2 percent.
Yes, Maryland still scored 1.09 points per possession, hit 50 percent (10-of-20) from 3-point land and sported an 60.4% eFG. But Indiana also won by 19.
This is now Indiana's seventh straight win against a ranked opponent in Assembly Hall. It's 5-1 and tied for first in the Big Ten. You maybe keep waiting for the other shoe to drop at some point, but it's just not happening.
The Hoosiers keep winning, and they're doing it in sensational fashion.
Filed to: Maryland Terrapins