The Minute After: Syracuse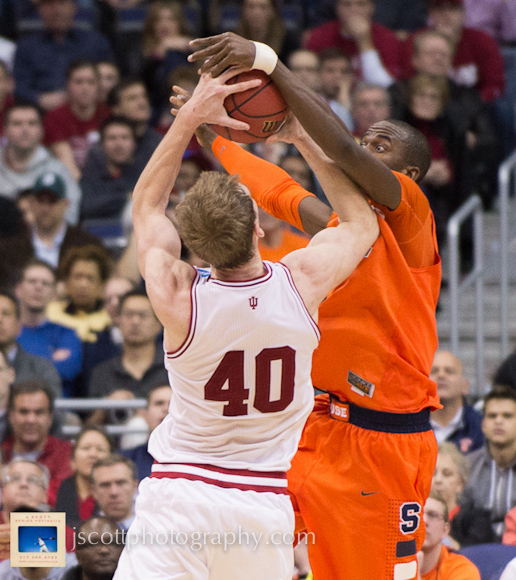 Thoughts on a 61-50 loss to the Orange: 
The dream dies tonight.
No Banner Six from this group, no march onwards to the Elite Eight for a matchup against Tom Crean's former Marquette team. In a season filled with so much promise and so many expectations, the Hoosiers are done. They advance no further than last year's Sweet Sixteen appearance, and it's a disappointment.
This was a special team with special kids. But Syracuse's zone defense, its length and athleticism, was just too much for Indiana. It was a style and a group of athletes the likes of which the Hoosiers hadn't faced this season. And, save for a brief glimmer of hope early in the second half, they were dominated for much of the contest because of it. Indiana turned it over on 28.4 percent of its possessions (a season-high 19 turnovers). The Hoosiers were so overmatched in the first half, they were once down 18. Six different Syracuse players recorded a total of 10 blocks, about half of them coming on Cody Zeller field goal attempts. Zeller is an elite college player, but the truth is this: His style of playing low to the ground makes him susceptible against length and athleticism, and he struggled against it all year — no more glaring than tonight.
Syracuse's D got so stingy that Christian Watford couldn't even get off desperation 3-point attempts at the end of the contest. It was a tough matchup they simply couldn't overcome. Yet, the Orange only scored 61 points (.910 points per possession). On most nights this year, that's not enough to best the Hoosiers. But tonight, with so much on the line, it was. After the game, IU players, including Jordan Hulls and Remy Abell, spoke of thinking too much instead of just playing. There was a certain deer-in-the-headlights look to the Hoosiers tonight, and it did little to help matters.
Before this season, there were questions about a starting backcourt of Hulls and Yogi Ferrell. Could such a small duo defend night in and night out? It was a narrative that never gained much steam because Indiana's overall defense was so much better than last season and matchups were never that big of an issue for them … until tonight. Brandon Triche (14 points, 6-of-12) abused Jordan Hulls time and again. Yogi Ferrell didn't even start the second half. The duo failed to score (a combined 0-of-8). Hulls finished the month of March just 9-of-37 from 3-point range (24.3 percent).
"It will haunt me for the rest of my life," Hulls said of his late season shooting struggles tonight after the game, and that just rips your heart out.
Couple Indiana's weak offensive showing against Temple with its woeful outing tonight (just .746 points per possession, 33 percent shooting from the field including a 3-of-15 performance from 3-point range, a rough 15-of-24 showing at the line) and the nation's most efficient offense ended the season on a low note. Let this team get going in transition and they were marvelous. Keep them in the halfcourt and get physical with them? They were less than ordinary. And they sputtered down the stretch, going just 5-4 over their last nine games.
Still, Indiana put together a terrific season. It won its first Big Ten outright title in 20 years, was ranked No. 1 for several weeks and is firmly back in the national spotlight. But the hard, cold reality is whether fair or not, a deeper run was expected of this team. It just was. Final Four or bust and the Hoosiers fell short.
Twenty-six years ago, Keith Smart's shot against Syracuse propelled Indiana to Banner Five. Twenty-six years later, Syracuse drops the Hoosiers from the tournament.
All these years later, and they're still after Banner Six.
Filed to: Syracuse Orange