That's A Wrap: Team Defense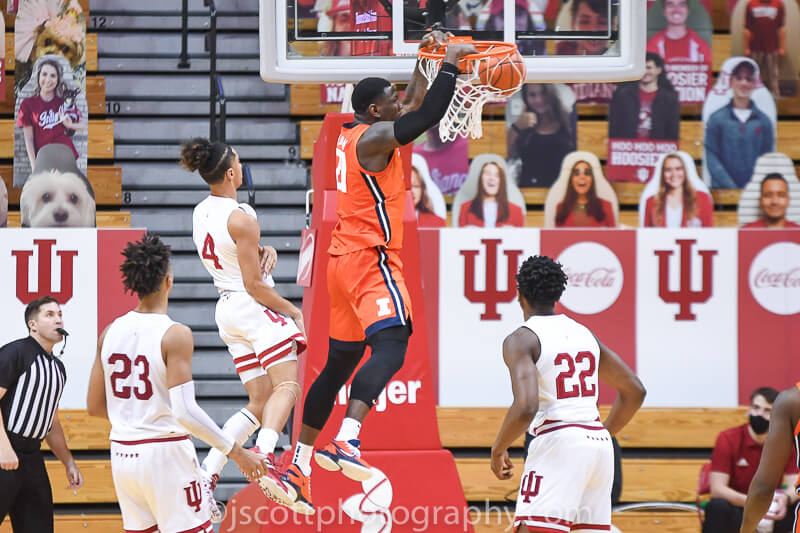 Welcome to "That's A Wrap," our recap of the 2020-2021 Indiana Hoosiers. Today, we conclude the series with a look at IU's defense.
Previously: Anthony Leal, Trey Galloway, Jordan Geronimo, Khristian Lander, Armaan Franklin, Trayce Jackson-Davis, Rob Phinisee, Jerome Hunter, Race Thompson, Al Durham Jr., Archie Miller, Team Offense
Team Defense (27 games): Adjusted Efficiency: 94.3 (43rd), eFG%: 48.8 (117th), TO%: 17.6 (248th), 3PFG%: 33.4 (144th), 2PFG%: 48.1 (110th), FTA/FGA: 33.5% (222th), OR%: 27.4 (151st), block% 10.5 (77th), steal% 8.3 (237th)
Indiana's defense got off to a great start in the 2020-2021 campaign. It held its first seven opponents, all in the non-conference slate, to under a point per possession. Entering Big Ten play, the Hoosiers ranked 8th in adjusted defensive efficiency nationally. Archie Miller's pack line defense appeared ready for prime time and the rigors of conference play.
But conference season was not kind to Indiana's defense. After those seven straight under-a-point-per-possession performances in non-conference play, Indiana only did it four times across 19 Big Ten contests, going 2-2 in those matchups. While they finished 43rd nationally in adjusted efficiency, Indiana finished near the bottom of the conference in that same metric (12th). Across a host of categories, Indiana's defense was among the worst in conference-only play this season: eFG% (51.5, 11th), 2PFG% (50.1, 10th), 3PFG% (36.0, 13th) and FTA/FGA (34.9, 12th).
So what went wrong?
Well, in some sense, the competition stiffened. And it wasn't all bad, as Indiana defended Iowa well enough twice, racking up two victories against one of the nation's best offenses. The Hoosiers made things tough against the likes of big men like Luka Garza, Micah Potter and Liam Robbins this season whether individually or when they decided to send help. And without Joey Brunk in the frontcourt due to injury, Trayce Jackson-Davis and Race Thompson did a commendable job down low and had strong block percentages.
But Indiana's defense suffered against teams that could spread them out and make them individually defend. It struggled against athletic perimeter players that broke down the defense at the point of attack. And for a defensive style susceptible to 3-point shooting, the personnel Indiana had on the perimeter wasn't quick or long enough to stunt and recover in time to ward off shots or contest well on closeouts.
Worse yet, Indiana looked completely lost and out of sorts too often in conference play. Discipled waned. Overhelping happened. Confusion appeared. Northwestern's 5-out style, the perfect foil against the pack line, gave them fits to start the season. Against Michigan State on Feb. 22, Indiana's defense fell apart in the second half. In its lowest effort of the season, a loss at Rutgers, they appeared to give up. Purdue bested them on a number of baseline out of bounds plays on Jan. 16.
To end the season in the Big Ten Tournament, Rutgers spread them out in the second half to pull away and win.
Bottom Line: The Indiana program under Archie Miller was supposed to be built on a defensive identity, but it simply wasn't something the Hoosiers could hang their hat on during the 19-game Big Ten slate this season. Yes, better shooting from deep or at the line could have helped Indiana to a couple more wins. But a defense that ranked near the bottom of the conference didn't help matters, either. The pack line worked against teams like Iowa that use a traditional big man down low, go heavy on perimeter passing and lacked players that can break down a defense. But as the modern game puts a premium on 3-point shooting and using bigs more on the perimeter, the pack line can be exploited.
Quotable: "The pack line man-to-man defense is a 'sagging' man-to-man defense. The idea is to clog the inside, protect the paint, and prevent dribble-penetration. Instead of defenders (whose man is one pass away) playing on the line in denial, they sag back inside the imaginary 'pack line'. The pack line is an imaginary line two feet inside the 3-point arc. The four defenders off the ball are positioned inside that line. One defender pressures the ball, while the other four defenders are inside the pack line, hedging in the gaps. This allows the pass on the perimeter, but closes down the gaps and prevents dribble-penetration. The prime goal, as in any defense, is to stop the ball." – Dr. James Gels
Filed to: