Film Session: Rutgers
After keeping pace and trading leads with the Scarlet Knights during the first 10-plus minutes of the second half on Thursday night, Indiana faltered in a big way down the stretch, resulting in a sixth straight loss to close out the season.
Indiana failed to make a field goal after an Armaan Franklin bucket at the 9:50 mark. The game was essentially lost for the Hoosiers when Paul Mulcahy hit two wide-open right corner 3-pointers over three Scarlet Knights possessions to push their lead to seven with 5:32 to go. On the other end, Indiana got great looks to try and stem the tide, but as has been the case over the last few weeks, the shots just didn't fall.
We'll take a look at this stretch that defined the game in the final edition of Film Session for the 2020-2021 season:
With Rutgers clinging to a one-point lead, Clifford Omoruyi sets a high ball screen for Caleb McConnell. Race Thompson high hedges. Rutgers has Mulcahy and Ron Harper Jr. spread to the corners. Jordan Geronimo and Franklin are in help position between the ball screen and corners: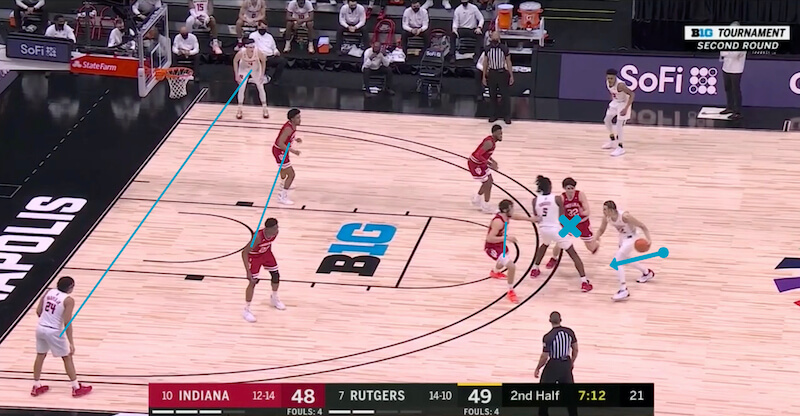 Thompson shoots up above the 3-point line almost out of routine than what's actually happening in front of him, allowing McConnell to split him and Trey Galloway and get into space in the lane: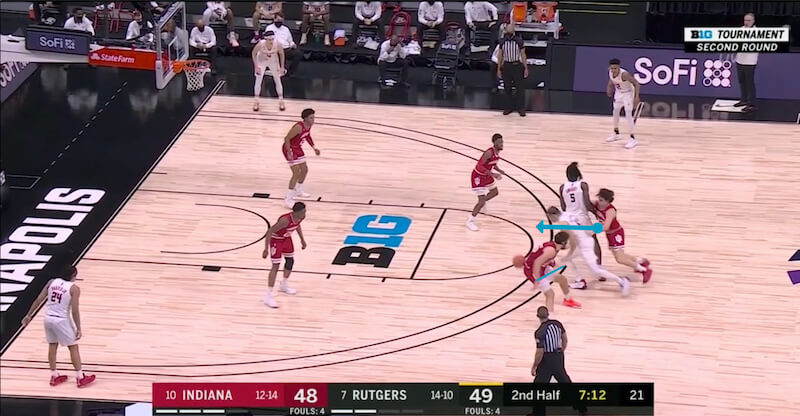 From there, both Franklin and Geronimo move into the paint on the help, leaving Harper Jr. and Mulcahy open in the corners. McConnell tosses the no-look pass to Mulcahy in the right corner. Mulcahy has taken less than half the 3-point attempts of Harper Jr. (51 vs. 133), but is shooting a higher percentage (37.3% vs 32.3%). Mulcahy also has the advantage of Franklin guarding him, who was still clearly slowed by his foot injury: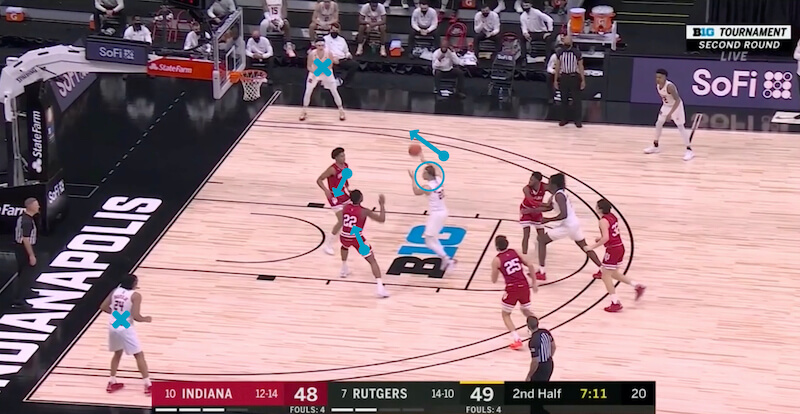 Mulcahy catches the pass and Indiana's closest defenders are still in the paint: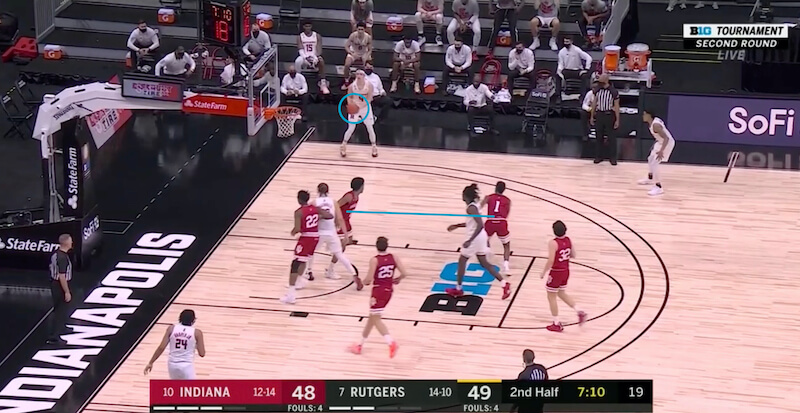 Al Durham is still several feet away on the closeout as Mulcahy lets go and connects: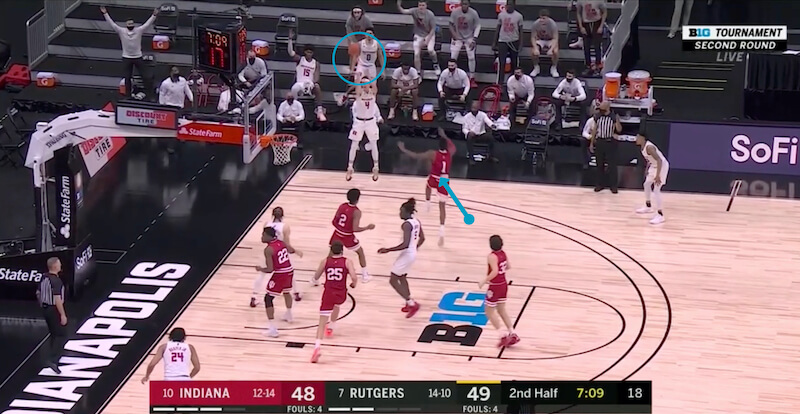 Simple basketball from Rutgers here. Gain the advantage on the ball screen, attract the help defense in the paint, find the open, spaced shooter in the corner. While this wasn't always how Indiana gave up 3-pointers this season — and 3-point defense is often just luck based on how the opponent shoots it — the Hoosiers have not done well in this regard during the Archie Miller era based on the eye test and the numbers. Opponents have gotten many good, open looks against IU's defense. This season, Indiana allowed Big Ten opponents to shoot 36 percent from deep, 13th worst in the conference. The Hoosiers ranked 9th, 11th and 10th in the conference in 3-point defensive shooting percentage over Miller's first three seasons.
Video:
Filed to: Rutgers Scarlet Knights