That's A Wrap: Khristian Lander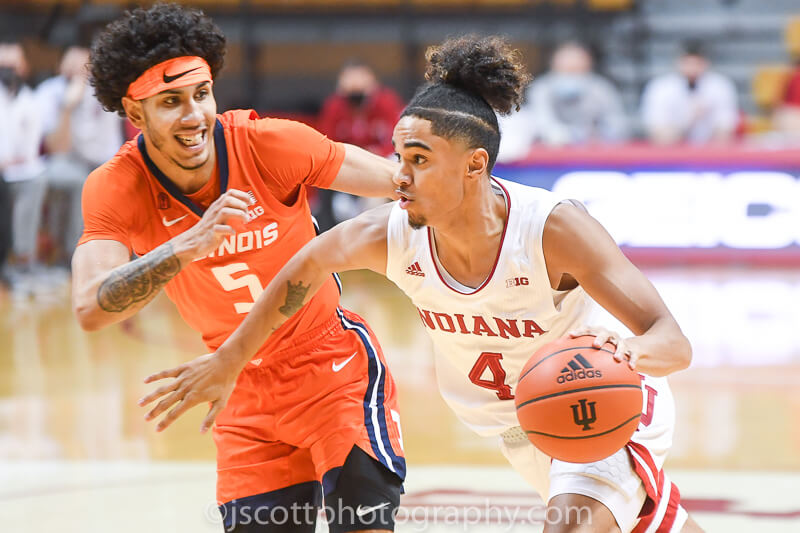 Welcome to "That's A Wrap," our player-by-player recap of the 2020-2021 Indiana Hoosiers. Today: Khristian Lander.
Lander (26 games): 2.1 ppg, 1.2 apg, 0.8 rpg, 25.7% FG, 27.3% 3FG in 10.1 minutes per game.
Previously: Anthony Leal, Trey Galloway, Jordan Geronimo
Point guard Khristian Lander entered Archie Miller's program as a 5-star talent, oozing with potential as a dynamic playmaker and scorer. But as a re-classified freshman, he also skipped his senior year of high school, beginning his college career early. And the reality of Lander's freshman campaign was this: He struggled to find his footing, turning the ball over at a high rate while failing to put the ball in the hole even at an average level. He struggled to defend due to his size, lack of awareness and his inability to keep players in front of him. He was often foul-prone.
But it wasn't all bad.
Lander scored a season-high 10 points against North Alabama on Dec. 13, thanks to 2-of-4 shooting from deep and a 4-of-4 mark from the line. And near the end of the Big Ten season, Lander's good outweighed his bad. It looked like he had turned a corner. He scored seven points and dished out two assists against just one turnover in a loss to Michigan, an in-control performance we highlighted in Film Session. Lander backed up that performance next time out against Michigan State, playing the most mature half of his career in the first 20 minutes of action. Miller played him a season-high 22 minutes in that game and Lander posted seven points (3-of-4), two assists, one steal and zero turnovers.
But Lander then only played eight minutes in a loss to Purdue during Indiana's next game. And Miller didn't play him at all against Rutgers in the Big Ten tournament, Indiana's final game of the season.
When Lander had it going, he offered a different dimension on the court. For a team that often had to grind it out for scores in the halfcourt, Lander's floor vision and passing skills offered a respite. He could make things happen for himself and his teammates in a way no one else on the team could. While Indiana set plenty of high ball screens this season, it seemed only when the Reitz product had the ball in his hands that Indiana was going to put the defense in a pickle.
But the overall profile made it hard to keep Lander on the floor. While he had the highest assist rate on the team (22.1), he turned the ball over on nearly 30 percent of his possessions (29.1), which was the worst on the team. He had the lowest offensive rating on the team (69.7). Lander missed a number of point-blank shots at the rim this season and finished just 6-of-26 (23.1 percent) on 2-point shots. He made just 12-of-44 (27.3 percent) from deep. His decision-making could leave you scratching your head.
Yet, Miller's utilization of Lander was inconsistent and not exactly confidence-inspiring. Lander often seemed to play with one eye over his shoulder, worried about getting pulled from a game instead of playing free.
His father Keith spoke to The Daily Hoosier about this after the season: "It was a rough year for him mentally. He lost confidence. Especially at the beginning of the year. I'd say by the end of the year, even though it was still kind of funny with the time he was playing, he'd play 16 minutes one game and four the next, it was kind of weird. But at the end of the day, I think he lost his confidence for a long period of time during the season."
Bottom Line: Lander showed flashes of top-level talent this season. He was Indiana's best pure passer and displayed strong court vision. But he struggled to adjust to the college game, turning the ball over at a high rate while having trouble putting the ball in the basket. Lander seemed to have a path to an increased role next season, but with Xaiver Johnson and Tamar Bates now in the fold, not to mention Parker Stewart and Rob Phinisee returning, a battle is brewing for playing time in Mike Woodson's backcourt.
Quotable: "I think that he gained more by going through this year, even the ups and downs mentally and all that, he gained a lot by going through that and growing a lot as a young man and as a basketball player. I don't think he would have got that staying in high school. That was the purpose of leaving high school early. And also, I think he got a better opportunity than going to prep school, just for the simple fact that he was practicing against Big Ten players on a daily basis and that lifestyle of being in college. I don't think you could replace that by going anywhere else but college." – Lander's father, Keith, to The Daily Hoosier after the season
Filed to: Khristian Lander