That's A Wrap: Jordan Geronimo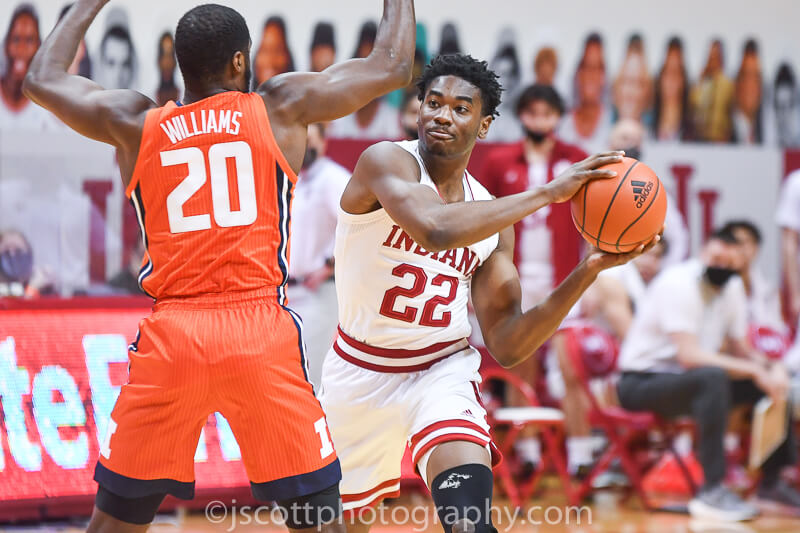 Welcome to "That's A Wrap," our player-by-player recap of the 2020-2021 Indiana Hoosiers. Today: Jordan Geronimo.
Geronimo (21 games): 2.2 ppg, 1.8 rpg, 51.4% FG, 40% 3FG in 8.1 minutes per game.
Previously: Anthony Leal, Trey Galloway
There were moments in Jordan Geronimo's freshman season that showed why he such a priority for Indiana in the 2020 recruiting class.
A late-rising forward from Newark, New Jersey who finished his prep career at St. Paul's School in Concord, New Hampshire, Geronimo's size, athleticism and wingspan allowed him to hold his own in an 81-69 road win at Iowa on Jan. 21.
In that upset win at Carver-Hawkeye Arena, Geronimo logged 10 minutes and guarded Iowa's national player of the year, Luka Garza, for most of them. He also scored seven points on 3-of-3 shooting from the field.
"I thought Jordan Geronimo, best game he's played," Archie Miller said after the surprising win over Iowa. "I mean, his contributions tonight were awesome in terms of how he brought energy and how physical he was."
That performance, however, was arguably the most memorable of his freshman campaign in Bloomington.
Like most newcomers, Geronimo was unable to get much-needed playing time early in the season to aid in his development. A lack of buy games early in the season meant that Geronimo only logged double figure minutes twice in non-conference play and by the time conference season rolled around in late December, he was on the fringe of the rotation.
The 6-foot-6 forward didn't get off the bench in back-to-back games in mid-December against Butler and Northwestern and from Dec. 19 through Jan. 20, he logged just a total of 20 minutes over eight games with three DNPs.
After his breakout performance against Iowa in Iowa City, Miller's management of Geronimo's minutes was a bit puzzling. In Indiana's next game, Geronimo played only six minutes in a 74-70 home loss against Rutgers.
Geronimo again impressed against the Hawkeyes in Bloomington on Feb. 7 as Indiana prevailed 67-65. He came off the bench and scored six points in a season-high 16 minutes.
But again after that stellar performance, Geronimo went back to lightly used by Miller for Indiana's next stretch of games.
He played just seven minutes in a 79-76 double-overtime win at Northwestern on Feb. 10, seven minutes in a 78-59 at Ohio State on Feb. 13 and two minutes in an 82-72 win over Minnesota on Feb. 17. In the following game against Michigan State, which was a 78-71 loss, Geronimo didn't get off the bench.
In total, Geronimo appeared in only 16 of Indiana's 20 conference games and logged just 7.6 minutes per contest in league play. The inconsistencies in his minutes make it hard to project what kind of player he might be in the future, but there is certainly potential for him to make a leap forward as his career progresses.
In limited minutes as a freshman, Geronimo did knock down 55.6 percent of his 2s, 40 percent of his 3s and posted an offensive rating over 100 in Big Ten play. At the conclusion of the regular season, Geronimo opted to enter the transfer portal following Miller's dismissal, but he ultimately decided to return to the Hoosiers next season after meetings with new coach Mike Woodson.
Bottom Line: Geronimo has tools that can't be taught with his solid frame, 40-inch vertical jump and 7-foot-1 wingspan. In an Indiana program that has pledged to be more player development-focused moving forward under Woodson, Geronimo is the type of player that could develop into a significant contributor in the coming seasons. Next season could present another uphill battle for playing time on a roster that is now crowded in the frontcourt, but if Geronimo has a big offseason, his talent should keep him in the mix for minutes.
Quotable: "He has an inherent desire that he wants to defend. He loves to come from the weak side and attack shots at the rim. He loves to block shots, he loves to change shots, he loves to create havoc. It's part of who he is." – Vin Pastore, Geronimo's coach with Mass Rivals, to Inside the Hall in June of 2020.
Filed to: Jordan Geronimo