Freshman Focus: Jordan Geronimo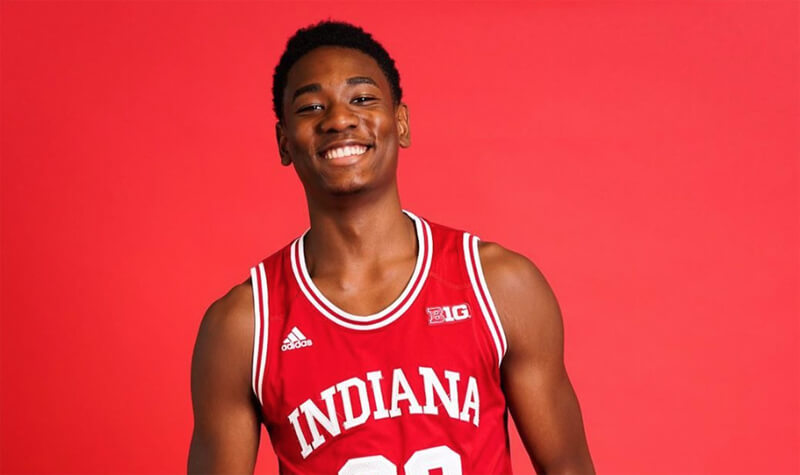 "Freshman Focus" is an Inside the Hall series on each of Indiana's incoming freshmen. Today: Jordan Geronimo. Previously: Anthony Leal
Everyone has something different they miss about Jordan Geronimo.
His AAU coach, Vin Pastore of Mass Rivals, went with the sentimental choice.
"He's got a smile that lights up the room," Pastore said.
Geronimo's high school coach at St. Paul's School, Max Gordon, needed a moment to ponder before answering.
"There's so much to miss," Gordon said. "I think there are a lot of right answers."
Then, it hit him.
"My immediate answer is the way he electrifies a basketball court."
For the variance in answers regarding what they will miss the most about Geronimo, Gordon and Pastore agree on one thing: Geronimo's athleticism and work ethic separate him from his peers, and could be X factors ahead of his freshman season at Indiana.
"I praise Jordan just as much for his work ethic and his basketball IQ as I do for his athleticism and talent," Gordon said. "He's an incredible athlete, but he puts in the work and he watches more film than anybody. That's why he's such a smart player."
Gordon and Pastore witnessed the rise of Geronimo, whose recruiting profile blew up last summer playing on the AAU circuit for Pastore's Mass Rivals.
A slew of high major offers followed, but the process was put to bed when Geronimo committed to IU early last September.
It was a whirlwind period that came late in Geronimo's prep career. The way he adapted to becoming a go-to figure last summer for Mass Rivals, and during the 2019-20 season for St. Paul's, struck a chord with both his coaches.
"As the minutes started to grow and he figured out how to let his skillset translate to the game, that was a huge thing," Pastore said. "His last season of high school was the same. This was the first time he was really 'the man' on his high school team."
"He did a really good job just taking it all in stride and learning early on in a game what that game was going to be like," Gordon added.
Even as attention focused on Geronimo, his senior season stats reflected a player who still found ways to contribute.
The 6-foot-6, 205-pound small forward averaged 18 points, nine rebounds and a pair each of assists, blocks and steals per game for St. Paul's en route to earning Gatorade New Hampshire Boys Basketball Player of the Year honors.
But it was the in-game growth Geronimo experienced that made the most difference in his development. His standout athleticism found new ways to translate into production during the ebb and flow of a game.
"When he had the ball in his hands, everybody on the court knew it," Gordon said. "So for him it was a lot about reading the help defense, working hard to get open, not letting himself get pushed around when he got in the paint. Those were just things he reacted to on a game-by-game basis."
Gaining experience in those scenarios suddenly looks more important for Geronimo today than it did two weeks ago.
Justin Smith's offseason transfer to Arkansas leaves obvious questions about what Indiana's minutes distribution may be like next season without him, but it also bumps each of Indiana's wing options up in the pecking order.
This most notably means Jerome Hunter may find himself in a starting role come November, but coupled with the additional offseason transfer of Damezi Anderson, it means Geronimo could be in line to receive important playing time off the bench.
Should this fall into place, Geronimo will likely lean on his defensive versatility.
"He has an inherent desire that he wants to defend," Pastore said. "He loves to come from the weak side and attack shots at the rim. He loves to block shots, he loves to change shots, he loves to create havoc. It's part of who he is."
Pastore described Geronimo as a player who used to be "an elite defender with a nice basketball stroke." The complete package is now present on both ends of the court, and concerns about Geronimo as a "raw" prospect aren't as strong as they once were.
"He's definitely physically long… he's extremely bouncy," said Jordan Basye, a trainer who works extensively with Anthony Leal and who worked out with Leal and Geronimo last Friday morning.
"He's probably got as high of a ceiling as anybody else with the physical tools."
Those tools allowed Geronimo to earn a reputation as a standout defender long before his offensive game came into its own. They may also be the reason he's a viable option for significant minutes as a college freshman.
"He's got all the intangibles that are required to be a good defender in the Big Ten right now," Pastore said. "You can put Jordan on a point guard (and) he can switch to four positions. That's size, speed, (he) plays bigger than he is. (He) moves like a small guard, exceptional length. All that allows him to do those things."
Filed to: Freshman Focus, Jordan Geronimo