Q & A: Jordan Geronimo talks choosing Indiana, his mentality and what it means to be a Hoosier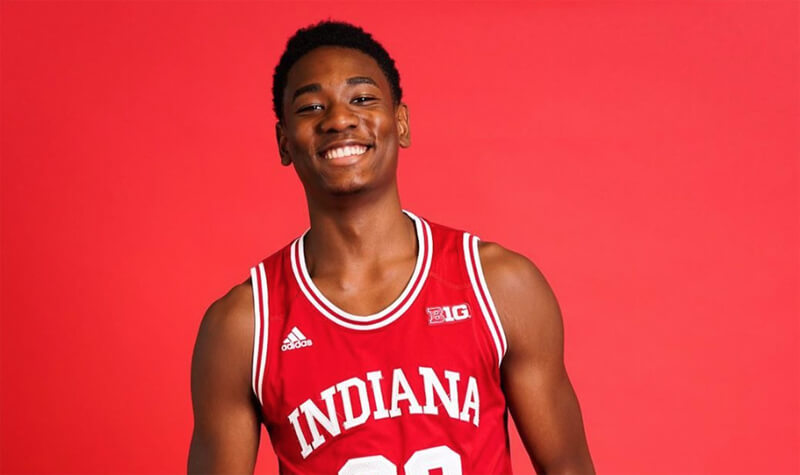 St. Paul's (N.H.) small forward Jordan Geronimo became the third class of 2020 commit for Indiana when he announced his decision on Monday night via his Instagram.
Inside the Hall spoke at length with Geronimo about what went into his decision, making a name for himself and what Hoosier fans can expect from him on the court.
Our full Q & A is below:
Now that it's been a few days since your commitment to Indiana, have the emotions settled down? What have these past few days been like for you?
"These last few days have been really, really exciting. I've just been really happy to be a Hoosier, and I'm just really excited to start working, so I can make a name for myself when I get there."
What stood out to you about Indiana? What ultimately went into your decision to commit?
"The people there were just amazing. Coach (Archie) Miller was great. The other coaching staff was great people. It was all really fun and energetic. I just really trusted them to get me where I need to be. The community was very lively when I was there, and they had so much energy. The cherry on top that really sold me was how the rich basketball history Indiana had was able to project into the community. When I was out with Archie Miller, people came to me and knew my name. They were saying all this stuff because they were in the basketball loop. I heard Indiana was a basketball school and a basketball state, but I didn't really know that until I got on the Indiana campus. When my family took me to the Graduate Hotel, we looked up and there was basketball chandeliers. You looked down and there was basketball carpets. On the left, there was old basketball bleachers in an old auditorium for decoration on the wall, and that just told me there was great people, plus a basketball community is going to compel me what to what I need to be."
Was that rich basketball tradition something you were looking for when you were deciding your collegiate destination?
"Not really, but I didn't know that when I got to Indiana because it was just something I fell in love with."
You touched a little bit on your visit here, but what was it like being able to hangout with some of the players and get to know them a little better?
"It was a great experience. I was able to see how like the team operated without the coach being there. They were all super nice to each other, and there was always this like competitive atmosphere being around them, which I thought was really cool. They all moved in a pack. They were always together. It was something that was really cool and that level of camaraderie is something I want to be a part of."
You also got to talk to Romeo Langford while you were here. How was that?
"Yeah, that was a bonus I'm not going to lie. He was just there, and I was like 'woah'. I hung out with Romeo for like my whole student visit he was there."
I saw you played a video game against Romeo. What game did you guys play?
"Super Smash Bros."
Did you win?
"I always win."
You're the third commitment of the 2020 class for Indiana. Did you have any communication with Anthony Leal or Trey Galloway either before or after your decision?
"Not really because I never really dropped like a top five, so they didn't really know where my mind was at at the time. After I posted to Instagram of me in the Indiana suit and said 'not committed,' at that point they started saying, 'Come here. Come to Bloomington.'"
What was it like for you being sort of an under-the-radar player to all of a sudden a top-100 recruit in the entire nation?
"Honestly, it's been a blessing. It's just crazy coming from nothing and turning into something. It just tells people that if you just put your head down and do what you're supposed to do and put the work in, and when you look up, I promise you something good is going to happen. Like I never got any colleges looking at me before this whole like AAU thing and like now I have 32 scholarship offers — all DI, and I committed to Indiana, so I can't be happier enough."
How's it going to feel this season being the opposing teams' number one priority to stop?
"I mean, I guess it will just make me into a better player, you know what I mean? If I'm going to be that guy that everybody's trying to lock up or shut down, that just pushes me even harder to work hard in the workouts and to get extra reps in when I can. It just motivates me to be better because at the end of the day, I don't think they can stop me. It's all a mental thing, and I like that kind of stuff."
What kind of aspects of your game are you looking to improve that you think will elevate you to the next level?
"I'm looking to improve on my ball handling and coming off of ball screens. I think if I was able to get at any point on the floor with my dribbling, that's when I'm coming to feel like a dangerous player. I don't really call myself 'good' because it's just a mental thing I do, but I feel like if I was able to get a nice dribble, work off ball screens nice, then I'm going to be a problem. If I get near that basket, there's going to be a poster on somebody's head."
I know you still have a year, but what should Indiana fans expect out of you? What are you hoping to bring to the program?
"A whole lot of energy on the defensive and offensive end. First and foremost, I'm a defensive player. I love shutting people down. I love blocking shots, getting steals and doing other stuff to get a stop on the possession. People best believe in a game I will bring the defensive energy. My opponents will know I'm on the floor."
You mentioned you had 32 DI scholarship offers, what was it like when Archie Miller reached out to you?
"It was actually crazy. It all happened super fast. I was in California and I got a text from an unsaved number that said this is coach Miller from Indiana, we saw you play a bunch of games and we want to offer you a scholarship. The first thing I wanted to say was, 'You got the right number?' It's just crazy to come from like nothing to something … I mean like this is a blessing."
How has your relationship with coach Miller grown over the last few months and what kind of role does he envision you having with Indiana?
"We just talk like buddies do. He's saying that when I get there, he's going to have me play from the wing. He says that he sees me coming off the bench and playing some significant minutes just for my defense because I'm a defense-first player. But he said he's going to develop me offensively and physically, so with those improvements on my game it's only going to get me more minutes and more playing time."
Have you ever been to a game at Indiana?
"I haven't, but I would love to, though."
Are you planning to come to a game this upcoming season?
"I haven't thought about it, but that would be something I would love to do because Assembly Hall — the way the arena is set up and seats are set up — I can tell it can get rowdy in there."
That dives into my last question, which is what are you looking forward to most about playing in Assembly Hall?
"I'm just excited to go in there and make a name for myself. Just to go in there and show everybody why I'm going from nothing to something. It's just a growth — prove to people I am legit, you know what I mean? I'm just excited to do that. I have the perfect stage — Indiana basketball — I have great people to support me, I have coach Miller, I have a great staff behind him, and I'm just excited to go do my thing over there."
Subscribe to Inside the Hall's YouTube channel and like our page over on Facebook.
Filed to: Jordan Geronimo