Justin Smith has left Indiana basketball, here's how the Hoosiers could adjust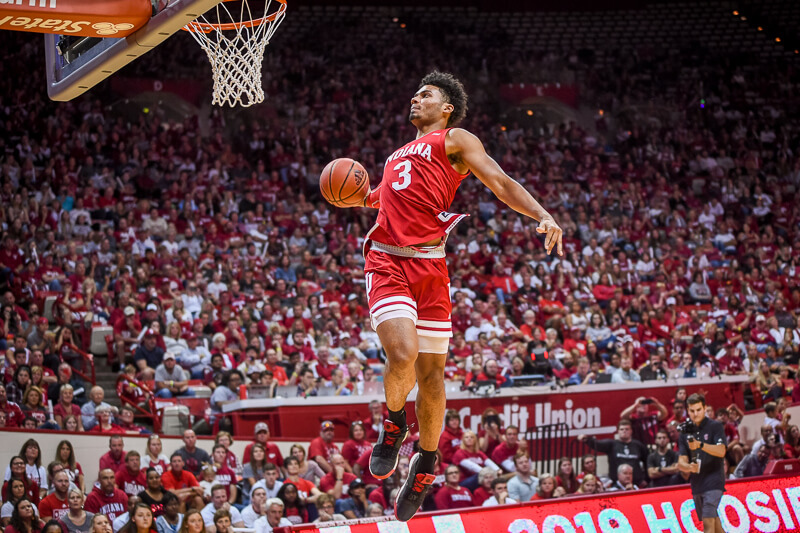 Plenty of continuity will persist for Indiana entering next season, but Justin Smith's departure means a key cog in the team's on-court look and performance is gone.
It's impossible to brush aside Smith's importance to Indiana when looking at the raw statistics from his three seasons in Bloomington.
Smith appeared in all 98 games Indiana played during his time with the school, starting 73 times (including all 32 games in the 2019-20 season).
As a junior, he became the first IU frontcourt player since Will Sheehey in the 2013-14 season to average more than 30 minutes per game, and this plethora of playing time came during a campaign in which Smith was Indiana's third-leading scorer (10.4 points per game), second-leading rebounder (5.2 rebounds per game) and the team's leader in steals (31 steals in 32 games).
According to KenPom, Smith played 75.5 percent of available minutes last season, further highlighting the lasting on-court presence he had with the 2019-20 Hoosiers.
Smith's offensive deficiencies (he was a career 25 percent 3-point shooter who averaged more than 1.5 turnovers per game) came along with his defensive reputation as someone who could guard opposing wings and small forwards, switching between playing the three and the four thanks to his athleticism.
All of this is to say Indiana must adapt to not having Smith on the roster, if for no other reason than the significant playing time that must now be dispersed to others.
Here's a look at some of the options Archie Miller has in this regard.
*****
Jerome Hunter takes over at the 3 for Smith, with Jordan Geronimo as a natural backup
The most straightforward scenario for Indiana involves Jerome Hunter taking the next step in his basketball development.
Hunter's backstory is well-known by this point, having redshirted his true freshman season in 2018-19 due to leg surgery before debuting last season to a mixed bag of performances.
His confidence grew with experience, as he played in 30 games off the bench while averaging 3.8 points per contest. Of Hunter's 19 made 3-pointers last season, 16 came in the final 10 games of the season.
Even when he wasn't making shots, Hunter remained committed to taking open shots when the opportunities presented themselves.
Hunter's shooting must improve if he's going to assume a portion of Smith's vacated minutes (Hunter shot 35 percent from the floor in 2019-20), but IU's offensive floor spacing will greatly improve with Hunter on the court compared to Smith.
A poor 3-point shooting season from Hunter still ended with him making four percent more of his 3s than Smith, and Hunter's superior ball handling skills would make him a bigger threat than Smith as a ball handler in pick and roll situations (Smith scored only 9 points last season from being the ball handler in 18 pick and roll possessions).
This would also help solve the problem of opponents packing their defenses in the paint against Indiana, a habit that's developed against Archie Miller-led IU teams in part because Smith was not a reliable threat to score in the midrange and on the perimeter.
Incoming freshman small forward Jordan Geronimo is an incoming top 100 talent with a smooth outside shot and the ability to finish explosively in the interior.
While this is the simplest way for IU to address Smith's departure with all four other starters returning, it's a plan reliant on Hunter becoming a consistent scoring option in his second playing season.
Race Thompson earns more playing time thanks to his defense and physicality
Hunter would have to add significant scoring value because of the defensive decline that comes with him on the court.
In situations requiring a more physical presence, the logical step would be to turn to Race Thompson.
The rising redshirt junior has proven in consecutive seasons the ability to shut down some of the Big Ten's most talented big men, and toward the end of last season he also displayed an increased ability to score the ball.
Indiana's frontcourt depth next season doesn't project as well it did this season, so regardless Thompson will be expected to shoulder a bigger defending and rebounding load, but he's also shown real evidence of being able to take that leap.
Thompson averaged nearly 20 minutes per game over the final 10 games of the 2019-20 season, scoring 4.8 points and recording 4.7 rebounds per game in those contests.
This included a 9-point, 10-rebound performance in a road win at Minnesota that helped solidify Indiana's NCAA tournament resume.
An increase in playing time for Thompson is something that could co-exist with Hunter's role at the three spot as well.
According to KenPom, over the last five games of the 2019-20 Indiana season, Thompson and Hunter were on the floor together in three of IU's 10 most frequent lineups during that period.
Of course this would mean reshuffling the playing roles of Joey Brunk and Trayce Jackson-Davis to accommodate Thompson, with Jackson-Davis likely playing at the five while Brunk would sit more often.
But this remains an option on the table for Indiana, one with a defense-first focus that continues the inside-out, big man style of basketball Miller has recently championed.
Indiana goes small with a three-guard lineup thanks to its backcourt depth
Perhaps the least likely scenario for Indiana, largely due to Miller's desire last season to make big men the focus of IU's playing style, would be a small-ball lineup featuring three guards.
A glance at IU's roster composition for next season gives credibility to this plan though.
Of IU's 11 scholarship players for the 2020-21 season, six of them are guards.
There's no reason to suspect either Rob Phinisee or Al Durham will be left out of the starting lineup as each player enters their third season as a full-time starter, but a returning Armaan Franklin and incoming freshman Khristian Lander could also make a push for significant playing time.
Franklin's freshman campaign showed a bit of everything from the Indianapolis native. Forced into a starting role right from the start, Franklin showed poise through IU's nonconference schedule, including the Big Ten-ACC Challenge home win over Florida State.
His clutch shotmaking came through during the Crossroads Classic win over Notre Dame, and while Franklin's minutes dried up as Big Ten regular season play progressed, he showed promise on the defensive end and punctuated his season with a solid performance in the Big Ten Tournament victory over Nebraska.
But thanks to his talent and scoring ability, Lander represents a wildcard in this scenario.
The youthful point guard recently reclassified from the class of 2021 to the class of 2020, joining fellow guards Trey Galloway and Anthony Leal in Archie Miller's 2020 recruiting class.
While some analysts have projected Lander to start immediately for Indiana, the process of unseating Phinisee as IU's primary ball handler won't be easy, especially given Lander's young age, which places legitimate concerns about his ability to weather the physicality of a Big Ten season.
For an Indiana team that still lacked a scoring punch at times last season, especially from the backcourt, Lander's offensive worth could be a tipping point though, especially if the pick-and-roll action between himself and Jackson-Davis pans out as predicted.
*****
Indiana still has two open scholarships for the 2019-20 season, but with most of the meaningful players in the grad transfer market already off the table, it's reasonable to think these three options will still be among Miller's best when college basketball resumes.
In all likelihood it won't just be one proposition, but rather a mixture of many, that Miller will enact as part of his plan.
Such was the versatility of Justin Smith in an IU uniform, and such defines the process of trying to account for his exit.
Filed to: Armaan Franklin, Jerome Hunter, Justin Smith, Khristian Lander, Race Thompson