Q & A: Class of 2020 St. Paul's School forward and IU signee Jordan Geronimo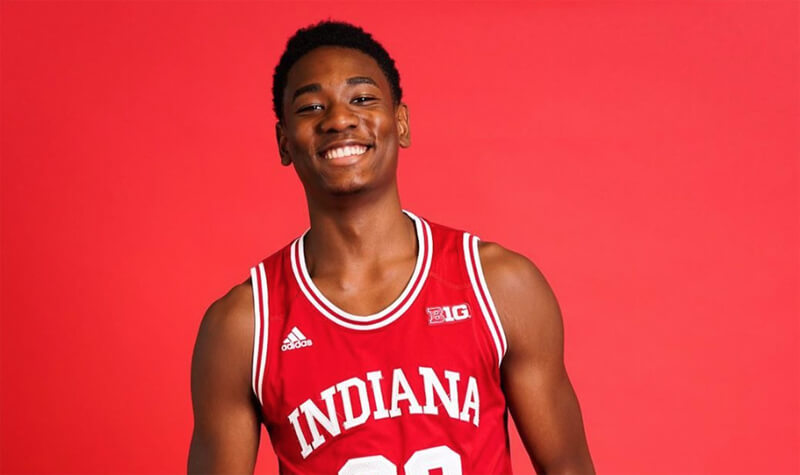 Earlier this week, class of 2020 St. Paul's School forward Jordan Geronimo was named the New Hampshire Gatorade Player of the Year.
Geronimo averaged 18 points, nine rebounds, two assists, two steals and two blocks per game this past season. Fortunately for Geronimo, he was able to finish up his season before the COVID-19 pandemic caused basketball and sports altogether to be put on hold. As of now, Geronimo is planning to be in Bloomington on June 8.
Inside the Hall spoke with Geronimo at length on Thursday night about his future in Bloomington, his final season in high school and much more. Our full Q & A is available below:
How did your senior season go for those who might not know?
"Our team kind of started off pretty slow. We didn't win as many games as we wanted to at the beginning, and we didn't take advantage of what we had. Me, as a player, I wanted to get my teammates going. I'm a team-first kind of guy. Throughout the season, I realized I needed to be more aggressive and more assertive with the ball in my hands. Before I realized that, it was kind of too late. So, with that being said, we didn't really have a good season. We were 8-14, which isn't bad for St. Paul's because St. Paul's isn't a basketball-first kind of school. We could've done a lot better. We had a lot of potential. So yeah, started out slow, but near the middle of the season I realized I could do a lot of things with the ball in my hands, and we started getting more W's and putting up a fight against really good teams."
When you had that realization in the middle of the season, how comfortable did you become with the ball in your hands?
"It came kind of naturally. I always knew that I could score the ball and push the ball and all that kind of stuff, but I wasn't really always a dribbler. But I've been working on my dribbling a lot, and it's just a confidence thing with me being able to make the moves, but once I started to get that confidence and see the results, I was able to get to the basket and make plays."
Once your season ended, how did it feel to know you're moving on and taking that next step by coming to IU?
"I was super excited. When my last game of the season ended, I was in my bag a little bit, but then I realized I'm on to better things, and I'm just excited to go over there and put the work in and just become better as a player and as a person and take that next step."
Has the coronavirus affected your plans of when you wanted to come to Bloomington?
"So far, no not really. Coach told me I should be there June 8 for a summer session. That's too far to plan right now, but as of now, I'm planning to go there June 8. But with the virus, I'm not sure how long it's going to last, so if it goes through June, I might have to come a little bit later."
How has all of this been for you in terms of working out or just personally, how has all this affected you?
"It just sucks I can't go to the local gym in my area. But I'm lucky enough to have a treadmill in my basement and a bench with a bar. The workout plan that coach (Clif) Marshall gave me, like I've been able to improvise with the bench and the treadmill, and I've been doing the exercises without much problem, so I'm lucky to do that. But it's just hard to find a spot to get shots up."
Have you had success finding a spot to shoot around?
"I have a hoop in my backyard, but the concrete is uneven and there's cracks in the floor, like when I dribble the ball it goes everywhere. But I try to get shots up."
You were named New Hampshire Gatorade Player of the Year earlier this week, so what did it mean to be named that?
"It's an honor. It's just crazy. To be honest, I didn't expect to get it. I've worked super hard, and I've worked so hard to a point where like it's become a norm for me. And the normal thing of me working hard, it kind of like went over my head that I'm getting better and I deserve these things, but in my head, I'm just doing normal things. So I'm surprised when I hear these things you know what I mean? It's just weird, but I'm super happy I won the award, and yeah, I'm just blessed, truly."
When I talked to you in September, you said 'if I get the ball near the basket, there's going to be a poster' and I've seen a lot of videos on Twitter of you dunking on people this season, so how satisfying has that been?
"It's just different being up there in the air low key. I kind of surprise myself every time I jump in-game, because in-game is always different from practice. You know in practice you're by yourself or with a couple people and you're just jumping. But when you're in-game, and you have that adrenaline, you know what I'm saying, so it's just different. Like I can be up there, and I'm like 'Damn, I'm up here,' you know what I'm saying? It's just really cool to see myself, even on film, just see myself like go. I don't know it's really cool."
You also talked about working on dribbling and wanting to develop more on outside shot, so how has that progressed over the past few months?
"I've gotten a lot better. So, I've been doing this dribbling thing that my AAU coach put me on. So I've been doing that daily, along with some stationary dribbling. The only problem I have is trying to work on situational stuff because I kind of don't know what to do. Like I just set a chair down and use that as a screen to work some off-the-screen type stuff. But I just go on YouTube and look up drills and stuff. But other than that, I watch a lot of film and try and see what all the good ball handlers do and try to replicate that in my backyard."
Is it sort of a blessing in disguise you have all the bumps and cracks in your backyard because it makes you keep a better dribble or else you'll lose it?
"A little bit yeah now that you say it. Sometimes I see myself picking certain moves to avoid certain spots."
Were you able to watch a lot of Indiana this season?
"Yeah I watched a handful of games. Probably like seven to eight."
From what you saw, what did you like about them?
"I like their ball movement a lot. Trayce (Jackson-Davis) is a great player, and he's great in the post, so I like how they run the offense through him. So much stuff opens up with the ball moving a lot, and that's how basketball should be played."
Their season was cut short obviously, so I guess maybe how tough has it been with no college or NBA on over the last few weeks?
"It's been difficult, man. I always find myself watching like old film of myself or old film of other basketball games, like old Indiana games or old NBA games. It just sucks to know we (IU) could've made the (NCAA) tournament and made some noise, but we didn't have the opportunity."
Are there any specific teams or players or games that you like to go back and watch?
"I like to watch Kobe's 81-point game. That's a great game to watch. I like watching Michael Jordan play a lot and Paul George, I like watching his games a lot, too."
With you busy with high school and Archie Miller busy with his season, how much did you guys catch up over the last few months?
"We've been talking. During the season, we talked a fair amount. I would text him and coach (Bruiser) Flint good luck before games and stuff like that. I would text him if I had any questions about applying online. I texted him happy birthday when it was his birthday and happy whatever holiday it was, so yeah."
When you first committed, we talked about how you sort of flew under the radar as a recruit. Even now, with the other commits in your class being from Indiana, fans may be more familiar with them than you, so do you still feel under the radar and like you have something to prove when you arrive?
"I mean, kind of, but not really, though. I feel like when I go over there, I'm just going to play my game and be the person I am. I feel like I'm a good person, so there's not going to be any weird dynamic between us."
Have you been in contact with Anthony Leal or Trey Galloway lately?
"Kind of, yeah. I have their Snapchats. And Trey was on Instagram live and so was Khristian Lander a couple days ago, and I hopped in and said hi. Even today, I texted Trey just to talk to him and see what he's doing."
There's the potential of Khristian Lander reclassifying to 2020, but even if not, he'll still be there in 2021, so how excited are you to play alongside him?
"It's exciting. It's going to be fun just to go over there and play with these great guys. I'm just excited for the whole thing to play out."
Indiana is pretty strong at the wing position right now with all of you guys coming in, so where do you see yourself fitting in with all of those guys?
"I'm really excited to see what we can do with all the depth. At the wing, we have Justin (Smith) and Jerome Hunter, then coming in we have me, Trey, Anthony. Then, at the point guard, we have Rob (Phinisee) and the potential of Khristian. The thing about basketball that I like a lot is seeing all the different characters, like different play styles all come together and just play as a team. I'm just excited to see how Indiana does that. I know coach knows what's he doing and how to get us to play to our best strengths, so it's going to be fun to watch."
We talked about how Indiana was going to make the tournament for the first time under Archie Miller, but still even though it was cut short, there's that confidence and momentum heading into next season. How much are you looking forward to sustaining that?
"I'm really excited. I'm really excited to over there and just get better. Just be the person and the player that the team needs, so we can be successful or even more successful as they were this year."
Filed to: Jordan Geronimo