Harrowing yet humbling, Jerome Hunter's journey is far from over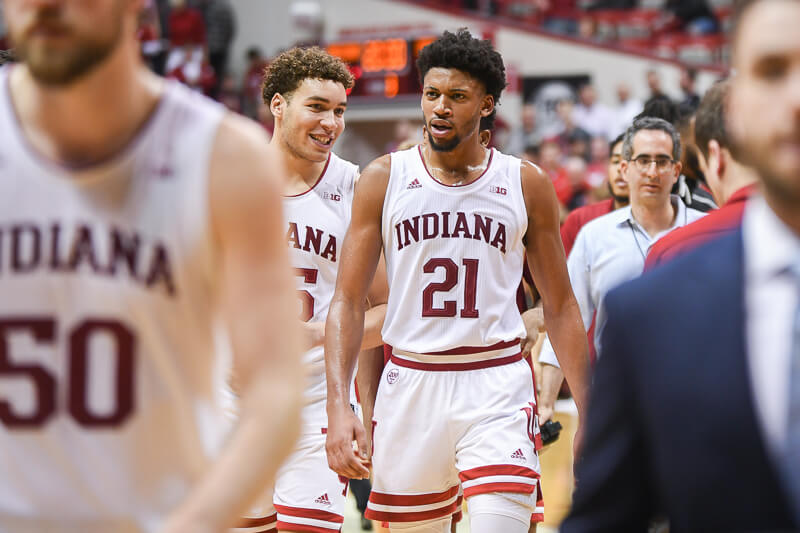 Andreas James took a seat a few rows behind Indiana's bench and calmly watched one of Indiana's most hectic games of the year.
The Hoosiers knocked off then-No. 11, now No. 21 Ohio State 66-54, and for the first time in two years, James finally got to watch the player he's trained with since the eighth grade.
Jerome Hunter checked into the game with 11:07 left in the first half and in one minute, he found himself at the free-throw line, contributing to the Hoosiers hot start as he extended the lead to seven.
The free-throw line was where all of Hunter's points came from in that game, going 5-for-6 with five points and one missed field goal (a three) in 19 minutes of action. After the contest, Archie Miller called it Hunter's best game of his college career.
"He gave the best minutes all season long at that wing position," Miller said. "Jerome impacted the game in a real positive way, in particular defensively. But he's big, he's physical, he's going to get more confident, get more rhythm."
His numbers last Saturday may not jump out on the stat sheet, but it was by far his most productive game this season.
For those who knew him before he committed to Indiana, they wouldn't expect Saturday's game to be considered one of Hunter's better performances. But injury has set the redshirt freshman back a bit. As Miller has alluded to all season, Hunter is basically reteaching himself how to play basketball again after not being able to play for a whole season.
James noticed this as well while watching Hunter, someone he has grown close with on and off the court over the last seven years. He calmly watched Hunter throughout the game, admitting he looks like a different player than he's accustomed to seeing.
"To be all the way the honest, Jerome has a whole other level that he is capable of playing at," James said.
*****
Ty Wiley stood in awe his sophomore year of high school as Hunter exploded for 32 points in a win over Grove City.
It was after that game that Wiley had a feeling that Hunter was "league worthy," referring to the NBA.
From there, Hunter took off, finishing his prep career with 1,314 career points and 729 rebounds. He scored 20.2 points and grabbed 10.2 rebounds per game his senior year while Pickerington North finished 20-5. Hunter was rated as the No. 2 player in Ohio in the 2018 class.
"I knew he was special from day one," Wiley said.
Wiley and Hunter met in the sixth grade and have been best friends ever since. Whether it was at practice, driving around town or playing NBA 2K, the two were inseparable. Wiley was always shocked how Hunter could be so good at basketball in real life but so bad at 2K.
But their trash-talking relationship was all in good fun, and Wiley said blood can't make them any closer.
For Elijah McNamara, who currently plays basketball at Miami University (Ohio), he came face-to-face with Hunter's talent during high school. The two met at one of James' open gyms — James is a trainer for the Columbus-based Nova Village Athletic Club.
McNamara and Hunter eventually became teammates — and very good friends — at Pickerington North, and every day in practice, it was a challenge for McNamara going up against Hunter.
"He was tough to guard," McNamara said. "He showed me a lot. He's a dynamic player. He can score at all three levels."
The versatility of Hunter's game wasn't always a strength of his. When James first encountered Hunter in the summer before his eighth grade, he was mainly being utilized as a big man, staying on the block and keeping his hands up the whole game.
"He had a potential to really expand his game," James said. "We just kept putting a plan into place about 'this is the next thing you can add.' We kept just adding things, and it's continued on with his time at IU."
James has helped Hunter transform himself into more of a wing who can stretch the floor with his outside shot or go in the paint and post up smaller defenders.
Indiana was late to hit the recruiting trail with Hunter, but when he took a visit to Bloomington, accompanied by his mom and James, there was a connection he hadn't felt with other schools.
"What kind of shocked his mother and I was when we got in the car, he was like, 'Man, this really feels like home,'" James said. "That was the first time we heard him say that."
*****
When Hunter first told Wiley, it broke his best friend's heart.
When McNamara found out, he texted Hunter right away to make sure he was OK.
When James heard the news, he was disappointed, but he knew his role was to help Hunter focus and be supportive.
They were all separated from Hunter at the time. His best friends were starting their own respective college careers while James continued to train in Ohio. Prior to this, Hunter was making noise in the preseason for Indiana.
He came in with a highly-touted recruiting class with Romeo Langford, Rob Phinisee and Damezi Anderson. Hunter turned heads when he won the gold jersey during practice, joining Langford and Juwan Morgan to obtain the honor.
But questions surfaced about Hunter after he didn't play in the team's first three games. Then on Nov. 15, 2018, the program announced that Hunter had undergone surgery on his leg and would be out for an extended period of time. It resulted in him missing the whole season and redshirting his freshman year.
"It hurt me man, it really hurt me," Wiley said. "But I wasn't going to be that friend that was like, 'Damn, man,' and be all depressed about it. I was like, 'Let's take it as an opportunity to get better and stronger and then next year, we gon go out and turn up.'"
McNamara had the same mind set, telling Hunter the positives of redshirting.
James was impressed with how Hunter handled the situation. He rarely came home during the year, went on multiple road trips with the team and kept a determined attitude to get healthy.
"I applauded him," James said. "For what you're going through, the way you're going through it, you did a good job. But it was brutal. From a basketball standpoint, all the work that you've put in and you get to this point, and in a snap of a finger, you're done."
*****
Hunter was cleared for all basketball-related activities this year on Sept. 24, which was Indiana's basketball media day.
After two games (one exhibition and one regular season game), Hunter spoke to the media along with Armaan Franklin and Trayce Jackson-Davis ahead of Indiana's second game of the year against Portland State.
Hunter spent most of the press conference looking down at the table or fidgeting with an unopened Dasani water bottle placed in front of him as Franklin and Jackson-Davis answered questions about how they've excelled early on.
The questions directed at Hunter were tailored to how he's adjusted to the collegiate game or how he feels physically now that he's back on the court. Each answer followed the same premise of taking things day by day.
Although it sounds cliché, it's actually what Hunter has had to do in his recovery process. Once a prolific scorer before the injury, Hunter has had to earn his playing time this season, trying to get more comfortable and confident with each dribble he's on the floor.
"I mean, being out just made me realize how much a year can really mean to you of not playing the game of basketball," Hunter said. "I mean, going out there running up and down the court, that even felt different just from sitting out a year. So, getting comfortable and getting myself comfortable I think I'm going to work on game by game, and I hope I get better at it."
Hunter's performance against Ohio State was a step in the right direction. He's struggled to find his shot this season, shooting just 4-for-26 from three and 32 percent from the field in 12 minutes per game. But on Saturday, he was more engaged on defense and was cutting to the basket, something James has not seen him do this year.
"Just cutting and going up strong and getting fouled, that's a brief glimpse of his talent," James said. "Even the three in transition that he took and missed, you know, the numbers aren't supporting it right now, but I mean his shooting, those shots for him are no-brainers. I don't know when it's going to come, and I don't think there's a rush for it to come."
Before the season, McNamara said Hunter was going to be "dominant" this year. Wiley said he has that "takeover mentality." Although Indiana fans have yet to see any of those attributes this season, the two still believe it's in Hunter's repertoire.
Their belief isn't just because they are his best friends, it's because they've seen him play and know what he can bring to Indiana basketball once he gets his rhythm back. They aren't the only ones either, his teammates believe it, too.
"He's a good player. He knows how to get his touches near the rim, and he knows how to finish around the rim or draw fouls, and he comes to practice to work every day," Devonte Green said after Ohio State. "I think he deserves the night he had tonight."
Hunter's break through may not happen tonight when the team travels to Rutgers for a tough Big Ten road game. It may not even happen at all this season, but everyone around Hunter knows the potential he has and the weapon he can be.
It just may take time, and Hunter is OK with that, taking everything one day at a time, whether it's good or bad, in his quest to become the player everyone knows he can be.
"I know that Jerome has the potential to be an all-around player at IU, an impact player and, like, All-Big Ten type player," James said. "That's by far his ceiling."
Filed to: Jerome Hunter