The Minute After: Ohio State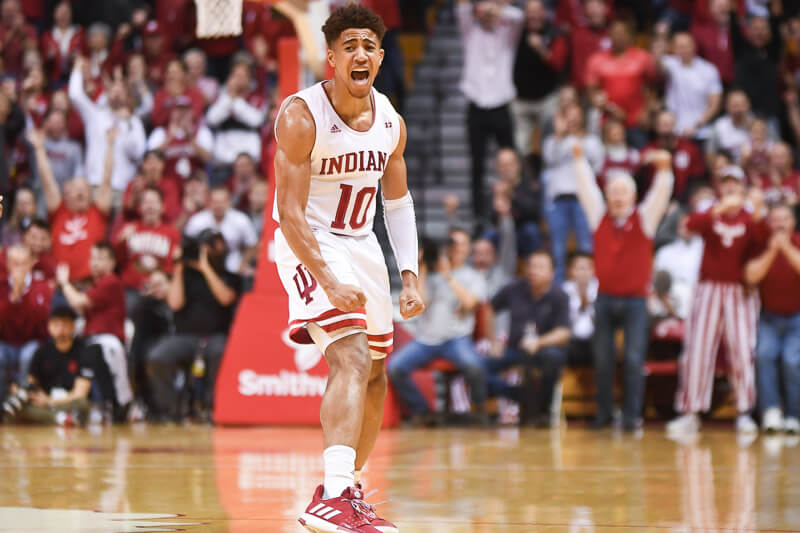 Thoughts on a 66-54 win against the Buckeyes:
For a game, hope is restored.
Indiana looked like a completely different group in this one. After all the questions marks hanging over this team in recent weeks — was the record a mirage? could they ever hit a 3-pointer again? what's up with this offense? why aren't they playing harder? — the Hoosiers rose to the occasion in a huge way on Saturday afternoon inside Simon Skjodt Assembly Hall.
From the opening tip, Indiana was locked in. There would be no questions about heart or effort. And as Ohio State doubled Trayce Jackson-Davis in the post, Rob Phinisee, starting for the first time all season, knocked down three early 3-pointers. Indiana couldn't always stop Andre Wesson or D.J. Carton in the first half. But its defense was connected and playing with resolve.
Devonte Green put the Hoosiers up nine with a lay-up at the 9:57 mark. But then, as we've seen over the last several contests, Indiana's offense stalled — hard. The Hoosiers failed to score a field goal the rest of the half. Indiana's 25-16 lead turned into a 34-31 deficit at half. It could have been worse. But Indiana at least mustered six free throws over those almost 10 minutes of game clock. And the Hoosiers only turned the ball over twice in the first half, not allowing Ohio State extra chances to score. Credit to Indiana for not losing touch and carrying a larger gap into half.
Indiana got back at it in the second half, hitting four of its first five baskets. But free throw shooting haunted them as the half continued along. Indiana had a tremendous FTA/FGA of 75 percent this afternoon, but it failed to convert and make it count far too often. At one point, Indiana had missed more (11) than it made (10). By game's end, Indiana had only shot 55.6 percent (20-of-36) from the charity stripe. But Ohio State had its struggles at the line as well. E.J. Liddell missed three in a row at one point, as the Buckeyes shot about just as bad as Indiana (57.9 percent, 11-of-19), but with far less attempts.
Carton was careless with the ball (seven turnovers). Kaleb Wesson made one shot over the final 20 minutes. While he hit some 3-pointers in the first half, Joey Brunk and De'Ron Davis made things hard for him in the paint. The Buckeyes only mustered 20 total points in the second half, shooting an abysmal 21.4 percent (6-of-28) from the field. The Buckeyes launched plenty of 3-pointers after the break (14), but only made two of them. Indiana's defense certainly deserves credit for some of this. But Ohio State took some quick, bad shots at times instead of working the ball and finding something better or easier.
Meanwhile, in typical Devonte Green fashion, the senior heated up after losing his starting spot and sitting during the winning stretch of the second half against Northwestern on Wednesday. Green scored 15 of his 19 points in the second half. He made all four of his field goal attempts, including two 3-pointers and an impossible drive where he was fouled and got the ball in without even looking at rim. On an afternoon the Hoosiers struggled at the line, he pumped in 7-of-11. Jerome Hunter hit 5-of-6 at the line in a game Archie Miller called the best of his career.
Hunter has so often been nothing but a 3-pointer shooter this season on offense. And he's failed to make many. But against the Buckeyes, Hunter posted up. He cut to the rim and got looks in the paint. His height was used to an advantage. It was a reminder that while he hasn't put it all together yet, he's a talented player that can impact the game.
We'll see if Indiana can play like this on the road next week against Rutgers and Nebraska. But today's performance was an encouraging sign. This team ain't dead yet.
Filed to: Ohio State Buckeyes