Five-star point guard Khristian Lander moves into 2020 class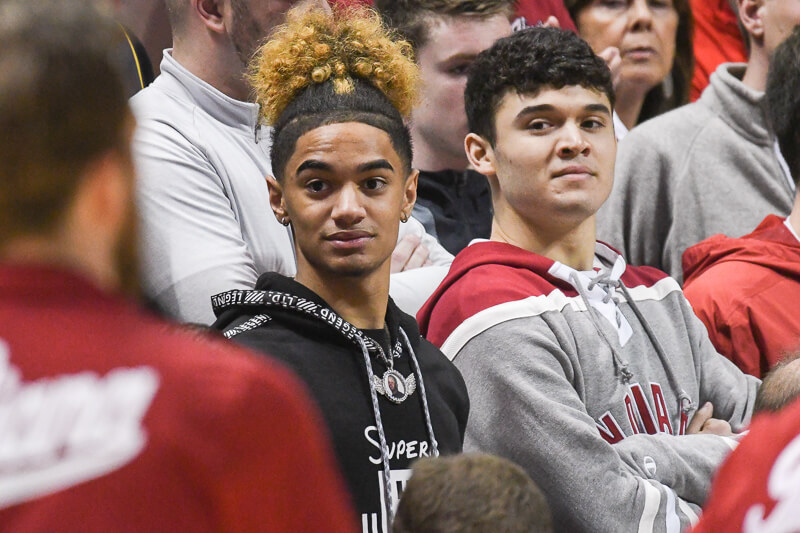 As expected, five-star point guard Khristian Lander is moving into the 2020 class.
The Evansville Reitz point guard and IU commit is moving from the 2021 class to 2020 and is expected to play for the Hoosiers next season. Per an IU spokesperson, Indiana has received Lander's National Letter of Intent.
The news was first reported by Brian Snow of 247Sports.
The move to 2020 slots Lander in as the No. 24 prospect nationally in the 247Sports rankings and the No. 5 point guard in the country. In the 247Composite, Lander is the No. 17 player nationally and the No. 4 point guard.
I'm coming Hoosier Nation ???!! pic.twitter.com/EyautlMh1A

— Khristian Lander (@khristianlander) May 18, 2020
Lander committed to Indiana on February 25 and speculation quickly grew that he would attempt to move into the 2020 class.
"I want to go 2020, but either way is good for me," Lander said in late February. "I want to go 2020 because I feel like Trayce is not going to stay another year, like in 2021. And I feel like if I get a hold of Trayce, I feel like we can dominate the Big Ten."
With Lander now a member of the 2020 class, the Hoosiers will now welcome four freshmen to Bloomington for next season. Lander will be joined by Indiana Elite teammates Anthony Leal and Trey Galloway along with Jordan Geronimo.
Lander's reclassification means Indiana now has 12 scholarship players for next season.
Related:
– 'We can dominate the Big Ten:' Khristian Lander on hopes of playing with Trayce Jackson-Davis and future IU teammates
– Video: Khristian Lander discusses IU commitment, reclassification, more
– Q & A: Khristian Lander talks commitment to IU, reclassifying to 2020, playing with Trayce Jackson-Davis and more
– Video collection: Five-star Evansville Reitz point guard Khristian Lander
Filed to: Khristian Lander