Q & A: Khristian Lander talks commitment to IU, reclassifying to 2020, playing with Trayce Jackson-Davis and more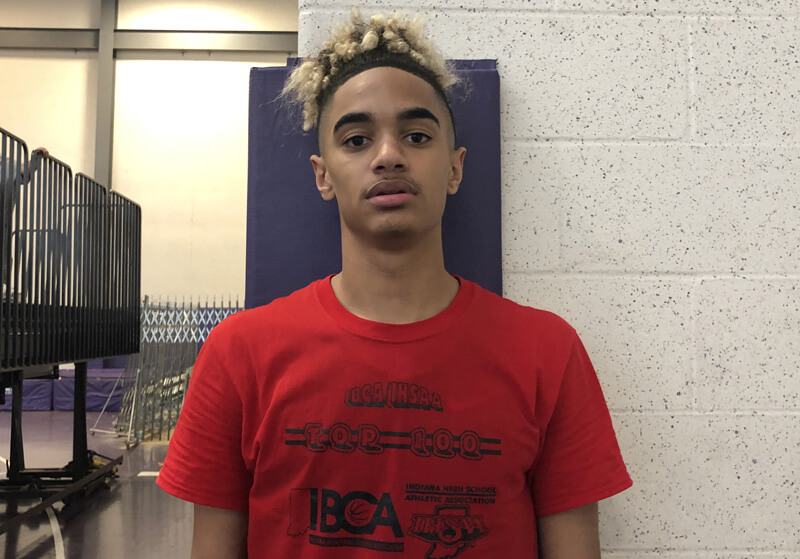 EVANSVILLE – Evansville Reitz point guard Khristian Lander became the latest highly-ranked recruit from the state of Indiana to stay home for college when he announced his commitment to the Indiana program on Tuesday.
Currently listed as the top-ranked point guard in the country in the class of 2021, there has been plenty of talk about Lander reclassifying into the class of 2020, as well as general discussion about what he can bring to the Hoosiers and why Archie Miller's recruiting pitch worked.
Inside The Hall spoke with Lander following Reitz's 71-70 loss to city rival Evansville Bosse, a game Lander scored 34 points in, to talk about his college decision, the way Lander could integrate himself into IU's offense and his preference for either staying in the class of 2021 or reclassifying to the class of 2020.
Our full Q & A is below:
What was the mindset coming into the second game of the season against Evansville Bosse?
"It's the same thing we did last time. We came out slow last time, they got a pretty big lead on us at the beginning. We were down like 23 in the first half I think, then we cut it down to like 13 I'm pretty sure, then we ended up losing by 15. I think we could have come out a little bit better this game, but we came out a lot better than we did the first time."
You either scored a career-high, or came close to it, in points tonight with 34, what was really working for you on the court?
"I was just trying to get my shots. I was just trying to score at will to be honest, I was trying to get my team back in it and get the lead."
Take me through the final play and what you guys were trying to get drawn up at the end:
"What we had drawn up didn't work, so I just had to go ahead and do what I had to do. I drove and I kicked it, but it got tipped a little bit. So I got it back, came off a screen that didn't really get screened. I just pulled up because I had to because by the time I passed it to my teammate, time would have run out."
How do you train yourself to attack and have a score-at-will mentality each game?
"I've always been like that, but at this point I have to. I'm the number one point guard in the country. I'm not being cocky or anything, I'm just saying I'm the number one point guard in the country, I've got to be like that."
What's it like now, a few days in the aftermath of your commitment to Indiana?
"A lot of followers on social media. A lot of DMs, messages, a lot of love and a little bit of hate, it goes both ways."
You were joking on an Instagram Live about wanting Trayce Jackson-Davis to switch and give you the number 4 jersey. What does the number 4 jersey mean to you?
"I've just always had it, ever since I started playing basketball, at the YMCA with wristbands. I've always been number 4 and I've always stuck with it."
Has any pressure been taken off of you now that you can push the college thing to the side and focus on the rest of your senior season?
"Yes, for sure. I feel like it's a big weight off my shoulders. I feel like I can just play out the rest of this season without any pressure."
You were at Hoosier Hysteria before the start of this Indiana season. What did you make of that event?
"It's always a great atmosphere. It's always filled up, with no seats available. It's a super good atmosphere."
You've mentioned maybe wanting to do the dunk contest at Hoosier Hysteria. What kind of dunks could you be able to do?
"I would have to work on some, but I'd probably start off with a between-the-legs 360, or something like that."
How much more closely will you follow the rest of Indiana's season, now that you've picked IU for college?
"I'll probably try to watch most of their games the rest of the season. So, I'll follow them pretty closely."
Whenever you do go to Indiana, there's a good chance you'll be playing with Rob Phinisee. Have you been in contact with him at all and what do you see from his game that could also work well with you on the court with him?
"I just feel like we would be a really good backcourt. I feel like we can both facilitate for our teammates and we both can score so I feel like we'll be like a duo."
You're just the latest in-state recruit to decide to attend Indiana. What was working with the recruiting pitch from Coach Miller to allow you to decide to remain in Indiana for college?
"Just the consistency of the recruitment. They've been recruiting me since my freshman year and they never let up. They stayed on me, they always communicated with me, they didn't let weeks go by without communicating with me, they always had time to call me or text me."
You already committed, but Archie Miller still came to watch you play tonight. What did that mean to you?
"He knew that it was a big game, he knew what happened the first game. I told him that there was going to be a big game tonight. I knew there was going to be a lot of people here watching this game tonight."
So when you have a big game like this that doesn't go your way, but you still have the state tournament to look forward to, how do you try to keep going and keep that score-at-will mentality?
"I just continue what I'm doing. I feel like I had a good game, I feel like we had a good game. It just came down to who made the biggest shot at the end of the game."
What steps still need to be taken for you to reclassify into the class of 2020?
"I've got to take a full semester of English and I've got to take an economics or government class, so it's not a whole lot."
Do you have a preference to be in the class of 2020 or the class of 2021, and why do you have a preference either way?
"I want to go 2020, but either way is good for me. I want to go 2020 because I feel like Trayce is not going to stay another year, like in 2021. And I feel like if I get a hold of Trayce, I feel like we can dominate the Big Ten."
What do you like about the combination of yourself and Trayce on the court?
"I feel like the pick-and-roll would be crazy. I feel like he wants that, but I feel like no one really knows that on the team."
How would you be able to work a pick-and-roll scenario like that at Indiana?
"I've been working a pick-and-roll since I was about seventh grade. I'm just starting to get like the pro-style pick-and-rolls now."
Any specific directives you've gotten from Coach Miller or Coach Tom Ostrom about how you will be utilized at Indiana?
"He definitely said I would be used in the pick-and-roll with Trayce. And I know how to get people open too, so if the pick-and-roll's not open I can facilitate and kick out or I can go get a bucket."
Filed to: Khristian Lander