'We can dominate the Big Ten:' Khristian Lander on hopes of playing with Trayce Jackson-Davis and future IU teammates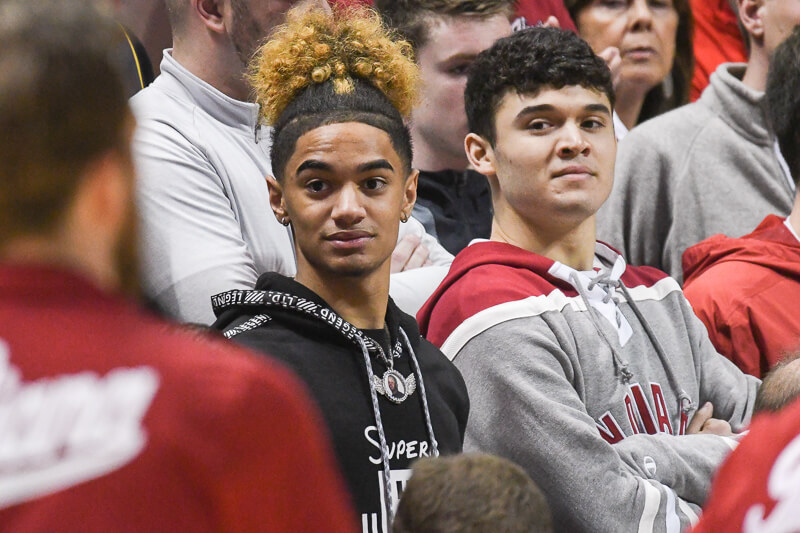 EVANSVILLE – Khristian Lander told Archie Miller it was a big game.
Miller, who had lost a tough game at Purdue the night before, showed up at Evansville Bosse High School Friday night with associate head coach Tom Ostrom to watch his newest commit compete for the Southern Indiana Athletic Conference title.
Lander, who committed to Indiana on Tuesday, played in his first game since officially declaring he's staying home to be a Hoosier. The first quarter started out slow for him and his Evansville Reitz teammates.
But the Panthers picked it up in the second quarter, specifically Lander as he scored 11 points in the second period. One basket featured Lander going up into the chest of 6-foot-9 center Kiyron Powell (who will be joining Kelvin Sampson at Houston in the fall) and double-clutching for an and-one, flexing his muscles after the basket dropped.
Lander's big second quarter carried Reitz into the locker room with a four-point lead, which already had them on pace to play a closer game than the previous one against Bosse in which they lost by 20.
"We came out slow last time," Lander said. "I think we could've come out a little better this game, but we came out a lot better than we did the first time."
The second half was Indiana basketball in a nutshell with a raucous crowd inside Benjamin Bosse High School gym and lead changes every other minute.
Miller and Ostrom watched from the east baseline as their future point guard brought the ball up, willing the Panthers' offense in the final minutes of the game. But a 3-pointer from Bosse's Kolten Sanford with about 10 seconds left put Lander and company down one point.
What Reitz originally drew up for the final possession didn't work. Lander drove and tried to kick it out, but the ball got tipped. Lander raced back up to the wing to get the ball. By the time he got it, he was being double-teamed, so he dribbled away from it and pulled up at the top of the key for a 3-point shot, and by the time he got it off there were three defenders around him and the shot hit the front of the rim, bounced off the backboard and missed.
As the Bosse students rushed the court around Lander, he jogged through the chaos over to the baseline and leaned against the wall with his head down. Miller was seated to his left.
Lander scored 34 points in the game with nine rebounds and four assists, and he was one shot away from winning the SIAC championship in the final game of the regular season. Now, it's all about the postseason for Lander, and after that, his future is still unclear, but he spoke to Inside the Hall last night about the steps he's taking to be in Bloomington this fall.
In terms of what needs to be done for Lander to reclassify to the class of 2020 and join Anthony Leal, Trey Galloway and Jordan Geronimo, there "isn't much." He said he just needs to take a full semester of an English class and then a government or economics class.
One of the reasons Lander wants to reclassify is because he doesn't think Trayce Jackson-Davis will stay at Indiana for three years, and he wants the opportunity to play alongside the Hoosiers' star forward. He envisions a pick-and-roll between himself and Jackson-Davis and describes it as "crazy."
"I feel like if I get ahold of Trayce, we can dominate the Big Ten," Lander said.
Lander's pick-and-roll showed in the game Friday night. He would often split the screen and explode to the rim or throw a dime when the screener popped to the 3-point line.
"I've been working pick-and-rolls since I was about in seventh grade," Lander said. "I'm just starting to get like the pro-style pick-and-roll now."
Lander said Miller has discussed his game plan for him, and it includes running a lot of pick-and-rolls. The Hoosiers haven't used the pick-and-roll this season to the best of their ability.
Another player Lander is excited to play with is Rob Phinisee, who will most likely be on the team whether Lander comes in 2020 or 2021.
"I just feel like we'll be a really good backcourt," Lander said. "I feel like we can both facilitate for our teammates and both can score, so I feel like we'll be like a duo."
Lander said he's going to try and watch every Indiana game for the rest of the season, which includes tomorrow afternoon when the Hoosiers travel to Champaign to take on Illinois. As for Lander, his postseason begins March 6 as the Panthers await the winner of Evansville Harrison and Jasper to compete in the semifinals of sectionals.
Lander's aggressive scoring mentality that he had Friday night, even despite the loss, is an expectation for him as it's do or die time.
"I've always been like that, but at this point, I have to," Lander said on his aggressive approach. "I'm the number one point guard in the country. I'm not trying to be cocky or anything. I'm just saying, I'm the number one point guard in the country. I gotta be like that."
Filed to: Archie Miller, Khristian Lander, Robert Phinisee, Trayce Jackson-Davis