Five takeaways from Indiana's loss to Purdue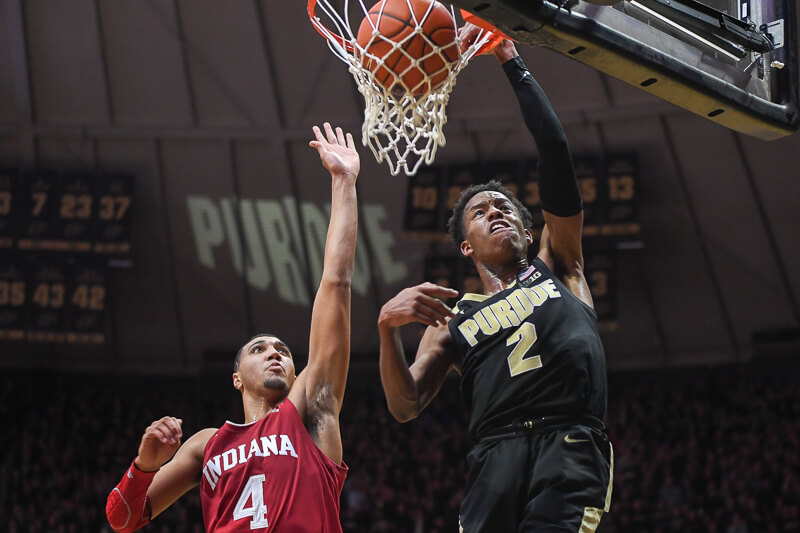 WEST LAFAYETTE — Indiana came into Mackey Arena fresh off two straight victories on the road against Minnesota and at home against Penn State.
It was potentially the most momentum Indiana has had heading into a game against Purdue, but the Hoosiers struggled to string together enough offense, tying a season-low 49 points in an eight-point loss.
IU is now 18-10 overall and 8-9 in the Big Ten.
Here are five takeaways from the loss to the Boilermakers:
· Purdue's post defense stifled Indiana's offense: Trevion Williams knew that if Purdue could take away Indiana's post game, they were probably going to win the game.
After breaking down IU's film all week, the Boilermakers deployed a game plan to quickly double any Indiana player that touched the ball with their back to the basket.
It worked to perfection, and the Hoosiers' starting frontcourt of Trayce Jackson-Davis, Joey Brunk and Justin Smith went a combined 6-of-23 from the field.
"I thought those guys defended pretty well, in particular in the paint they made it very, very difficult for us around the rim," Archie Miller said postgame. "Their post doubles continued to take our big guys out of the game."
De'Ron Davis didn't contribute much with just one shot attempt, and Race Thompson had some putbacks toward the end to go 2-of-4. It left IU's guards on an island on the perimeter, where the Hoosiers shot 5-of-24 from three.
Purdue's post defense also led to some uncharacteristic shots from Indiana's bigs, including deep 2-point shots from both Jackson-Davis and Brunk, as well as some ill-advised jumpers from Smith.
This was the first team Indiana has played that has doubled so quickly, and it resulted in a no-show from the Hoosiers' frontcourt.
· Scoring droughts cost Indiana once again: In a game where offense came few and far between, Indiana suffered its patented scoring droughts that turned the game around.
The Hoosiers took a 6-2 lead into the under-16 timeout, and from there they struggled to score. From 16:46 to 7:06, Indiana didn't hit a field goal. But when Devonte Green broke the drought with a stepback three, the Hoosiers managed to only be down one.
But then in the first half's final 3:44, Indiana was outscored 10-2 and took a nine-point deficit into halftime. Purdue opened up the second half on a 7-0 run, creating a 13-0 run dating back to the first half. It led to IU going down 16 points and not scoring its first field goal of the second half until 13:37 mark.
"We just couldn't make shots," Rob Phinisee said.
The Hoosiers shot just 15-of-59 in the game, which is the lowest percentage (25.4) they've shot in a game since 2004. Indiana had just two more made field goals than they did turnovers.
Aside from the struggle to score, the Hoosiers defended Purdue pretty well, which is why they remained in the game despite two separate nine-minute scoring droughts.
· Indiana continues to have trouble against Purdue: IU's recent run of form against Purdue has been dreadful. There's no getting around that.
Purdue has now won seven straight games against Indiana, and Miller is 0-5 against the Boilermakers as IU's head coach, while Purdue's Matt Painter continues to dominate Indiana.
The losses have come by big margins and small margins, and as a result of defensive miscues and offensive ineptitude. But the fact remains Purdue has owned Indiana on the hardwood in recent history.
Purdue is 15-5 in its last 20 games against Indiana, and dating back to the 2013 season Purdue is now 10-1 against the Hoosiers.
The aforementioned seven-game winning streak enjoyed by Purdue in this rivalry is the longest streak in the series since Purdue also won seven straight from 1968 to 1972.
Perhaps most glaringly, IU's two seniors — De'Ron Davis and Devonte Green — will likely finish their collegiate careers without a win against Purdue.
· Indiana's offense still lacks a 'Plan B' when the frontcourt doesn't carry the scoring load: Indiana's four scholarship guards were a combined 7-of-29 from the field Thursday night, combining for 24 points on a night when Jackson-Davis was a non-factor on offense.
Purdue was committed to doubling Jackson-Davis in the post, and while the freshman lacked in his activity level and general visibility on the court in his 30 minutes of game action, he couldn't do much about the attention he received from the Boilermakers.
Shots would have to be made outside of the paint for Indiana. Purdue basically dared the Hoosiers to make shots from the outside and the Hoosiers could not.
A 5-of-24 performance from 3-point distance was largely the work of Green (3-of-14) and Phinisee (1-of-6), and IU continued to show its guards can't be relied upon for scoring when needed.
"We have to do a better job of getting open," Phinisee said on the guards. "Once we get open, it's easier to break it down since they're trapping so much."
As bad as the guards were at scoring, they also failed to distribute and take care of the ball.
Green, Phinisee, Al Durham and Armaan Franklin combined for two assists and nine turnovers in the game.
Decision-making has been a concern for the Hoosier backcourt this season and Thursday won't do much to alleviate those concerns.
· Indiana didn't completely fold on the road: The story for Indiana on the road, aside from Minnesota and Nebraska, has been getting down by large amounts and completely falling apart.
But on Thursday, in perhaps the most hostile environment Indiana has played in this season, the Hoosiers fought back when they went down 16 and made it a game down the stretch.
Miller made it a point of emphasis numerous times after the game that he was happy with his team's effort and attitude. Those have been areas in road losses where Indiana has lacked, but the Hoosiers were getting defensive stops and slowly clawed back into the game.
Phinisee scored seven points in three minutes, accompanied by a Green three, to cut Purdue's lead in half with 10 minutes left.
"No shots were falling until then really," Phinisee said. "Our coaches were really telling us to be aggressive, so that's the reason."
Indiana went back down double digits after that but cut it to six with three minutes left thanks to some tough plays in the paint from Thompson. So, if there's one positive in this game, it was Indiana's ability to not give up and play to the end.
"I can't fault our effort, and I won't fault our attitude," Miller said. "Our team in general tonight tried to play the right way and played hard. Period."
Filed to: Archie Miller, Purdue Boilermakers, Robert Phinisee, Trayce Jackson-Davis