Five takeaways from Indiana's win over Penn State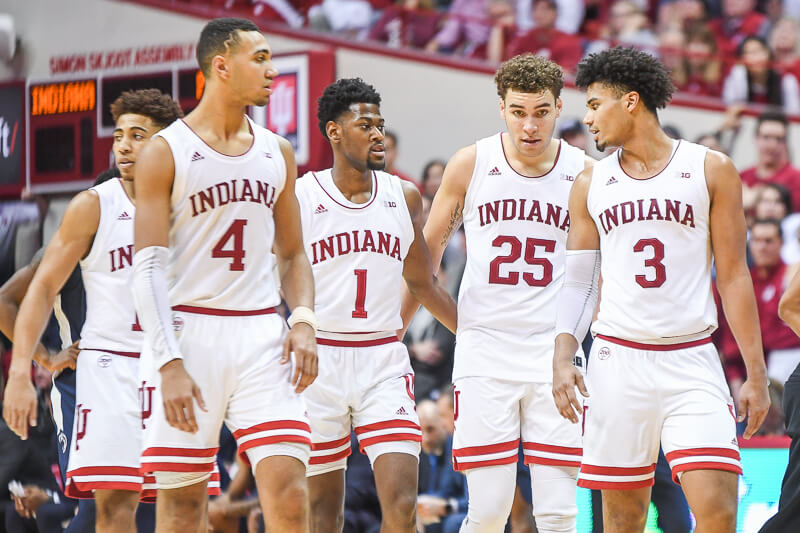 Indiana moved closer to solidifying its status as an at-large NCAA tournament team with a 68-60 win over Penn State on Sunday afternoon at Simon Skjodt Assembly Hall. The win improved the Hoosiers to 18-9 overall and 8-8 in Big Ten play.
Here are five takeaways from the win over the Nittany Lions:
· Trayce Jackson-Davis continues to run through freshman wall: Many freshmen struggle to perform consistently in their first season. It's a long season and in a physical league like the Big Ten, it becomes tough late in the season to continue to produce at a high level.
But Trayce Jackson-Davis is proving he's no typical freshman.
The 2019 Indiana Mr. Basketball recorded his ninth double-double of the season on Sunday with 13 points and 10 rebounds. And while he didn't finish particularly well in the win – he was 6-of-17 from the field – Jackson-Davis was a major reason the Hoosiers picked up two wins this week.
"I think Trayce early in the game was trying way too much to pivot and sort of jump into guys, look for contact," Archie Miller said postgame. "I thought later in the game he played through it and had some really good looks. But he shot 17 times. That's what I'm happy about. That's what I'm happy about. He was aggressive. He stayed with it."
Over Indiana's two games against Minnesota and Penn State, Jackson-Davis averaged 20 points and 13 rebounds in 33 minutes per game. His remarkable consistency in Big Ten play – he's averaging 13.4 points and 7.8 rebounds per game – has him firmly in the mix for the league's freshman of the year award.
· Indiana battled through in-game adversity against a tough team: With a 19-point lead late in the first half, it looked like Indiana might rout Penn State on Branch McCracken Court.
But the Nittany Lions, who entered Sunday's game with four straight road wins, didn't fold. Penn State went on a 30-5 run that started late in the first half and led to a 48-42 Nittany Lions lead with 12:17 remaining.
The Hoosiers, however, had an answer of their own. Indiana scored the game's next 13 points to seize control when it appeared momentum had slipped away. Five different players scored during that run and it took a total team effort to shore up the defensive issues that allowed Penn State to grab a six-point lead.
"We had a lot of guys step up and make some plays," Miller explained. "And I thought in the last eight minutes of the game we made almost every single hard hustle play, whether it was an offensive tap, a long rebound, a defensive stop, a block, our guards got in there a few times and dug it out. We were able to make some plays when it was really hard."
· Thompson continues to emerge as important frontcourt piece: The play of Jackson-Davis in IU's wins this week was pivotal, but the impact of redshirt sophomore Race Thompson wasn't far behind.
Thompson nearly notched a double-double at Minnesota with nine points and 10 rebounds and followed it up on Sunday with eight points, four rebounds and a blocked shot in 21 minutes. Indiana was +13 in Sunday's game with Thompson on the floor.
Defensively, Thompson made things difficult on Penn State senior forward Lamar Stevens, who needed 27 shots and eight free throw attempts to score 29 points. The effort from Thompson didn't go unnoticed by Nittany Lions coach Pat Chambers, who made mention of his presence in his postgame press conference. Thompson did not play in the first meeting between the two teams at the Bryce Jordan Center.
"I thought Race played really well," Chambers said. "And maybe his stat line won't indicate that, but I thought his job late on Lamar was fantastic and he got some big time rebounds there."
· Outside of Penn State's run, Indiana was locked in defensively: After allowing more than a point per possession in five games of a six-game stretch that began against Maryland and ended at Michigan, Indiana shored things up with two very good performances this week.
The Hoosiers allowed just .827 points per possession at Minnesota and then held Penn State to .862 points per trip on Sunday afternoon.
"I think we're starting to figure out, like, this deal's about high-level effort on defense," Miller said. "That's the only thing we're working towards."
Indiana held Penn State to just 41.5 percent shooting and never allowed the Nittany Lions to get comfortable from behind the 3-point arc. Penn State was just 2-of-14 on 3s and the absence of Myreon Jones, who has now missed the team's last five games, is beginning to take its toll.
· Indiana beginning to fix its turnover problem: For the third straight game, Indiana finished with a turnover percentage well below its season average.
The Hoosiers turned it over just 12 times for a turnover percentage of 17.2 in Sunday's win. Indiana now ranks 12th in league play in turnover percentage at 18.7 after spending a good portion of the conference season in 13th or 14th.
"Only turned it over 12 times at home and I don't know what we turned it over on Wednesday but we've been taking care of the ball a little better," Miller said. "The last two minutes we learned our lesson from the Maryland game. We were able to handle the press and get it and make some free throws."
Filed to: